Sauti Sol is a Kenyan band made up of four talented artists; Bien-Aimé Baraza, Savara Mudigi, Willis Austin Chimano, and Polycarp Otieno. The band, which came into existence in 2005, is estimated to have a collective net worth of $3 million.
Known for chart-topping songs like "Sura Yako", "Live and Die in Afrika", "Shake Yo Bam Bam", "Melanin" (feat. Patoranking), "Afrikan Star" (feat. Burna Boy), and "Suzanna" among many others, the all-boy band has grown to become one of the top-earning music groups in Kenya. They have five successful studio albums to their credit and they have each diversified into other fields like acting and producing songs for acclaimed singers in Africa.
The Group Members' Profile At A Glance
Sauti Sol is an all-boy music group comprising of four Kenyan nationals – Bien-Aimé Baraza, Polycarp Otieno, Willis Chimano, as well as Savara Mudigi. Bien-Aime Baraza whose first name means beloved in French functions as the group's vocalist, guitarist, and songwriter. He favors the soulful style of singing and has displayed stellar songwriting skills which have seen him being celebrated by many.
While manning the saxophone, Willis Austin Chimano also works as Sauti Sol's keytar and vocalist. Willis is distinguished among his peers, thanks to his flamboyant style and deep voice. Before the group was formed, the deep-voiced singer emerged winner of the yearly Fête de la Musique (music contest).
As he was attending All Saints Cathedral for free guitar lessons, Polycarp Otieno developed a love for the guitar early in life. Functioning as the group's producer and guitarist, Otieno displays a signature style – guitar riffs that seamlessly blends with Sauti Sol's mix of soulful and emotional vocal harmonies, as well as their drum rhythm.
Sauti Sol Member, Savara Mudigi is gifted with a versatility that has impacted the band to a large extent. The vocalist, drummer, percussionist, and producer has played notable roles during tours and has been instrumental in the establishment of the group's imprint label known as Sauti Sol Entertainment.
Bien-Aime Baraza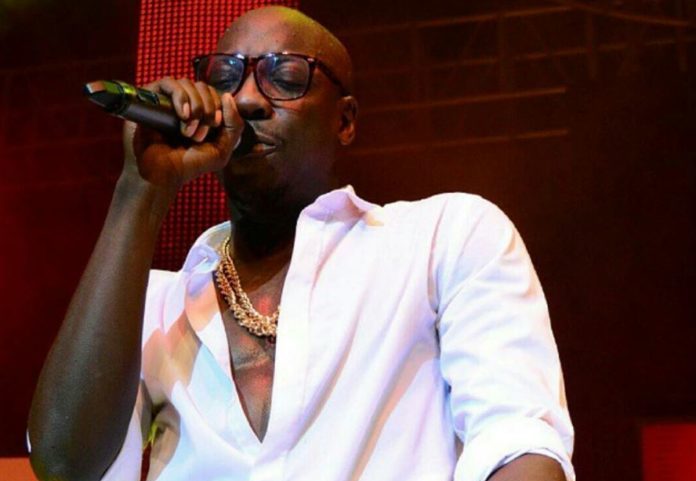 Bien-Aime Baraza was born on the 28th of December 1987. This Sauti Sol's vocalist, songwriter, and guitarist is a step-son to Nancy Baraza who served as Kenya's former Deputy Chief Justice, however, he has managed to keep details about the identity of his biological parents away from the radar of the media.
Some tidbits of information that filtered out about his family revealed that Baraza's mum is one of his biggest fans and throws her full support behind her son's music career. She has often been spotted attending Bien-Aime's concerts, but the vocalist's dad has always shown his disapproval of the singer's career path, always wondering when his son would settle down and get a proper job.
Bien-Aime achieved his high school graduation at Upper Hill High School where he met fellow band members Willis Chimano and Savara Mudigi who were his contemporaries in the school. Together, the trio formed an a cappella band in 2005, performing in a musical group in their school called Voices in the Light. Otieno later joined the group from another school and they wrote their debut song after forming the group Sauti which means sound in Swahili. The Spanish word "Sol" meaning "Sun" was later added to the name, forming Sauti Sol – "voices in the sun".
While still a Sauti Sol member, Bien-Aime proceeded to United States International University (USIU), graduating in 2011 with a degree in Journalism. Since then, his career with the band has been remarkably successful, packed with memorable tours, topping the music charts, completely sold-out concerts, and we are yet to factor in the group performing for former POTUS, Barak Obama.
Baraza Has Penned Songs For Famed Kenyan Singers and Had Some Collaborations Outside Sauti Sol
A father of two, Baraza's preoccupation has always been songwriting as he has occasionally penned songs for famous Kenyan artists such as Elani, Wendy Kimani, and Amos & Josh. Sauti Sol's vocalist has confessed to women being a big inspiration and motivation in his music career to the extent that he refers to his tracks as 'My Women'.
In 2014, the guitarist cum vocalist collaborated with Wendy Kimani to released the song Haiwi Haiwi which is said to have remarkable beats, as well as vocals. The lyrics of the song is centered on ladies who are averse to banging into a relationship with just any kind of man. The number was really a banger, making waves back then.
Willis Austin Chimano
Born and raised in his home in Nairobi Kenya, Willis Austin Chimano has his date of birth given as the 9th of July in 1987. He is the third child in a family of four children (two girls and two boys) born to parents whom he has always described as being strict, though they strived to give the best to their children.
Chimano comes from a devout Christian family where they maintain a strictness on routine prayers done every evening. Willis confessed to being an introvert growing up which made his childhood rather difficult. He was the kind of child who would always feel awkward about not playing with his peers but would rather sit back and watch them play.
For his academics, the Kenyan musician first attended Kakamega High School after passing his national examinations. He spent a couple of years complaining about the school before his parents took the decision to move him to another institution. Willis eventually completed his secondary education at Upper Hill School, meeting fellow Sauti Sol Members Barasa and Mudigi in the process. For further academic qualifications, the vocalist proceeded to the University of Nairobi to study Journalism and Media Studies.
Willis Has Remained Active in the Group Since Inception
This Sauti Sol's guitarist, vocalist, and saxophone expert is among the group's pioneers when they took-off in 2005 as high school students. On how he came to meet his other band members, Willis said it was pure fate or serendipity as he met each one individually and in different scenarios. According to him, music brought them together in an inexplicable way despite their diverse career dreams.
He has played major roles in all the band's albums released to date, especially in his special function as a producer and guitarist. However, we are yet to see any outside collaboration with other musicians, all his career life seems to revolve around Sauti Sol. Willis is also active in the band's initiative called Soma Soma which is targeted at educating youths.
Polycarp Otieno
Polycarp Otieno was born on the 14th of November 1987. Now Sauti Sol's producer and guitarist, he was a high school student at Strathmore School, Alliance Française, located in Nairobi, when the other three Sauti Sol members were frequenting the school from their Upper Hill High School. The first trio Bien-Aime, Willis, and Savara already launched their a cappella group when they met Polycarp, they then decided to form the afro-pop band, releasing their debut album after a while.
Upon graduating from Strathmore School, the guitarist proceeded to Jomo Kenyatta University of Agriculture and Technology in his quest for further academic qualifications, graduating with a BSC in Actuarial Science. Also known as Fancy Fingers, Otieno has been a part of the band's successes and is still very much active as a Sauti Sol Member to date.
The Guitar Enthusiast Also Produces Music For Other Artists
Though he is yet to launch a solo career, the talented guitarist and producer also functions as a composer and has produced for several popular artists like Dela and Suzanna Owiyo, as well as Lady Jay Dee. As a member of the Kenyan pop group, he also champions their Soma Soma Initiative, championing education among the younger generation.
Answering questions on how he became enmeshed in music, Sauti Sol's Fancy Fingers said that he came into contact with music at an early age and fell in love with the art. In fact, he credits music with being his best subject in primary school, telling a tale of how he used some containers and strings to create his own guitar, and little did he know that he was already towing his rightful career path.
Savara Mudigi
Unlike the other Sauti Sol members, facts about Savara Mudigi's life is not all out in the open. We only know that his date of birth is recorded as the 25th of May 1987, but his exact place of birth is not on the records. However, the drummer, vocalist, actor, producer, and Dj is unmistakably African by ethnicity. He is a graduate of Africa Nazarene University with a degree in Commerce and Finance.
The only information about Mudigi's personal life that is in the public arena is about his dalliance with Yvonne Endo with whom he was featured on the docu-series – Sol Generation, sharing info on how they met and when the became an item. According to the loved-up duo, the journey of their love started in a Nairobi concert and they have been inseparable ever since.
Mudigi Started With Sauti Sol And Has Done Some Collaborations Outside the Band
When the Kenyan afro-pop band took-off in 2005, Mudigi was part of the band, having met Chimano and Baraza way back in high school. The multi-talented artist also takes the credit for producing the highest number of tracks for the album entitled Live and Die in Afrika, albeit in collaboration with fellow band member Otieno.
Away from his commitment to Sauti Sol, the Kenyan pop singer has recorded other gigs as he has gone into some successful collaborations with several other notable artists. A good example is the work he did with popular musician Elani and many others like that.
Sauti Sol Has Amassed A lot Of Wealth Through Their Music Career
The Band's net worth has always come with some variations but there are sources that have gone ahead to peg it at a handsome $3 million which remains debatable. However, they also made available a year by year estimation of Sauti Sol member's revenue. For the year 2018, they were projected to have earned around $21.8K, but this figure is not cast in stone, the figure is merely an estimated forecast which may vary between the range of $21.5K and $60.1K.
The ensuing year being 2019, the group's generated revenue was $21.8K, but the variation is said to fall between $11.8K and $33.1K. The band's most recent earnings which is the figure for 2020 was projected to be about $31.5K with variations falling between 31.3K and $87.8K. However, with all the yearly estimated earnings, the Kenyan musical group is yet to release their accurate net worth which leaves us with no other choice than to say that it is under review.
How The All Boy Band Make Their Money
It is not in doubt that the group has majorly earned from the sale of their music records, but a few digits of their wealth came from other sources like brand endorsements which they have received from several A-list companies such as Safaricom – the biggest telecoms company via Niko Na Safaricom and Coca-Cola (Coke Studio Africa). They have penned multi-million partnership contracts with East Africa Breweries for the endorsement of Chrome Vodka in 2016. When asked how much the partnership deal is worth, their answer was "A lot of money. Lots of it!"
Sauti Sol members also serve as British Council Kenyan World Voice ambassadors, as well as Giants Club Ambassadors. On awards, the all-boy band has received quite a number, both local and international which include the likes of Kisima Awards, BET Awards, Channel O Music Awards, and MTV Europe Music Award. It is worth mentioning that Sauti Sol charges between Ksh. 800,000 and Ksh. 5,000,000 for each performance.
Sauti Sol Members Have Been Enjoying The Lavish Life With Their Fortune
Even as we are yet to unravel the exact amount of the group's fortune, we can still determine it to some extent through observing their lifestyle which is best described as lavish. From what is perceivable, Sauti Sol Members seem to love fast and expensive automobiles, and their preference for fashion follows the same path as their love for plush cars.
At least, three band members have been spotted behind the wheels of an expensive vehicle. For one, Polycarp Otieno who is the music director cruises around town in his Nissan Skyline. Austin Chimano has been severally seen driving an Audi, and Bien-Aime always feels cozy behind the wheels of his Volkswagen Passat.
Here Are Some Of The Best Of Sauti Sol
Girl Next Door
Girl Next Door is part of the band's album Afrika Sauce which marked their departure from what is perceived as the customary acoustic sound of their past albums and has turned out to be one of their very best. In the track, the Sauti Sol members featured popular female Nigerian superstar, Tiwa Savage. It has a well-directed video, headlined by guitarist Otieno who takes off on a beautiful note but later handed over the lead to Chimano.
Unconditionally Bae
Featuring famous Tanzanian artist Alikiba, Unconditionally Bae remains one of Sauti Sol's top tracks. After it was dropped in 2016, the song went viral, thanks to its excellent beats. The number went ahead to gain massive street acceptance shortly after its release.
Rewind
Also part of Sauti Sol's album Afrika Sauce is Rewind featuring Khaligraph Jones who is also known as Papa Jones. The music video for the song is quite interesting, taking viewers down memory lane. Watching the piece on YouTube is even better as the video opens with Jones as he introduces the all-boy band. This is succeeded by flashes of old pictures, depicting the group's long and persevering journey to success.