To most travelers or fun-seekers, nothing is more satisfying than finding the right accommodation package with superb amenities, relaxation, and entertainment. The city of Las Vegas is one of the glamourous largest cities with the most expensive luxury hotels in the United States of America synonymous with entertainment.
The strips of Vegas are lined up with many hotels fused with English, American, Italian, French and even African (Egyptian or medieval) cultures that cater to the needs of all, ranging from 4 to 5-star hotels. Most of them have casinos, gambling centers, clubs, notable restaurants, shopping malls, spa and fitness gyms in them. They include Aria Skye, Encore, Venetian, Delano, Four Seasons, Ceasar Palace, Cosmopolitan among others. The range of fees one can pay per night in any of the Las Vegas hotels varies from $130 to $200,000.
The bustling nightlife in Las Vegas is out of the world. No wonder, the city is sometimes referred to as the Sin City where all sorts happen and as they say, whatever happens in Vegas, stays in Vegas. We will be highlighting seven possible choices for you based on their accessibility, cost, amenities, glimmering beauty, and ratings.
The Most Expensive Luxury Hotels In Las Vegas 
Here are some of the classic and tastefully furnished hotels rated in descending order.
1. Palms Casino Resort
No. of Rooms: 703 rooms
Price Per Night: $69 to $259 (depending on the type of room)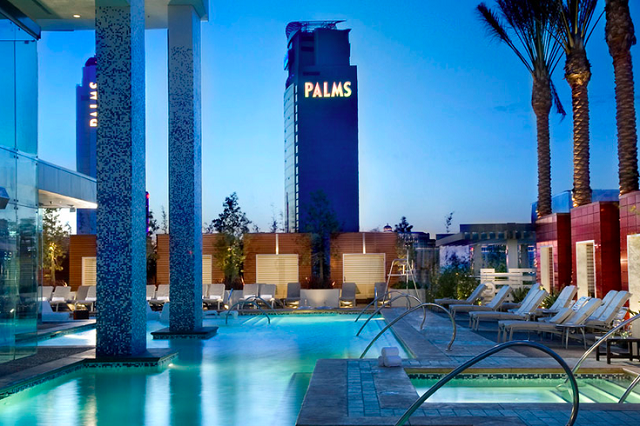 You can't talk about the most expensive luxury hotels in Las Vegas without mentioning the Palms Casino Resort. This 4-star hotel is situated on West of the Strip and is set on a two-story building. Adorned by artworks, two large pools for clubbing and relaxation, a recording studio that has been allegedly been used by big artist like Jay Z, his amiable wife, Beyonce, and Lady Gaga, the hotel was opened for business on November 2001 was acquired by Station Casinos in 2016. The food here has been commended as splendid consisting of Chinese, Mexican and Italian cuisines. It once featured as number 5 on CNN 15 World's Most Expensive Hotel Suites in 2012.
2. Caesar's Palace
No. of Rooms: 4,391
Price Per Night: $209 to $1,399 (depending on the type of room)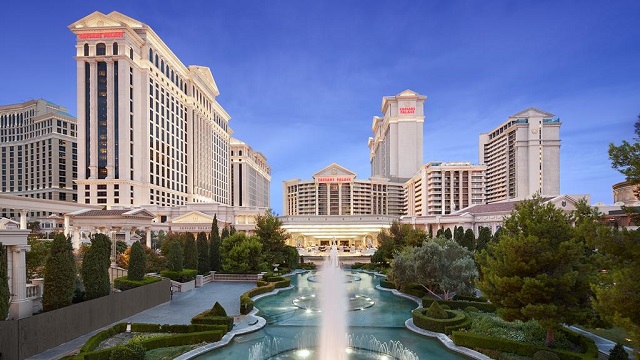 This is a 4-star luxurious hotel located at the centre strip of Las Vegas. The beautifully decorated hotel is one of the oldest serene hotels in Las Vegas. They have many restaurants with varieties of dining centres catering all kinds of meals, 264 high grossing shopping malls also known as the forum shops, within the hotel. The hotel has classic spacious suites; with the nicest rooms situate at the Caesar and Augustus wings.
The beautiful hotel has been used as a movie location for a number of films and TV shows like The Hangover film series, Ocean Eleven, Hearts Are Wild the list goes on. The hotel's other feature is a spa, fitness centre, and a casino.
3. Delano Hotel And Four Seasons
Delano Hotel
No. of Rooms: 1,118
Price Per Night: From $199 to $274 (depending on the type of room)
The Delano and Four Seasons are 5-star hotels situate at Mandalay Bay. They have a lot of sight attractions like swimming pools, 24 hourly operated restaurants, beach club, casino, spa, luxury and spacious standard rooms with spectacular views. Delano hotel is a AAA four-diamond award recipient built on 43 floors with luxurious suites and spectacular views. The hotel operated by MGM is off from the strips of Vegas and has two restaurants.
Four Seasons Hotel
No. of Rooms: 424
Price Per Night: From $525 to $1,355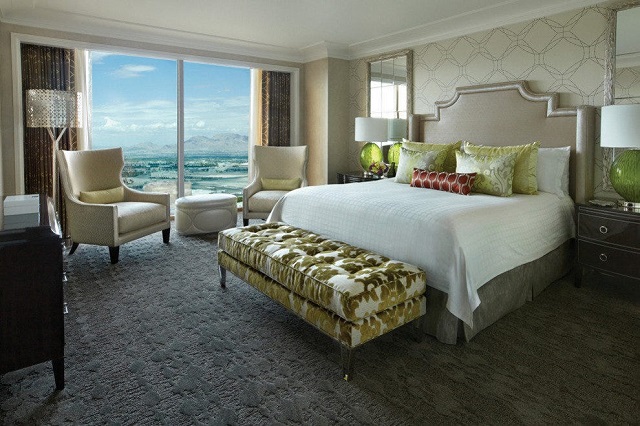 The Four Seasons hotel Mandalay Bay complex was founded in 1961. The hotel because of its excellence has been awarded AAA Five Diamond Award. It occupies the 35th to 39th floors of the Mandalay Bay building. It is a gaming sanctuary, with spa, fitness gyms, swimming pools, a number of upscale restaurants, drinking bars/lounges, with 100% paid parking space. The hotel has since 2007 been acquired by Cascade Investment founded by one of the world's richest men and internet mogul Bill Gates.
4. Cosmopolitan Hotel
No. of Rooms: 3,027
Cost Per Night: From $359 above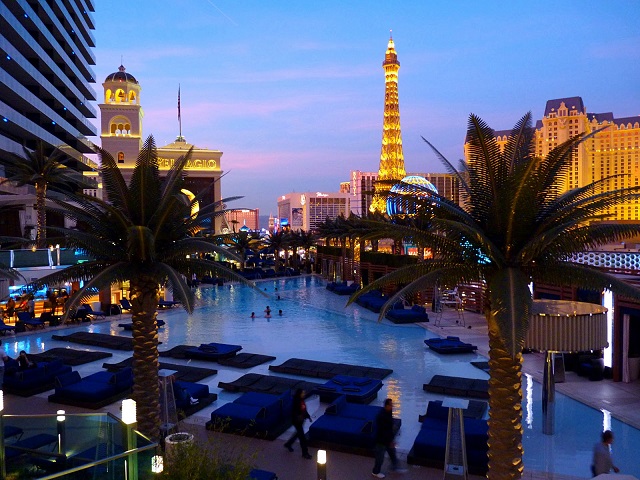 Officially opened for business on December 2010, then later sold to The Blackstone Group, this is one of the most expensive luxury hotels in Las Vegas. The 5-star hotel gorgeous back views is considered as the first most popular hotel in Sin City. It is quite close to the center strip and the city center. It is laced with one of the trendy restaurants like China Pablano, The Henry, STK, Jaleno among others.
The hotel has three types of pools; relaxing, day club and night club pools. If you need a massage from a stressful hustle in the city then the first-class spa or fitness gym in the hotel will do just fine. Another interesting feature of this luxurious hotel sometimes called Cosmo, are the two high towers named the Boulevard and Chelsea Towers both are 184 meters tall (603 feet).
5. Encore 
No. of Rooms: 2,034
Price Per Night: From $299 to $7,050
This is also a 5-star hotel that has consistently won the AAA Five Diamond award since 2008. The exquisite hotel has one of the best booking prices with over 2,000 rooms and an excellent spa that has been awarded the Forbes Five star travel Guild award. The other beautiful features of this hotel include the theatre (stars like Beyonce had performed in it), night and beach clubs, fitness gym and large pools.
See Also: Our Pick For The 10 Most Amazing Places In The World
6. Bellagio
No. of Rooms: 3,960
Price Per Night: From $269 to $1,219
This classic upscale themed and excellently rated hotel was opened for business on October 1998 by the MGM Resort International and it is situated on a 116,000 square feet space. The hotel with about 3,960 rooms leaves one with the Vegas feeling.
It is adorned by a fountain in front of the hotel, fine art gallery, nice garden shops, conservatories with about fourteen notable restaurants to choose from like the Lago, Jasmine, Circo, Picasso, Olive, Spago among others. Hoping to dance away in the night, then the bank nigh club will do just fine and if you wish to relax the tensed muscles, then the Spa tower opened in 2004 has got you covered.
7. Venetian Resort Hotel
Venetian Hotel
No. of Rooms: 4,049
Price Per Night: $291.75 to $10,000
This is made up of two hotels called Venetian and Palazzo hotels. The Venetian is considered as the third most popular hotel within Vegas with excellent 5-star ratings. It is the world's second-largest hotel with the second-largest casino and spacious suites rooms of about 650 square feet. Another highlight is the large arrays of eateries with Asian themed night clubs.
Palazzo Hotel
No. of Rooms: 3,068
Cost Per Night: Starting From $291.75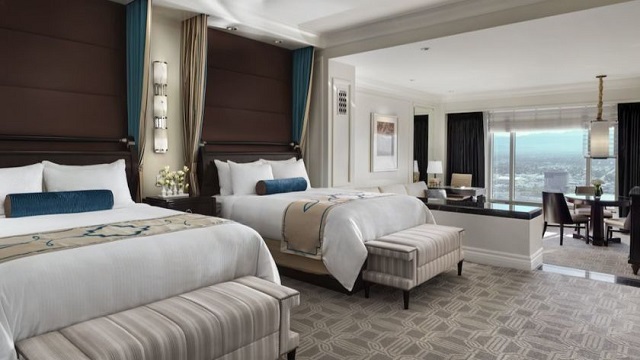 The Italian themed Hotel Palazzo has more extravagant and more modern look fused with rich Italian taste. The kitchen churns out exciting continental delicacies that are mouth-watering making it a worthy addition to this list of the most expensive luxury hotels in Las Vegas.