Ezekiel Elliott is one of the most popular names in the National Football League (NFL) today. He plies his trade as a running back for The Dallas Cowboys of the NFL who selected him in the 2016 NFL Draft.
Like most athletes, Elliott played football in high school and continued the trend in college at Ohio State where he earned his second-team-All-America honours in 2015. Since then, he has received several honours and mentions, including Big Ten Most Valuable Player, two-time NFL rushing yards leader, First-team All-Pro, three-time Pro Bowl, Second-team All-Pro and several others.
Where Did The Journey Begin For Ezekiel Elliott?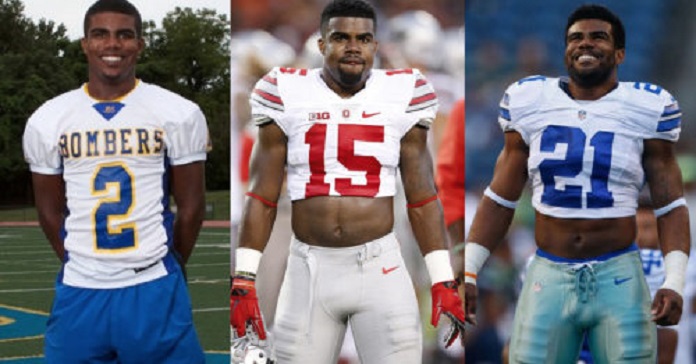 Elliot was born Ezekiel Elijah Elliott on July 22, 1995, in Alton, Illinois, into a family of predominantly athletes. His maternal grandfather, Leon Huff, played on the basketball team for Duke and was even named to the Tigers '70s all-decade team. His daughter, Dawn Huff, who later became Elliott's mom, followed in her father's footsteps and competed in the heptathlon at the University of Missouri. It was there that she met her husband, Stacy Elliott, who played as a linebacker for the Missouri football team.
It turns out that Ezekiel has been primed for sports right from the beginning and he is not the only one among his siblings. Being the eldest of three children, the Elliott siblings all went the way of sports. Ezekiel's younger sister, Lailah Elliot, is signed to Ohio State. Like her mom, she competes in track and field and in 2019, helped her team win the Big 10.
The same can be said of his little sister, Aaliyah Elliott, the youngest of the Elliott kids. So far, her current strides are tell-tale signs of a star athlete in the making. Like her mom and sister, Aaliyah also competes in track & field.
He Lettered In Three Sports In High School
Growing up, Ezekiel Elliott attended John Burroughs School in Ladue, Missouri. John Burroughs is a school with a reputation for its academic prowess rather than sports. While there, Ezekiel Elliott excelled at three different sports – football, along with basketball and track & field. There were also occasions where he played baseball as well. In football, he played running back for the John Burroughs Bombers.
By his senior year, Elliott had made a good mark on his school team, recording a total of 3061 all-purpose yards with 50 touchdowns. He then led the team to three championship games but they lost all. His impact was also felt in the other sports as he qualified for state events in sprinting and sometimes hurdling. By the time he left John Burroughs, he had won four different state championships and was a past Gatorade Track Athlete of the Year in 2013.
His College Career At Ohio State
Ezekiel Elliott was rated a four-star recruit by scout.com. He was also listed as the number 9 running back in America in the same year and played in the U.S Army All-American Bowl. All the while, Elliott seemed to mirror the choices of his parent until it was time to go to college. He did not attend the University of Missouri. Instead, he went to Ohio State where he spent the next three years of his incredible college career.
Supportive of his son's choice, Ezekiel's father even relocated to Ohio himself where he served as an Ohio State football program ambassador.
In his freshman year, Ezekiel Elliott served as a backup to Carlos Hyde. He was also playing as a gunner on special teams. Nevertheless, he was also able to rush 262 yards on 30 carries and got two touchdowns. When Carlos Hyde left for the NFL in 2014, Ezekiel Elliott became the starter for Ohio State University's Buckeyes.
At the end of his college career at Ohio State University, he had made his way to several leader boards. Elliott was rated as having the second-best career rushing yards below Archie Griffin. He managed to pull this off with 3961 career rushing yards. He also packed the positions of third and second-most rushing yards in the season and five of the 20 top rushing yards in a game.
Ezekiel Elliott Signed His First Professional Contract With The Cowboys
Ezekiel Elliott was drafted into the NFL in 2016 after the Dallas Cowboys selected him. On May 18, 2016, Ezekiel Elliott signed his first contract with the Cowboys; a four-year rookie contract worth $24.9 million. The deal came with a $16.3 million signing bonus. The offer proved to be worth it as Elliott, after only nine games, scored a record of over 1000 yards in that season, making him the second Cowboys' rookie to achieve such a feat. Such excellent performance earned him his first Pro Bowl.
The second contract, signed on September 4, 2019, shocked many in the NFL. A 6-year contract worth $90 million with a guaranteed sum of $50 million. The contract comes with a signing bonus of $7.5 and this would keep him on the team up until 2026. The arrangement makes Elliott the highest-paid running back in the NFL. Dwarfing Todd Gurley's four-year, $60 million deal signed in 2018. This has raised several questions about his current net worth.
How Much Is He Worth Today?

According to Sportscasting.com, the NFL star has an estimated net worth of $12 million. Months after signing his $90 million contracts, that figure hasn't changed. However, it is expected to rise significantly when his current contract runs its full course or somewhere in-between. That is if Elliott's career remains void of any major financial reversals. His improved status has been felt by those closest to him, especially his parents for whom he acquired a new apartment.
See Also: Tua Tagovailoa Bio, Ethnicity, Religion, Brother, Parents, Family, Height
Meet The Family Members Of Ezekiel Elliott

Like we mentioned earlier, Ezekiel Elliott's parents were also athletes in college. His mother, Dawn Elliott (Nee Huff), excelled in three different sports in high school. She finally went to the University of Missouri and settled on running track. His father, Stacy Elliott, unlike his wife and son, focused totally on football. He was a linebacker for the football team at the same University that his wife attended. It was during their time there that the two met and started the first sparks of what would be a blossoming family today.
As the first of three kids, Ezekiel plays big brother to two sisters, Lailah and Aaliyah. Lailah Elliot is also signed as an athlete to Ohio State and competes in track and field. Aaliyah Elliott, the youngest of the Elliott kids, shows great prospects of being a star athlete like her mom and sister, Aaliyah.