His role as Robert, an internet-video obsessed teen in Antonio Campos' 2008 drama Afterschool, was not the last we have seen of the multi-talented actor Ezra Miller. Rather than being his last, the role (which was his first appearance in a movie) opened to him the doors of endless opportunities in Hollywood.
Miller has gone ahead to star in several other Hollywood movies like the 2011 drama We Need to Talk About Kevin, where he played the main character, Kevin, he starred in the 2012 film adaptation of Stephen Chbosky's novel The Perks of Being a Wallflower. In 2015, he played Daniel Culp/Prisoner 86 in Kyle Patrick Alvarez's The Stanford Prison Experiment and as Credence Barebone in David Yates' 2016 fantasy film Fantastic Beasts and Where to Find Them.
His most recent appearances have been in 2016's Batman v Superman: Dawn of Justice and the Suicide Squad where he made cameo appearances as Barry Allen or The Flash. In 2017 he appeared in a lead role in Justice League.
Early Life
Ezra Miller was born September 30, 1992, in New Jersey to Marta and Robert S. Miller. At the time of his birth, his father was the managing director and vice president of Hyperion Books (now Hachette Books), he later worked with an independent publishing company – Workman Publishing as a publisher. His mom is a modern dancer with German/Dutch ancestry while his father is Jewish.
Miller is the only son as well as the youngest of the three children of his parents. His sisters are Saiya and Caitlin. In a bid to help Miller overcome a speech problem, his parents enrolled him in a music school at the age of six to train as an opera singer. So as a child, Ezra performed with Metropolitan Opera and also performed at the U.S premiere of Philip Glass's contemporary opera, White Raven, in 2001, when he was only nine.
He is an alumnus of Rockland Country Day School. He dropped out of High School (The Hudson School) at the age of sixteen to pursue a career in acting.
Career
Miller's first appearance in a movie was in Antonio Campos' 2008 drama Afterschool, where he played the character of Robert, an internet-video obsessed teen, who films the deaths of two classmates accidentally and is asked to do a memorial video. Afterschool was followed by City Island in 2009, Every Day and Beware the Gonzo in 2010. In 2011, he was featured in the BBC movie We Need to Talk About Kevin alongside Tilda Swinton, and John C. Reilly. He was also on Showtime comedy Californication as Damien, on The Perks of Being a Wallflower as Patrick and on Royal Pains as Tucker Bryant.
His other movies include Fantastic Beasts: The Crimes of Grindelwald, Fantastic Beasts and Where to Find Them, Batman v Superman: Dawn of Justice, Suicide Squad, City Island, Busted Walk, Justice League and lots more. In 2018, he attended the Middle East Film and Comic Con where he represented his Justice League character Flash/Barry Allen. He is set to play the same character in the solo Flash film titled Flashpoint.
Asides from acting, Ezra is also a credited singer, who also drums and does some musical recordings. He is a member of a musical group called Sons of an Illustrious Father.
Also Read About: Is Luke Evans Gay, Who Is The Boyfriend? Here Are
The Facts
Is Ezra Miller Gay?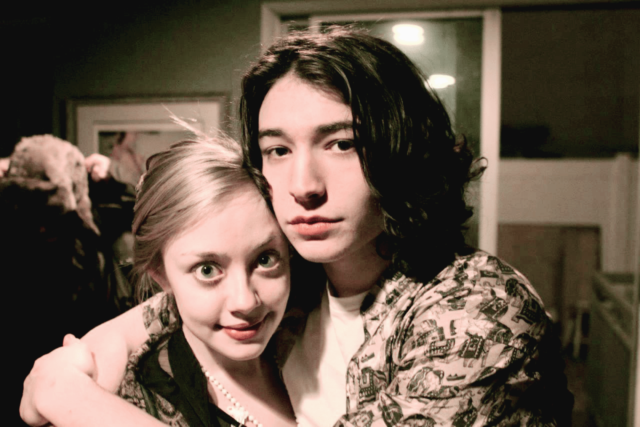 In a 2012 interview with Out Magazine Ezra Miller revealed his sexual orientation as queer. According to the young actor, he wouldn't want to call himself gay because he has been attracted mostly to the opposite sex, he, however, added that he has a lot of wonderful friends who are of different sexes and genders, all of who he loves equally and is open to love notwithstanding who it comes from.
During another interview, Miller also talked about how he tried kissing boys in school while coming to terms with his sexual identity, he says he actually loves kissing guys.
Here Are Other things You Need To Know About Ezra Miller
The actor was engaged to Erin Urb from 2014 – 2016. He has also been romantically linked with Esther Wald, Shailene Woodley, Zoë Kravitz and Lauren Nolting.
In 2011, Ezra was arrested and charged after the police found him in possession of 20 grams of marijuana. The charges against him were later dropped and he was asked to pay a penalty of $600 for two citations of disorderly conduct.
Opening up to NYMag about his use of marijuana, Miller said he doesn't feel there is any need to hide the fact that he smokes pot. He added that it is a harmless herbal substance that increases sensory appreciation.
Ezra Miller sees himself as Jewish, and also considers himself "spiritual"