Faith Jenkins is an Afro-American model, attorney, legal analyst, media personality and public speaker. The lovely attorney is equally a former Miss Louisana and the runner up of 2001 Miss America contest. Interestingly, she emerged the winner of Life of Quality award and winner in the swimsuit and talent segments of the competition. She has remained the only person in the pageant's history to be awarded all three of those categories of awards. The amazing woman gained prominence after she started hosting her TV court procedures in the national daytime show as Judge Faith Jenkins on September 2014. Let's find out more about this celebrated beauty with brains.
Faith Jenkins's Biography (Age)
Faith Jenkins was birthed on the 21st September 1977 in Shreveport, Louisiana, the USA. She has a brother whose name unknown. She attended C. E. Bryd high school.
The young enthusiastic Faith Jenkins after her high school education enrolled into the Louisiana Tech University, where she obtained her first degree in Political Science before proceeding to the Southern University Law Center where she bagged a law degree.
As a young beautiful lady, she had a stint in the modelling industry briefly before she explored began participating in beauty pageants. Faith Jenkins entered for the local pageantry and won the opportunity to represent her state in the national beauty contest as Miss Louisiana Tech. In 2000, she was crowned Miss Louisiana, as a result, she competed for the Miss America beauty pageant crown in 2001, where she emerged as the first runner-up of the keenly contested crown.
Besides, she was the winner of Life of Quality award, as well as the preliminary winner in the swimsuit and talent segments of the contest. She has remained the only person in the pageant's history to be awarded all three of those categories of awards.
The outstanding lawyer worked as a litigator in Sidley Austin's office in New York before being appointed to work in the Manhattan District Attorney office and through sheer hard work, she gradually rose as an assistant district attorney as a prosecutor attorney in criminal and civil cases.
Faith Jenkins started practising as a private attorney with a law firm that specializes in business disputes resolutions and other civil and criminal cases. Her outspoken and technical presentation caught the eyes of the MSNBC, which led to her appointment as their legal commentator/analyst in 2014.
She was then hired as a television judge on the national daytime TV court show where she abdicates small claims as Judge Faith Jenkins. This show that was named after her premiered on 22nd September 2014 and ran through to 2017. Jenkins has another nationwide TV court show she started hosting in 2015 – Justice By Any Means. Faith Jenkins has graced other news media screens like Fox News and CNN.
Faith Jenkins has other sides to her, she supports causes like cancer awareness programs such as the Harold & Pump Foundation where she ran into Jim Jackson, the retired American basketball player.
Jenkins utilizes her fame positively by reaching out to the younger generations. She speaks in schools, juvenile prisons, rehabilitation centers, and anywhere youths are, encouraging and motivating them to become better while educating them on how to overcome life hurdles and problems.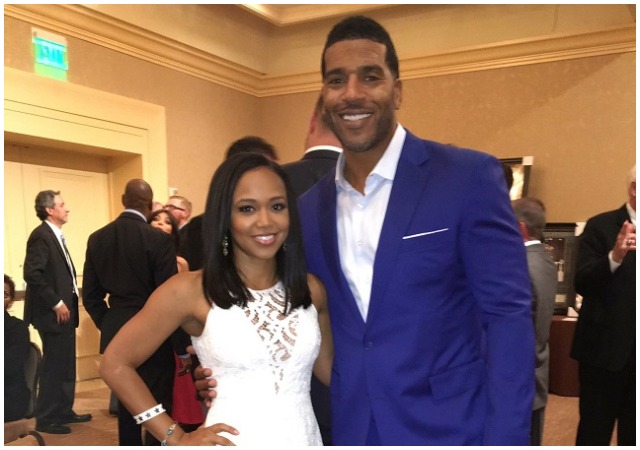 Faith Jenkins's Net Worth
Having been a United States Jury since 2014, Judge Faith Jenkins has garnered some measurable wealth. Her net worth has been pegged at $2 million. Most of this income was generated from the television shows, her career as an attorney, and as Assistant DA of Manhattan.
Read Also: What Is Judge Tanya Acker's Age, Is She Married, Who Is Her Husband?
Who Is Her Husband?
Faith Jenkins is one of the very few celebrities in the world that has tactfully balanced her personal life with her career. Despite being a former beauty queen, as well as a practising lawyer and television Judge in the United States, Faith Jenkins has carefully held off details of her personal life off the media. It is believed that the beautiful attorney is a married woman but is yet to disclose who the lucky man is.
There was a time there was speculation that she and Nick Young were dating. Nick Young was a colleague, whom she had tagged on her Instagram which probably caused the circulation of the rumour. However, the rumour has fizzled away after the attorney and Nick Young did not give credence to it.
Height
The former beauty queen stands at a height of 5 feet 3 inches (1.61 m) She has black hair and brown eyes. Her body measures 34-26-34 inches for bust-waist-hips.