Lean Back, What's Luv?, Make It Rain and All the Way Up are songs that will make any hip-hop fan remember Fat Joe, the American rapper and actor whose journey in the music industry took off in the early 1990s. Even though he has not been making a lot of music in recent times, he still manages to stay relevant in the entertainment scene.
Fat Joe has been nominated for Grammy Awards, BET Awards, MTV Video Music Awards, iHeartRadio Music Awards, and had won ASCAP Rhythm & Soul Music Awards and Billboard Latin Music Award.
Fat Joe Biography and Ethnicity
Fat Joe was born with the full name Joseph Antonio Cartagena on August 19, 1970, in the South Bronx area of New York City where he also grew up. Raised by his poor parents, Ernesto Delgado and Marie Cartagena, who are of Puerto Rican and Cuban descent, the rap legend lived in public housing and got involved in stealing at a young age in order to make contributions to the home.
His music career kicked off in the early 1990s after he joined the hip-hop group Diggin' in the Crates Crew (D.I.T.C.). He later went solo and established his own label, Terror Squad. In 1993, Joe released his debut solo album titled Represent and also released the single, Flow Joe. In 2001, he released his second album, Jealous Ones Still Envy (J.O.S.E.) which is his most commercially successful album till today.
In addition to hip-hop, Fat Joe has also dabbled into acting, appearing in a number of films, including Scary Movie 3, Happy Feet, and Spike Lee's Netflix series She's Gotta Have It. Currently, he hosts a podcast, Coca Vision, on Tidal where he talks about music, friendship, and pop culture alongside some of the most entertaining voices in the industry. He recently released an album titled Family Ties.
The rap king has been involved in some legal issues with the most recent one being in 2012 when he was taken in for not paying income tax of more than 3 million dollars from 2007-2010. In December of that year, he pleaded guilty to tax evasion, and on June 24, 2013, he was sentenced to four months in prison. He began his jail term on August 26, 2013, and was released on November 28, 2013.
How Much He Is Worth
Fat Joe has an estimated net worth of $5 million. Considering his accomplishments in the hip-hop industry, there is no gainsaying that the rapper is among the most successful rappers in America. He has released 22 singles and 10 studio albums, selling more than 1.5 million albums worldwide. His highest sold album till date is his album, Jealous Ones Still Envy (J.O.S.E.) released in 2001 and certified platinum by the Recording Industry Association of America (RIAA).
Even though the popular rapper has made money from other ventures, including acting, a larger chunk of his money came from music.
Fat Joe's Wife, Sons and Daughter
The veteran rapper may be a "hood" rapper, but when he is neither making music nor going on tours, he is a husband and father. For the past two decades and counting, Fat Joe has been married to Lorena Cartagena (nee Milan) also known as Lola.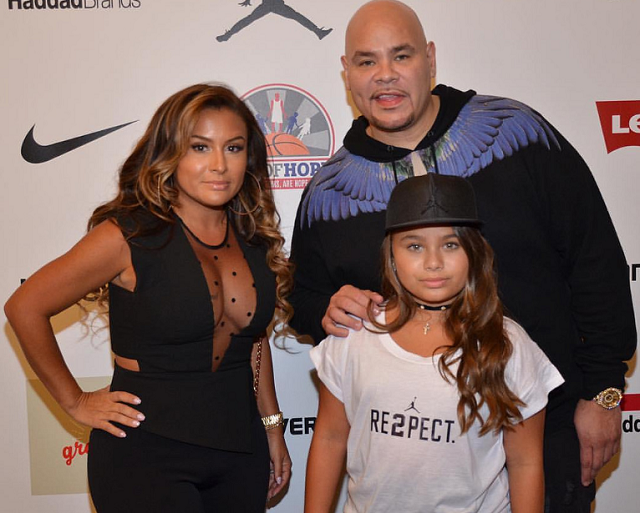 Although Joe likes to keep his family as private as possible, he has severally gushed about his wife on social media. Unlike her husband, very little is known about Lorena but going through her social media pages, it was obvious that she adores her family so much.
Lorena and Joe have a very beautiful daughter named Azaria. She was born on May 12, 2006, and is exploring getting into the music business with her dad's blessing already given. Azaria and her dad share a very tight bond and Joe once described her during an interview as the love of his life.
The pretty girl who looks so much like her father celebrated her 12th birthday in style on May 12, 2018, at Wall Lounge, Miami Beach, Florida, with friends and family in attendance. Celebrities like DJ Khaled, Alec Monopoly and Pistol Pete were also there while Rich the Kid and Angelica Villa rocked the party with their performances.
The "What's Luv" rapper has two sons, Joey, and Ryan from his previous relationships. While Joey was born in December 1992, Ryan was born three years later in 1995.
Some years back, Joe opened up about his oldest son, Joey, who has autism in a Facebook post. he wrote. Declaring his unreserved love for Joey, the rapper described him as his angel and the reason for all his blessings.
He had Joey when he was very young and at that time, he felt he was not ready to have children. After his birth, his mother could not handle him because of his condition so Joe and his parents raised him.
What To Know About His Brother
Fat Joe has a brother, Andre, who introduced him to rap music when he was still a teenager. They were both influenced by the Zulu Nation culture and before Joe's music career kicked off, his brother would always attend Zulu Nation events and come back with tapes of songs from the event to introduce to him. In the course of time, Fat Joe over-showed his brother in the music industry, becoming more popular.
Apart from Andre, the rapper also referred to rapper Big Pun as his brother. Even though they can easily pass as brothers, they have no biological relationship. The duo met in 1995 and in the same year, Pun featured on Joe's album, Jealous Ones Still Envy.
Big Pun died of a heart attack in February 2000, at the age of 28 after battling with weight gain for many years. His memory still lives with his friend-turned-brother, Fat Joe, as he frequently pays tribute to him.
Height
Fat Joe measures 5 feet 10½ inches (179 cm) tall and as his name suggests, he has a massive weight that makes him stand out. His weight is listed as 130 kg (287 lbs). Other details of his body measurements are not available for now.