If you ask anyone why some people get too fat, then the answer will be pretty obvious — they eat too much and exercise too little. That's the answer we still get from the law of thermodynamics: the energy input and the energy output must always be balanced. But when the input is more than the output, then what we get is an extra-large person — if we apply it to humans. Well! That might be the case, but am not sure whether the gaining of excess weight by some people is accidental or incidental. No one can tell, especially when there's a contest of who is the fattest human being in the universe. And there's a price for those who win. So, if you're extra skinny and you want to get famous or even break a record as the world's fattest person. Then, here are top 5 fattest people in the entire universe that you will be competing against:
See Also: 5 Skinniest People in the World Right Now
Fattest People on Earth
1. Paul Mason
The first on the list, is the 50 years old Paul Mason from England. He once broke the record of the world's fattest man when he recorded a weight of 980 lbs. But his weight was later toned down to 560 lbs after he underwent a gastric bypass surgery. During his interviews, he was meticulous to state the reason why he had so much weight. He attributed his extreme size to his habitual eating of 20, 000 calories per day. He even blamed Britain's 'national health Service' for preventing him from seeing eating disorder specialists when he was barely weighing 400 lbs.
2. Donna Simpson
Born in 1967, Donna Simpson broke the record of the world's fattest woman in 2008. She is an American woman who was determined to break the record by targeting to hit 1000 lbs — which she didn't get to. In fact, she used to run a website where people paid to watch her over-eat. In 2010, Donna Simpson's weight reduced from her 2008 weight of 630 lbs to 602 lbs. She even entered the Guinness book of records in 2010 as "the heaviest woman to ever give birth." She, however, decided to go on a diet in 2011 to reduce her weight to 370 lbs (170 kg) in order to be more self-sufficient and raise her children.
See Also: 10 Tanzanian Foods to Help Keep Yourself in Good Shape
3. Manuel Uribe
Born in Monterrey Mexico in 1965, Manuel Uribe was popularly known as the man who suffered from morbid obesity to an extent that has not been recorded in world's history. In 2011, Manuel was completely unable to leave the bed after he hit 1320 lbs ( approximately 570 kg) making him the first recorded fattest person to achieve complete immobility due to obesity. This was the maximum weight he ever had. With the help of nutritionists and doctor, Uribe managed to reduce his weight by 400 lbs (181 kgs). He shockingly turned down the offer for an Italian gastric bypass surgery in 2006, as witnessed by several viewers when he appeared on Televisa television. In 2009, there was a false report that he had died. But, as per the latest reports, Uribe is still alive and the latest update about his weight was on February 2012 where he weighed 440 lbs (200 kg).
4. Kenneth Brumley
Kenneth Brumley was once the world's heaviest person whose weight was confirmed to be about 74 stones ( 1035 pounds or 468 kg). He appeared in the "Half-ton dad" documentary that was featured on Channel 4 Body-Shock. According to the documentary, Brumley states how he was bed bound for 4 years in Renaissance hospital in Texas where he was admitted for a bypass surgery. He illustrates how a fire crew had to break a wall to get him out because he couldn't pass by the door. He managed to lose 76 kg from the hospital within 40 days. His entire weight loss procedure involved a restriction of his daily diet to about 1, 200 calories per day. The specialists who attended to him are the same ones who are believed to have treated William Renee (the world's fattest woman at that time).
5. Michael Hebranko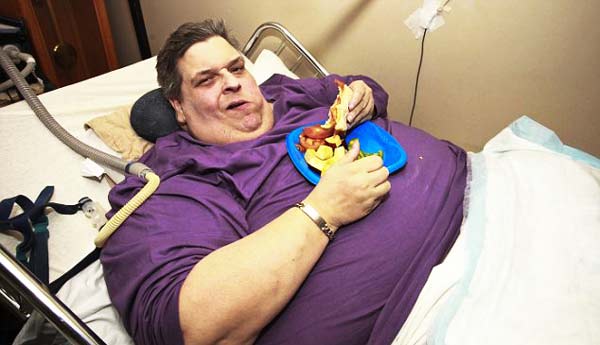 The list of fattest people on earth will not be complete without mentioning Michael Hebranko who was born on May 14th, 1953. Michael is popularly known for his extreme case of morbid obesity. He even broke the record of the world's fattest person in 1990 where he was entered in the Guinness book of records. He, however, managed to lose his weight from 910 lbs (410 kg) to about 200 lbs (90 kg) with the help of specialists from St. Luke Hospital in New York where he was admitted for 19 months. Most of his weight was lost through exercising and dieting as guided by his coach, Richard Simon.
See Also: Top 10 Best African Food Recipes For Everyone 
He was also subjected to gastric bypass surgery where he also lost part of his weight. He has so far toured the whole of the US and lectured about his experiences while advocating for exercising and the importance of a healthy diet. In addition to all that, he has appeared in several TV shows like the British-chat-show and the Howard-Stern-Show, where he has been meticulous about his extreme weight loss case.