The Federal Road Safety Corps (FRSC) functions as the paramilitary body responsible for the regulation and maintenance of road safety to avoid accidents in Nigeria. In a nutshell, FRSC is not far removed from other government officers in services like the Nigerian Air-force, the Navy, the Army, and of course the Nigerian Police. Personnel from all these commands are paid according to their individual ranks. It goes without saying that a level five officer in the FRSC is expected to earn way higher than an entry-level officer in the same road safety corps.
Federal Road Safety Corps Ranks
The ranking system of the Federal Road Safety Corps is divided into two, we have the commissioned and non commissioned staff; these are the non-commissioned staff
FRSC Marshal Ranks/Structure
1
Junior Marshals
RMAIII
Road Marshal Assistant III (Entry Point)
2
RMAII
Road Marshal Assistant II
3
RMAI
Road Marshal Assistant I
4
SRMA
Senior Road Marshal Assistant
5
DCRMA
Deputy Chief Road Marshal Assistant
6
CRMA
Chief Road Marshal Assistant
7
Non-Commissioned Officers (NCOs)
MI-III
Marshal Inspector III
8
MI-II
Marshal Inspector II
9
MI-I
Marshal Inspector I
10
Senior Non-Commissioned Officers (SNCOs)
SMI
Senior Marshal Inspector
11
PMI
Principal Marshal Inspector
12
ACI
Assistant Chief Inspector
13
DCI
Deputy Chief Inspector
14
CI
Chief Inspector
Below is the rank list for personnel considered to be commissioned, staff
FRSC Officers Ranks/Structure
| | | |
| --- | --- | --- |
| 1 | ARC | Assistant Route Commander (Entry Point) |
| 2 | DRC | Deputy Route Commander |
| 3 | RC | Route Commander |
| 4 | SRC | Superintendent Route Commander |
| 5 | CRC | Chief Route Commander |
| 6 | ACC | Assistant Corps Commander |
| 7 | DCC | Deputy Corps Commander |
| 8 | CC | Corps Commander |
| 9 | ACM | Assistant Corps Marshal |
| 10 | DCM | Deputy Corps Marshal |
| 11 | CM | Corps Marshal |
Qualification And Rank Structure Of The Federal Road Safety Corps (Entry Level)
| | | | |
| --- | --- | --- | --- |
| Qualification | Grade Level | Basic Salary Range per Annum | Possible Rank |
| SSCE | 03 | ₦298,506 ­­- ₦330,231 | RMA-III |
| OND | 05 | ₦329,853 – ₦374,259 | MI-III |
| HND | 07 | ₦483,014 – ₦567,065 | MI |
| BSC | 08 | ₦888,956 – ₦988,991 | ARC |
The Basic Annual Salary Of The Staff Of The Federal Road Safety Corps According to Ranks
The salaries below are basic net annual salaries, this means that this is their take-home pay after making all the necessary annual deductions.
| | | |
| --- | --- | --- |
| S/N | Rank | Basic Annual Salaries |
| 1 | Chief Inspector (CI) | ₦1.405,449 |
| 2 | Deputy Chief Inspector (DCI) | ₦1.325,234 |
| 3 | Assistant Chief Inspector (ACI) | ₦1.252,038 |
| 4 | Principal Marshal Inspector (PMI) | ₦1.143,539 |
| 5 | Senior Marshal Inspector (SMI) | ₦1,058,416 |
| 6 | Marshal Inspector I (MI-I) | ₦777,876 |
| 7 | Marshal Inspector II (MI-II) | ₦548,387 |
| 8 | Marshal Inspector III (MI-III) | ₦393,442 |
| 9 | Chief Road Marshal Assistant (CRMA) | ₦966,761 |
| 10 | Deputy Road Marshal Assistant (DRMA) | ₦539,048 |
| 11 | Senior Road Marshal Assistant (SRMA) | ₦387,428 |
| 12 | Road Marshal Assistant I (RMA I) | ₦349,589 |
| 13 | Road Marshal Assistant II (RMA II) | ₦319,741 |
| 14 | Road Marshal Assistant III (RMA III) | ₦305,576 |

Federal Road Safety Corps Staff Welfare Packages
Apart from the above listed basic annual salary, personnel of the Federal Road Safety Corps is still entitled to several other welfare packages including;
Health Care
The FRSC provides both their staff members and road accident victims with medical health care and facilities. In total, the commission has provided 12 zonal clinics, 20 road-side clinics, and they also equipped their headquarters with one clinic. The health care personnel in these clinics include 23 qualified medical doctors, 121 registered nurses, 57 supporting staff, and 51 paramedics who are charged with the responsibility of managing the affairs of the clinics.
Housing
In June 2004, the Federal Road Safety Corps inaugurated the FRSC Housing Cooperative scheme which is geared towards the provision of housing benefits for its staff. The notion of this housing scheme emanated from the desire to support members of staff who are also contributors to the National Housing Fund (NHF) to access loans from the Federal Mortgage Bank and become proud homeowners; these officers are expected to retire to these homes.
The objective of the housing scheme is;
• To acquire, build, and allot lands to staff members
• To administer the estates for both serving and retiring cum discharging service-personnel.
Cooperative Society
Another special feature of the FRSC is their cooperative society which assists members in having access to loans, savings, and purchase goods at discounted prices from trusted sources. The cooperative can release a list of verified automobile brands at subsidized rates for interested staff members.
Special Marshals welfare
There is an insurance policy covering special road marshals who die through road accidents; the act also provides immunities for their protection. This immunity clause shields the special marshal from liability for any act validly done by the person on the route he is assigned to.
In addition to all these welfare packages, the staff of the Federal Road Safety Corps equally enjoy some other benefits such as uniforms which are provided for the discharge of their noble duties.
How To Join The Federal Road Safety Corps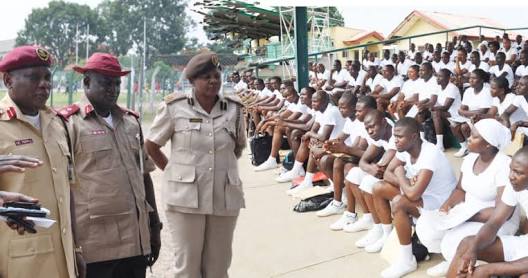 Recruitment for the Federal Road Safety Corps in Nigeria is done online. When the portal opens, intending applicants can visit www.frsc.gov.ng to apply. The application form is downloadable here https://recruitment.frsc.gov.ng and applicants are advised to fill their personal data on the application form.
It is important to note that there are requirements that must be met before one is considered qualified to join the FRSC
Applicant must be a Nigerian citizen by birth
Age bracket is between 18 and 30 years (For the medical doctors, 35 years will be considered)
Must not be single (unmarried).
The height range for the male applicants must not be less than 1.68 meters for males and 1.63 meters for the female.
The men are expected to have not less than 0.87 meters fully expanded chest measurement.
All Applicants must be mentally and physically fit for paramilitary activities.
Must submit proof of medical fitness via a certificate obtained from any government health institution.
Applicants must be free from financial embarrassment of any form.
Must be of good character.
There must be evidence of means of livelihood that is sustainable
Must not be an ex-convict.
Important to note that:
Those who have valid drivers' license and are computer literate will have added advantage
Any qualification or certificates not declared at the point of recruitment will no longer be considered for promotion in FRSC
Disqualification and prosecution awaits those who have submitted false documents
JAMB conducts computer-based examinations for all shortlisted applicants.
NDLEA (National Drug Law Enforcement Agency) will conduct drug test for shortlisted applicants
Shortlisted applicants must present a printout of their forms with acknowledgment.
The exercise is completely free.
What Are The Requirements For Promotions In The FRSC?
For personnel of the Federal Road Safety Corps to be promoted to the next rank, each officer seeking promotion must undergo what is referred to as promotional exams. The officers and the marshals don't go through the same exams.
The last time, the marshals were mandated to go to the FRSC Academy in Jos to sit for the exams while the officers took theirs in Udi in Enugu State. Upon the release of the results of the promotional examinations, successful officers and marshals will be promoted to the next level.