Nigeria's national female football team- The Super Falcons may have won the women's Africa Nations Cup, which was formerly known as the African Women's Championship, a total of nine times, but they still find it hard to attract sponsors.
See Also: Absolutely Unbelievable! Nigeria's Blessing Okagbare Beats Usain Bolt
The national female football team has actually been described as Africa's most successful national team and although they failed to qualify for this year's Olympic Games in Rio de Janeiro, the team's past record cannot be discounted.
A senior Nigerian football official has attempted to clarify some statements he made regarding the team's recent decline.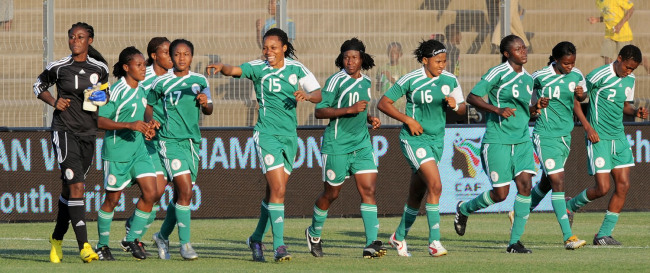 It was claimed that in an interview, he blamed lesbians for the national team's decline but Seyi Akinwunmi, the vice-president of the Nigeria Football Federation (NFF) has discounted the quote attributed to him. He had been quoted as saying that "lesbianism kills teams". He described the emerged quote as a "mischievous and uncharitable version of the interview".
See Also: Former Nigerian Footballer And Coach Stephen Keshi Passes Away
By way of clarification of what he had actually said in the interview, he said;
"I noted that one of the problems we have encountered in trying to raise funds for the women's game, is the perception of lesbianism therein,"
Continuing;
"We strongly believe that there are still potential sponsors out there who will lend their support to help us develop our female teams because of the glory that these girls have brought to this country and their enormous potential to do even more."
In essence, sponsors shy away from backing female football teams in Nigeria because they believe they are synonymous with lesbianism. The players for the national women's side receive significantly lower pay and bonuses than their male counterparts and more sponsors would no doubt help cover that gap.
Same sex relationships remain banned in the deeply conservative country and this will not be the first time the Nigerian Football Federation has been seemingly misquoted on the issue of lesbianism. Three years ago, they had to deny claims that another official had said that lesbians were banned from playing in Nigeria.