Fergie is a singer who became immensely popular as the sole female in the Grammy Award-winning hip-hop/rock group, Black Eyed Peas. Having enjoyed unprecedented success with the famous band, she went on to prove her mettle as a soloist and equally established a bloomy career that has landed her numerous awards including MTV Australia Music Video Award.
With her unique and scintillating voice, Fergie still commands quite a lot of admiration despite being missing from music for the most part in recent times. It's noteworthy that she didn't just become a music star all of a sudden, she worked her way up from having a brief stint in acting to joining an all-female music group before attaining superstardom in the music industry.
Fergie Began Her Professional Career in the Acting Scene
Born, Stacy Ann Ferguson, the renowned music artist started out her career in entertainment as an actress. She did a couple of commercials before landing a role in Kids Incorporated in 1984. The show helped to put her musical talent on display as it featured members of a fictional music group called Kids Incorporated. The show was acquired by the Disney Channel after it ran its first syndication and Fergie remained on the show for six seasons, becoming the show's longest-running cast member.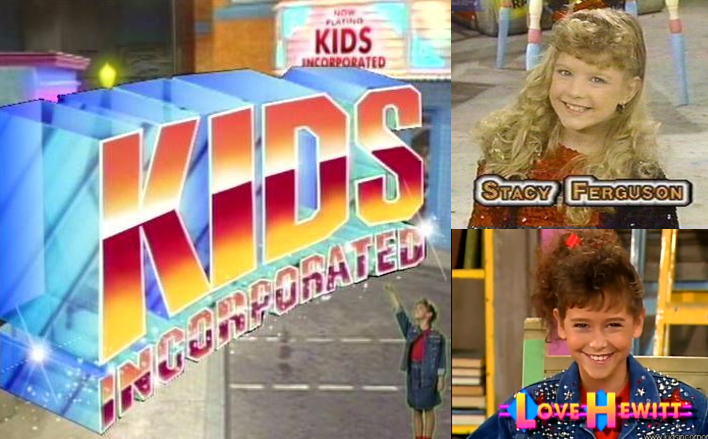 Between 1984 and 1985, she did voice-over work in cartoons such as It's Flashbeagle, Charlie Brown and Snoopy's Getting Married, Charlie Brown, as well as in the TV show The Charlie Brown and Snoopy Show. Although she ventured into music subsequently, Fergie continued playing minor roles in films and TV series, having made her cinematic debut in the 1986 movie, Monster in the Closet. In the same 1986, she played the role of Beth in an episode of Mr. Belvedere.
Later on, she was featured in one episode of Married With Children, California Dreams, Rocket Power, and Las Vegas before landing a main role in Instant Def. From 2000 to 2010, the gorgeous vocalist was cast as Zeke's Girlfriend in The Gentleman Bandit, Gloria in Poseidon, Saraghina in Nine and equally lent her voice in many animated movies including Madagascar: Escape 2 Africa, Marmaduke, and Arthur and the Revenge of Maltazard. She then made her last acting appearance in 2012 when she provided the voice of April in the series Kick Buttowski: Suburban Daredevil.
Her Transition Into a Musician
In the year 1990, Fergie became a member of the American all-female group 'NRG' which later got renamed Wild Orchid. She founded the group with her former cast member on Kids Incorporated, Renee Sandstrom alongside their friend Stefani Ridel. The band first worked with various record labels such as Capitol, EMI, RCA before signing a major deal with Sony Publishing and RCA Records in the year 1994. Two years later, they released their first single 'At Night I Pray' and in the next year, the group dropped their first studio album titled 'Wild Orchid' and it charted at No. 153 on the Billboard 200.
Fergie and her bandmates released their second album 'Oxygen' in September 1998. Unfortunately, the album recorded poor sales of 200,000 copies globally. After completing their third album 'Fire' which the group's record label RCA refused to release, and subsequently parted ways with them, Fergie left Wild Orchid in 2001. At this point in time, she got caught up in a wild lifestyle and was soon addicted to crystal methamphetamine. She however later made a decision to quit the lifestyle and she kicked out her drug habit in 2002.
Rising to Prominence With the Black Eyed Peas
While still getting her life back, the talented songster became a part of the Black Eyed Peas, which was at the time just becoming a popular hip-hop group. She replaced their former background female singer, Kim Hill who left the group in the year 2000. Having joined the group in 2002, Fergie seemed to have been the missing piece as their first project together titled 'Elephunk', which was released in 2003, became a hit. It spawned several successful singles like 'Where Is The Love?' and 'Hey Mama'. In fact, they won a Grammy in the category of best rap performance by a duo or group for 'Let's Get It Started'.
In 2005, Black Eyed Peas released their next album named 'Monkey Business'. The album rose to No. 2 on the Billboard 200. The group also won another Grammy in 2005 for best rap performance for 'Don't Phunk With My Heart' and another in 2006 for best pop performance for 'My Humps'. In 2009, the group released another successful project with 'The E.N.D.' which had successful songs like 'Boom Boom Pow' and 'I Gotta Feeling', 'Meet Me Halfway' and 'Imma Be'.
Later in November 2010, they dropped their sixth studio album 'The Beginning' which produced singles such as 'Just Can't Get Enough', 'Don't Stop the Party', and 'The Time (Dirty Bit)', with the latter peaking at No. 1 on the UK Singles Chart. The Black Eyed Peas encountered huge success with the release of their last four studio albums, as they reportedly registered a worldwide sales of almost 32.5 million albums and 31 million singles as of June 2011.
The band also received numerous awards following the success of those albums. They include American Music Awards, MTV Russia Music Awards, MTV Video Music Awards, Juno Award, Mnet Asian Music Award, NAACP Award, among many others. Sadly, in 2017, Fergie parted ways with the hip-hop band in order to concentrate full-time on her solo career.
The Music Star Established Her Solo Career In 2006
After enjoying success with the Black Eyed Peas, Fergie made a solo album in 2006 titled 'The Dutchess'. It was a successful project with such hits as 'Big Girls Don't Cry', 'London Bridge', and 'Glamorous'. The album recorded sales of 6 million copies across the globe and 3.9 million copies in the United States. As a result, it emerged as the twentieth best-selling album globally for the year 2007, as well as the third best-selling album of the year in the United States.
She released another solo project in 2017 titled 'Double Dutchess' with its lead single 'L.A.Love (La La) peaking at No. 3 on the UK Singles Chart and No. 27 on the US Hot 100. The album also has other singles such as 'M.I.L.F.$' and 'Life Goes On'. Afterward, Fergie performed a rendition of 'The Star-Spangled Banner' that set social media on fire at the 2018 NBA All-Star Game. The heat was so much that she was forced to later admit that the rendition did not strike the tone she intended.
Thus far in her solo career, she has dropped two studio albums, thirteen singles (including being featured in six) and twenty music videos.
Things to Know About Her Marriage to Duhamel
Fergie got married to actor Josh Duhamel on January 10th, 2009. They met when the Black Eyed Peas did a cameo for a TV show that he was on, titled Las Vegas and they started dating in 2004. Later in December 2007, the two got engaged and eventually exchanged marital vows. They have one child together, a son named Axl Jack who was born in August 2013.
As every marriage has its ups and downs, Fergie's celebrity marriage was no exception as the singer once admitted on Oprah Winfrey Show in 2012 that she and her husband went for a therapy session after Duhamel was alleged of cheating on her with an Atlanta-based stripper in 2009, though, the Safe Haven star denied the allegation.
See Also: Kina Grannis Married, Husband, Ethnicity, Age, Height, Bio, Family
Despite professing love for each other on social media platforms and equally sharing sweet messages on the day of their eighth wedding anniversary in January 2017, it was reported that Fergie and her actor husband separated in the next month before making the separation public in late 2017.
Reason Behind the Separation of the Celebrity Couple
Fergie and her ex-husband Josh Duhamel announced their separation in September 2017 after eight years of marriage. The separation seemed amicable as the two made a statement that they would remain united in their support of one another and the family that they had created together.
The former couple is said to have split as a result of their lifestyle differences as the actor is reportedly more of a private person while Fergie loves being in the spotlight. Aside from the two not having a lot in common, it was also reported that their crazy schedules took a negative toll on their marriage. Even though Fergie stated that she wanted to stay married to Duhamel forever and that the separation wasn't her plan, she pulled the final plug by filing for a divorce from her ex-husband in May 2019 at a courthouse situated in Pasadena, California.
The divorce was finalized five months later and the pair settled amicably, having agreed to share joint physical and legal custody of their son. They equally agreed that neither of them will receive child support or alimony, as they identified themselves as fully self-supporting individuals.