It appears being vulgar is the real deal nowadays especially for the fact that the world is becoming more exposed and civilized. Sadly, but true, young people are constantly being exposed to images, discussions, and content that most people would deem detrimental to the African culture and moral statutes. This is because most of us hate to hear the word 'sex' spoken out or discussed openly in public, yet it is an overwhelming message carried by the mainstream media to the point that it becomes almost inevitable hearing it.
As technology is advancing, so is the use of obscene words. We have developed to become more tolerant numb to the idea of sex being something we talk about freely – either through direct conversation or using a visual medium such as film or photography. While some see such topics as obscene, in some other cases, they can't be regarded as such.
Yes, sex isn't obscene in all instances, as it is, of course, a fundamental human function that is not only important to the future of the human race but is a compound and compelling part of our existence. However, since it only occurs in secret places or behind closed doors, talking about it in public certainly makes you sound vulgar and spoilt at least in the minds of more traditional Africans.
There are radio presenters in Kenya who love to delve into such topics. Some do it to be happy and excited, some do it to educate the public and some do it to earn some cash from it. If you are curious to know more, here are some of such Radio presenters who sell their goods through sex discussions.
Gertrude Mungai
Apart from being a radio presenter, Gertrude Mungai happens to be a Lifestyle designer on sex and relationships. She is a wife, mother, an author/blogger, TV host, and a motivational speaker. Gertrude began her career with vulgar dirty talks on TV at K24 when she used to exemplify sex positions live. Some mothers or adult women had to send their kids to bed quite early to grab new positions that will make their husbands prefer them over any other woman. No mother ever allowed her daughter to be aware of the programme not to talk about watching it.
The programme got quality views until Gertrude dropped the live demonstration and opted to bombard her trade at Radio Jambo. The expert in sexual matters is exhilarating and happy with the platform through which she sells her brand. She amusingly nicknames lady parts and also encourages couples to style their pubic hair when shaving….. now, that's some level of obscenity.
Read Also: 15 Most Powerful People In The Kenyan Entertainment Industry
Mbusii
The Korogocho born Mbusii (whose real name is Daniel Githinji Mwangi) attended Eastleigh Airport Primary and Maina Wanjigi High School. As he grew older, he took on the job of selling soup after which he landed mini-children friendly roles in high school set-book plays. More opportunities, including radio hosting, opened up after the programme "Crazy Kenyans" aired on TV.
As a radio host on Radio Jambo, he is known for continuously posing as a conscious rastaman. His indecent gist thrills the Ragae head a lot – but in a good way though and he has quite a good following for this a. Mbusii lashes out at those who flourish and grow in immoral and unacceptable activities. He calls sexual intercourse 'kupiga kuni' and criticizes immorality greatly.
Maina Kageni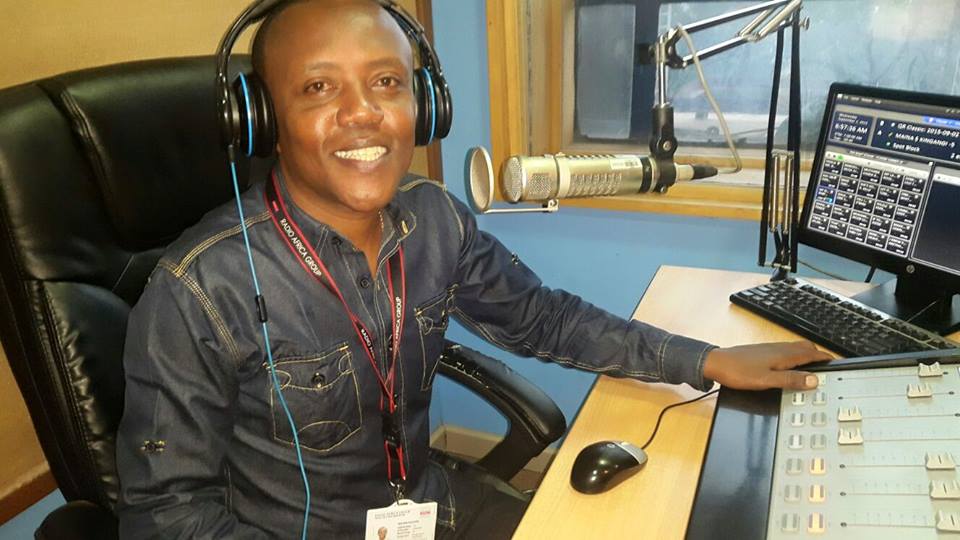 Most ladies love his manly voice while some men hate him highly, nevertheless, Maina Kageni is the Classic 105 presenter who happens to be apparently the most daring of them all. He discusses sex at 8 am in the morning making the elderly people get so uneasy, restless and embarrassed around the young people in matatus. Many have resorted to criticizing the lad to make him quiet the discussion but he just doesn't give a damn about it all. He has not allowed haters on sex topics to bring him down. He goes on to do his 'calling' perfectly alongside his partner in crime King'ang'i. Maina's show generates a huge amount of cash for Radio Africa, with advertisement money running in millions of shillings.
Read Also: Top 20 Under 25 Most Promising Women In Kenya
Cess Mutungi
The sultry Capital FM's Cess Mutungi is visibly among the vulgar presenters that Kenya has seen in recent times. Even her profile picture on Twitter is often naughty and can be deemed quite extreme sometimes most especially considering her age. The presenter is still very single hence the backlash she receives from people from time to time, nevertheless, such criticism hasn't done much to slow her down. In terms of the explicit pictures she uses on her social media platforms, one thing we aren't sure of is whether the indecent pictures she uploads are hers or that of random ladies. Cess never hides from sex discussions to the extent of narrating even her own affairs. You could go follow her on Twitter to find out more about yourself.
Babu Wakasiaka
Babu presents a show called Maji Makuu on Radio Maisha late night. The guy has a lot to share on his show of which many consider too extreme while others like it. Because of the sheer crass nature of his talk show, he chooses to hide behind the scene. We guess he does not want to show himself to us Kenyans probably because he is scared of being seen as a vulgar person or because he may be shy and become self-conscious in public if people know his real identity. The mystery man as a point of fact ha no picture of him online.