Flavour (born 23 November 1983, Age: 39) is a multi-talented Nigerian musician who also functions as a vocalist, songwriter, and multi-instrumentalist. The singer began his music career in the church as an instrumentalist, and through the help of his church pastor, he got the opportunity to further his music career and has not looked back since then.
Mr. Flavour started dropping albums in 2005 and to date, he has dropped a total of seven studio albums and still counting. A good number of his tracks became monster hits and the likes of Asahawo Nwa Baby (Ashawo Remix) soon became a national anthem for several entertainment houses in the country and beyond.
Flavour's Profile Summary
Full name: Chinedu Izuchukwu Okoli
Nickname: Ijele
Gender: Male
Date of Birth: November 23, 1983
Flavour's Age: 39
Ethnicity: Igbo
Nationality: Nigeria
Zodiac Sign: Sagittarius
Sexual Orientation: Straight
Religion: Christianity
Marital Status: Single
Flavour's Children: Gabrielle – daughter, Sophia – daughter
Flavour's Net Worth: $18 million
Famous For: Music
Flavour's Instagram: @2niteflavour
Twitter: @2niteflavour
Facebook: Flavour Nabania
Flavour's Roots Can be Traced to the Eastern Part Of Nigeria
Flavour, Mr Flavour, or Flavour N'abania was actually born as Chinedu Izuchukwu Okoli in Enugu State, Nigeria, and his date of birth is November 23, 1983. Though he was born in Enugu, Flavour hails from the neighbouring Anambra State precisely from Umunze in Orumba South Local Government Area.
Nothing much is known about his family, but some tidbits in the public arena said he comes from a huge family and ranks as the 3rd child out of 12. Thus, his growing up years was filled with fond memories. Nothing has been said about his parents except for the fact that they never supported his music career. His mum especially wanted him to go to school.
His early academic qualifications were acquired from Robinson Primary School located in Uwani, Enugu. Armed with a First School Leaving Certificate, Flavour joined Awkunanaw Boys Secondary School, Achara Layout, Enugu, where he earned a WAEC certificate. He also passed through CIC (the College of the Immaculate Conception) in Enugu.
He Started His Career in The Church As An Instrumentalist
Flavour's impressive vocals, flawless singing talent in his native Igbo tongue, and energetic dance moves led fans to believe he kick-started his music career as a vocalist but that is very far from the truth. In the beginning, Mr. Flavour was more into playing instruments, starting with drums at the age of 13 and then he began handling the piano in their church choir in Enugu. Singing followed much later down the line.
While playing for his local church choir, Flavour was so diligent that he would even go to the church premises on his own to get in some practice even when they were not holding any service. This led him to be noticed by the pastor who happened to be a friend to Soundcity Communications owner. The clergy was the one who then introduced the young Flavour to his friend, Chris I. Ordor.
On his first visit to Soundcity Communications, it downed on Flavour that he could actually realize his dreams by being part of the band and went on to let his parents in on his decision. However, his parents objected as they preferred their son to acquire higher education. This led Flavour who wasn't ready to entertain any objections to leave home and start staying with the band members.
He Became a Professional Musician Through A Scholarship Opening
His early days with the band were used in perfecting his knowledge of instruments like drums, piano, and the guitar, and he soon started playing at a professional level. He equally served as a backup singer for some musicians under the record label. Soundcity Communications later invited him to study music on an educational scholarship; the scholarship program targeted young singers like Flavour to tutor them on the basics of music and mold them into professional musicians. Flavour took up the scholarship in 1999 and within a short while, he was transformed from a youngster into a professional.
Flavour's story is quite distinct from many other singers whose sole aim from childhood was to become professional musicians. However, in his case, his journey was never well defined – he initially viewed music as a way of life as opposed to a career. Even the scholarship that led him to study music was not a deliberate intention but came his way due to an opening.
Nigerian Rap Artist, Nigga Raw Gave Him A Push in The Right Direction
Flavour spent a few years with Soundcity Communications before going to try his luck playing with a few bands. Though the journey proved to be quite tough, he persevered and continued to learn on the street. He later started visiting the studio where he learned the basics of studio recording. It was while on his studio recording tutorials that Flavor's path crossed with Darkman and Nigga Raw and within a short while, Nigga Raw took him on to do his vocals.
It was while doing the vocals for Nigga Raw that Flavour now sat down to contemplate doing his own thing. His thought then was "if he was capable of doing choruses for somebody and it comes out so well, then, he can also do well with his own music". This was when he began creating and recording his songs from scratch.
The Origin of His Stage Name 'Flavour'
Flavour was just 15 years old when he took on the stage name, "Flavour". While following Soundcity Communications record label band to concerts as a member, he didn't have any stage name and during the introductions, his lack of stage name always felt odd.
Among the fans of Soundcity Communications was a man named Flavour Shelters who was always present in many of their performances. Flavour Shelters was a businessman in real estate and Flavour N'abania greatly admired him and wanted to be just like him. This was when he decided to take on the name "Flavour.
A Comprehensive List Of Flavour's Albums and Songs
Flavour started dropping his songs and albums in 2005 and has not looked back since then.
N'abania
N'abania is his debut album released in 2005 through Obaino Music. Though it proved to be successful, its success was limited to Enugu and other parts of Eastern Nigeria. The lead single for the album titled N'abania was done in collaboration with Mr. Raw and recorded in Lagos at Kingsley Ogoro's music studio. These are the complete twelve tracks of N'abania.
N'abania (Intro)" Flavour N'abania
"N'abania" (featuring Mr. Raw)
"Nwata (Skit)"
"Nwata"
"Nwa Baby"
"Rigirigi"
"D One" (featuring Prophecy)
"Ogbuolam" (featuring D Mustard)
"I Don Smoke Igbo" (featuring D Mustard)
"Nwata (Instrumental"
"Rigirigi (Instrumental)"
"D One (Instrumental)"
Uplifted
Five years after his debut album hit the music stand, Flavour dropped his second album, Uplifted in 2010. Released by a South African-based record label Lolhiphop Records, the album broke national barriers. The top singles in the album include:
Nwa Baby (Ashawo Remix)
"Adamma"
"Oyi Remix" featuring Tiwa Savage
Others include
"Oyi (I Dey Catch Cold)" 2:45
"Skit"
"Pant No N'iro"
"Skit 2"
"Alcohol" (featuring Oloye)
"My Woman Is Gone" (featuring Jay Dey)
"Ukwu" (featuring Stormrex)
"Kwarikwa" (featuring M-Jay, Wage G., Jay Dey and Elense)
"Odiro Easy"
"Chinedum"
"Asanwa" (featuring Waga Gee)
"Turn Me On"
"Kiumanjo"
"My Baby" (featuring V.I.P)
"Ashawo Ghana (Remix)" (featuring Asemstone)
Blessed
Flavour followed his second studio album with a third one, two years later in 2012. It was released on the 18th of October from the stables of 2nite Entertainment and iROCKING LTD. Blessed is arguably the biggest album from Flavour majorly because he had several producers work on it. The launch for Blessed coincided with the day the Adamma hitmaker headlined the grand opening of 2nite Club in Enugu.
Speaking with iROKTV, Mr. Flavour narrated how he had tons of producers working on Blessed, and the end product made sense. The Igbo vocalist also spoke about how he has come a long way and with the release of his third album, Flavour said the time has come to give them the music, define himself, and be more mature with his music lyrics and instrumentation. Below is the tracklisting for Blessed.
"Baby Oku"
"Ikwokrikwo"
"Chinny Baby"
"Skit by Waga G"
"Shake"
"To Be A Man"
"Ada Ada"
"Destiny"
"Black is Beautiful"
"Skit" (featuring Waga G, Oloye & Flavour)
"Ifem N'eli"
"Sweet Tomatoes"
"I Don't Care" (featuring Wizboy)
"Chewe Kwem"
"Carolina"
"Baby Oku (Dance)"
"Kwarikwa" (featuring Fally Ipupa)
"Beverly"
Thankful
Flavour's 22-track fourth studio album soon became the flavor of 2014. Even music critics showered it with positive reviews. The tracks of this album include:
Ololufe – a love ballad featuring Chidinma, and
Wake Up – the fast-tempo Afro-pop track featuring Wande Coal
Sexy Rosey
Golibe
Uru Dia (Shake 2)
Mmege
Special One
Ife Adigomma
Keneya
Wiser
Dance
Wake up
Orinado
Munachi
Ijele – The Traveler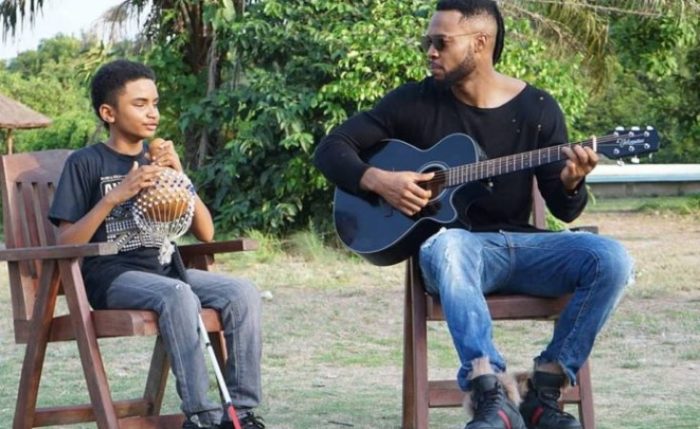 Since his emergence on the music scene, Flavour has been fairly consistent in releasing albums and his fifth studio album followed three years later in 2017. Ijele – The Traveler is a 17 track album where he featured a blind fan from Liberia.
Ijele (feat. Zoro)
Baby Na Yoka
Virtuous Woman
Nnekata
Most High
Chimamanda
Sake of Love (feat. Sarkodie)
Loose Guard (feat. Phyno)
Simba
Body Calling (feat. Terry Akpala)
Catch You
Ukwu Nwata
Jaiye
Iheneme (feat. Chidinma)
Oppressor
Oringo
Skit (feat. Waga, Oloye, Rabbai & Zuada)
The next year being 2018, Flavour dropped two singles
Crazy love With Yemi Alade
Awele With Umuobiligbo
Flavour of Africa
From what is obvious, Flavour doesn't appear like he is likely to relent anytime soon, his latest release is a 16-track album entitled Flavour of Africa which hit the music stand with a bang on the 4th of December 2020. These are the tracks that made up Flavour of Africa.
"Flavour of Africa"
"Good Woman"
"Berna" (featuring Fally Ipupa and Tekno)
"Looking Nyash"
"Omo T'emi"
"Egwu Ndi Oma"
"Skit" (featuring Odumeje)
"Doings" (featuring Phyno)
"Product of Grace"
"Umuigbo" (featuring Biggie Igba)
"Sawa Sawa" (featuring Beenie Man)
"Beer Parlour Discussions" (featuring Waga G)
"Odoyewu"
"Ebube"
"Omeiheoma"
"Bestie" (featuring Larry Gaaga)
What Makes Flavour Special
From 2005 to date, the Igbo music hitmaker has been consistent in stamping his creative ingenuity and inventiveness in the hearts of lovers of music within and outside Nigeria. He won many hearts with his good looks. The female fans are always generous with compliments about his awesome physic, especially his flat tummy with those eye-drawing six-packs to die for. Besides, Flavour never seems to get tired of flaunting his God-given endowments.
The Ada Ada crooner distinguished himself with his ability to sing fluently in his native Igbo language. Another distinguishing trait of Flavour is his blatantly flirtatious dance moves – his provocative whining of the waist, especially when he appears topless. The vocalist has a beautiful singing voice that always makes you stop and pay attention and most of his tracks have meanings you can relate to.
The Best of Flavour's Music
It is not in doubt that Flavour has rendered a lot of pleasant tunes that will forever remain green in the minds of his fans, both in Nigeria and other parts of the world. Each of his albums from his debut N'abania to the latest Flavour Of Africa featured some chart-topping hit tracks but these three are deemed to be the best of Flavour N'abania.
Nwa Baby (Ashawo Remix)
Cardinal Rex released his 1960 hit 'Sawale' and Flavour remade it in 2005. The remake which was titled Nwa Baby first appeared on the vocalist's debut album 'N'abaina' and was well received by fans. However, Flavour outdid himself when he dropped the remix in his 2010 album Uplifted as Nwa Baby (Ashawo Remix). The track which dropped as the lead single for his Uplifted album wasted no time in becoming a monster hit. Soon, it hit entertainment houses with a bang, becoming a major anthem, the clubhouses were forever playing the track, and it also became the flavor on the streets.
Ada Ada
In the Igbo parlance, every first daughter of the family is called an "Ada" which formed the title of Flavour's evergreen wedding number 'Ada Ada' in celebration of love, marriage, and family. At the peak of its release, "Ada Ada" became an anthem and sacred song for marriage ceremonies in all parts of the country.
Ada Ada was part of Flavour's studio album number three, Blessed, which is arguably his best to date. The ensuing video was a depiction of the Igbo traditional marriage and the appearance of veteran actors like Mr. Ibu and his stellar dance moves gave it another level of popularity.
3. Oyi (Remix) ft Tiwa Savage
The vocalist's second studio album, Uplifted featured the R&B track, Oyi remix. A duet love story that emerged as the winner of the Best R&B Video at the Channel O Music Video Awards of 2012. The track which featured Tiwa Savage was earlier nominated in the category of Best R&B single for the Headies Award of 2011.
As an Artist, Flavour is Internationally Acclaimed
Flavour's fame is not restricted to Nigeria and Africa as the singer and multi-instrumentalist is internationally acclaimed, performing on the same stage with world-famous acts like Snoop Dogg, French Montana, Ciara, Akon, Lauryn Hill, and a whole lot more. Flavour has performed for many sold-out audiences globally and has been featured in major media outlets worldwide.
Flavour is Neck-deep into Endorsement Deals
With a musician of Flavour's popularity, one would expect him to be a target for top brands and that is exactly the case. The Nwa Baby hitmaker has ongoing brand ambassadorial deals with A-list companies like the telecommunication giant, Globacomm. He is also signed to other heavyweights like Life beer, Bullet Energy drink, and Flat Tummy Tea.
He is a Philanthropist
Flavour is the type that loves to give back to society. He has launched several charitable courses to take care of the needs of the poor and less privileged.
Flavour of Africa Campaign and Tour
In 2016, he established the Flavour of Africa Campaign and Tour and after performing in some countries in West Africa, he supported several charities in these countries with generous donations.
The Chinedu Okoli Foundation
In 2010, Flavour launched the Chinedu Okoli Foundation. The foundation which is based in Lagos gave young people who wish to experience music a platform. The Adamma crooner provides them with empowerment and education.
His "Chinedu Okoli Foundation" seems to have fulfilled Flavour's desire to reach out to the less privileged while making a better place for all.
United Nations Peace Ambassador
Flavour is a United Nations Peace Ambassador, and has been steadfast in serving poor individuals and families in Nigeria, Liberia, including other parts of Africa; this commenced in 2010 and is still ongoing.