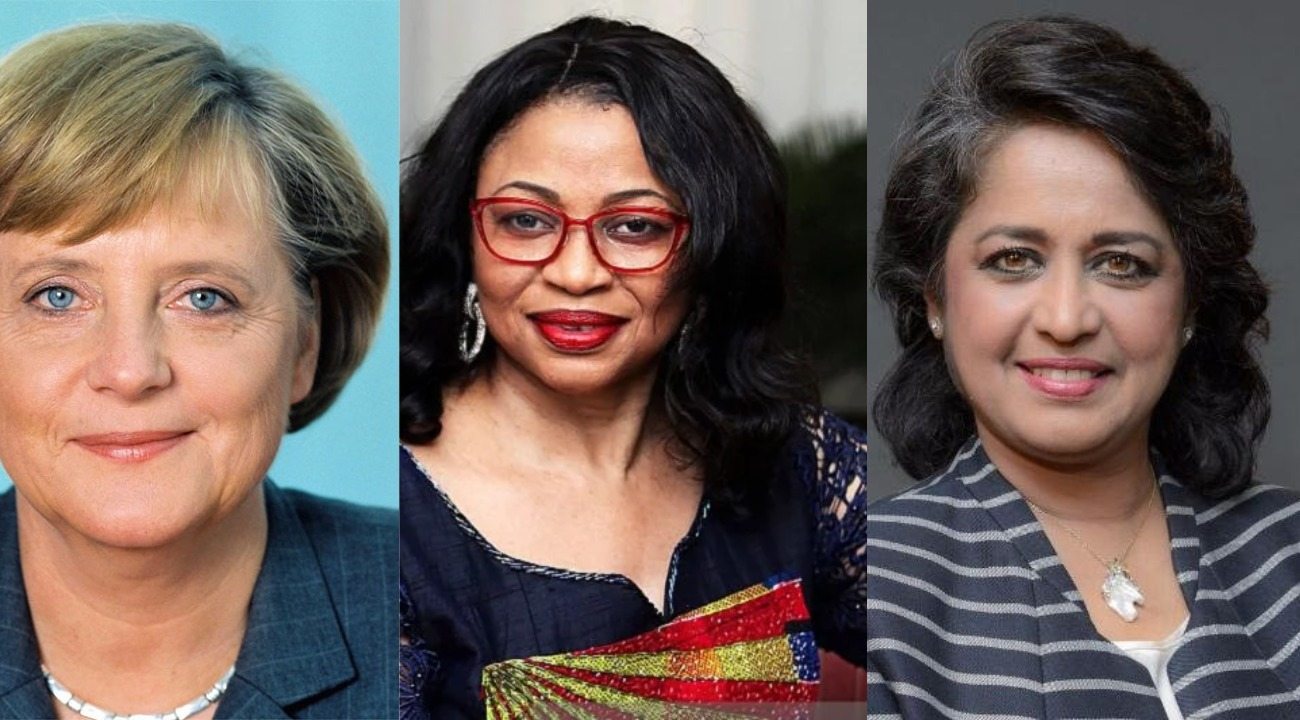 Forbes Magazine has published its list of the most powerful women in 2016 and there are a number of African women on the list.
Forbes describes the powerful women as the "smartest and toughest female business leaders, entrepreneurs, investors, scientists, philanthropists and CEOs making their mark in the world today.
They're women who are building billion-dollar brands, calling the shots in the financial markets, and crisscrossing the globe to broker international agreements and provide aid."
The gender gap in the work place is large with men occupying more seats than women. A survey by a non-profit organization discovered that women "occupy a measly 4% of corner offices at S&P 500 companies. And they hold only 25% of executive or senior-level jobs in those same firms."
SEE ALSO: See The 15 Countries That Are Ruled By Women
However the world has seen some progress regardless of the gap. There are more elected female presidents right now than at the start of the millennium, there are also more women in male-dominated jobs and so on.
This list by Forbes therefore gives praise to the women who are making a change in the world, who would probably give some men a run for their money and who have impacted the world positively with their ideas and creations.
The criteria for determining these powerful women was based on money (either net worth, company revenues, or GDP); media presence; spheres of influence; and impact, analyzed both within the context of each woman's field (media, technology, business, philanthropy, politics, and finance) and outside of it.
Top of the list is the leader of Germany, Chancellor Angela Merkel who has made the list for 6 years straight. Africa's richest woman, Folorunsho Alakija also makes the list, coming in 80th. Also, two African Presidents, Ameenah Gurib and Ellen Johnson Sirleaf make the list at 83 and 96 respectively.
SEE ALSO: These Are America's Richest Self-Made Women According To Forbes
These are the women who made the cut:
#1 Angela Merkel
#2 Hillary Clinton
#3 Janet Yellen
#4 Melinda Gates
#5 Mary Barra
#6 Christine Lagarde
#7 Sheryl Sandberg
#8 Susan Wojcicki
#9 Meg Whitman
#11 Ginni Rometty
#12 Park Geun-hye
#13 Michelle Obama
#14 Indra Nooyi
#15 Angela Ahrendts
#16 Abigail Johnson
#17 Tsai Ing-wen
#18 Michelle Bachelet
#19 Federica Mogherini
#21 Oprah Winfrey
#22 Helen Clark
#23 U.S. Supreme Court Justices
#24 Marillyn Hewson
#25 Arundhati Bhattacharya
#26 Aung San Suu Kyi
#27 Ruth Porat
#28 Anna Wintour
#29 Queen Elizabeth II
#30 Ho Ching
#31 Adena Friedman
#32 Irene Rosenfeld
#33 Loretta Lynch
#34 Ursula Burns
#35 Lucy Peng
#36 Sheikh Hasina Wajed
#37 Sri Mulyani Indrawati
#38 Margaret Chan
#39 Drew Gilpin Faust
#40 Chanda Kochhar
#41 Samantha Power
#42 Pollyanna Chu
#43 Sheikha Lubna Al Qasimi
#44 Amy Hood
#45 Beth Comstock
#46 Kolinda Grabar-Kitarović
#47 Bonnie Hammer
#48 Ertharin Cousin
#49 Laurene Powell Jobs
#50 Nicola Sturgeon
#51 Gina Rinehart
#52 Bidya Devi Bhandari
#53 Dana Walden
#54 Phebe Novakovic
#55 Marissa Mayer
#56 Elvira Nabiullina
#57 Rosalind Brewer
#58 Peng Liyuan
#59 Nemat (Minouche) Shafik
#60 Mary Callahan Erdoes
#61 Zhou Qunfei
#62 Nguyen Thi Phuong Thao
#63 Dong Mingzhu
#64 Güler Sabanci
#65 Lubna S. Olayan
#66 Susan Cameron
#67 Donna Langley
#68 Katharine Viner
#69 Feng Ying Wang
#70 Arianna Huffington
#71 Diane von Furstenberg
#72 Dalia Grybauskaitė
#73 Tory Burch
#74 Mary Jo White
#75 Kaci Kullmann Five
#76 Gwynne Shotwell
#77 Kiran Mazumdar-Shaw
#78 Zanny Minton Beddoes
#79 Miuccia Prada
#80 Folorunsho Alakija
#81 Solina Chau
#82 Judy Faulkner
#83 Ellen Johnson-Sirleaf
#84 Fabiola Gianotti
#85 Lynn Good
#86 Mary Meeker
#87 Patricia Harris
#88 Eliza Manningham-Buller
#89 Irina Bokova
#90 Sara Blakely
#91 Raja Easa Al Gurg
#92 Debra Cafaro
#93 Shobhana Bhartia
#94 Greta Van Susteren
#95 Heather Bresch
#96 Ameenah Gurib-Fakim
#97 Risa Lavizzo-Mourey
#98 Lee Boo-Jin
#99 Beth Brooke-Marciniak
#100 Jenny Lee