Forbes Magazine has published its list of the most powerful women in the world and there are a number of African women on the list. Forbes describes the powerful women as the "smartest and toughest female business leaders, entrepreneurs, investors, scientists, philanthropists and CEOs making their mark in the world today. They're women who are building billion-dollar brands, calling the shots in the financial markets, and crisscrossing the globe to broker international agreements and provide aid."
The gender gap in the workplace is large with men occupying more seats than women. A survey by a non-profit organization discovered that women "occupy a measly 4% of corner offices at S&P 500 companies. And they hold only 25% of executive or senior-level jobs in those same firms."
However, the world has seen some progress regardless of the gap. There are more elected female presidents right now than at the start of the millennium, there are also more women in male-dominated jobs and so on.
This list by Forbes, therefore, gives praise to the women who are making a change in the world, who would probably give some men a run for their money and who have impacted the world positively with their ideas and creations.
The criteria for determining these powerful women was based on money (either net worth, company revenues, or GDP); media presence; spheres of influence; and impact, analyzed both within the context of each woman's field (media, technology, business, philanthropy, politics, and finance) and outside of it.
Top of the list is the leader of Germany, Chancellor Angela Merkel who has made the list for 6 years straight. Unfortunately, none of Africa's prominent women made the list this time.
Most Powerful Women in the World
Below the 100 most powerful women in the world right now. These women wield their strength in politics, Business, Entertainment and Media, science and technology, etc…
#1 Angela Merkel – Chancellor of Germany since 2005 remain on top of the list of most powerful women in the world. She's also the leader of the centre-right Christian Democratic Union since 2000.
#2 Theresa May – is a tough politician serving as Prime Minister of the United Kingdom and Leader of the Conservative Party since 2016. She was first elected Member of Parliament for Maidenhead in the general election of 1997.
#3 Melinda Gates – remains on the top five of the most powerful women in the world with her Philanthropy and as co-chair of Bill and Melinda Gates Foundation.
#4 Sheryl Sandberg – is a technology executive, activist, and author as well as the chief operating officer of Facebook and founder of Leanin.
#5 Mary Barra – the first female CEO of a major global automaker made to the top 5 of most powerful women in the world. she is the Chairman and CEO of General Motors Company and held the CEO position since January 15, 2014.
#6 Susan Wojcicki – a tech executive who has been the CEO of YouTube since February 2014.
#7 Abigail Johnson – is a businesswoman and president and chief executive officer of US investment firm Fidelity Investments and chairwoman of its international sister company Fidelity International.
#8 Christine Lagarde – a lawyer and politician who has been the Managing Director of the International Monetary Fund since 2011 is counted as one of the world's most powerful women.
#9 Ana Patricia Botín – a banker and was appointed executive chairwoman of Santander Group, the fourth generation of the Botín family to hold this role.
#10 Ginni Rometty – the CEO oF IBM joins the list of most powerful women in the world with her capacity to wield the iconic tech company towards data transition.
#11 Indra Nooyi – a business executive and the current Chairwoman and Chief Executive Officer of PepsiCo, the second largest food and beverage business in the world by net revenue
#12 Meg Whitman – a business executive, political activist, and philanthropist whose worth $3.3 billion
#13 Angela Ahrendts – a businesswoman and the Senior Vice President of Retail at Apple Inc. She was the CEO of Burberry from 2006 to 2014 before leaving to join Apple.
#14 Laurene Powell Jobs and family – wife of late Job Steve, a businesswoman, executive and the founder of Emerson Collective, which advocates for policies concerning education and immigration reform, social justice and environmental conservation
#15 Tsai Ing-wen – first female leader of Taiwan and only Taiwanese President to ever speak directly with a U.S. president-elect (Trump) since 1979.
#16 Michelle Bachelet –  a Pediatrician and the first woman to hold the office of the President in the history of Chile
#17 Federica Mogherini – Italian politician who was former Prime Minister of foreign affair and has served as High Representative of the European Union for Foreign Affairs and Security Policy.
#18 Safra Catz – business executive, and has been an executive at Oracle Corporation since April 1999, as well as a board member since 2001.
#19 Ivanka Trump – a businesswoman, America's first daughter and close advisor to President Donald Trump.
#20 Adena Friedman – the first woman to lead a major US stock exchange.
See Also: Top 10 Countries Where Women Are In Short Supply
#21 Oprah Winfrey – media proprietor, talk show host, actress, producer, and philanthropist.
#22 Marillyn Hewson – the Chairwoman, President and Chief Executive Officer of Lockheed Martin.
#23 Isabelle Kocher – CEO of Engie, world's largest none-state-owned electricity company.
#24 U.S. Supreme Court Justices – the three women among the recent appointment in the Supreme court are counted among the most powerful women in the world due to their power to decide on some of the biggest issues facing the US.
#25 Ruth Porat – the financial executive, who serves as the chief financial officer of Alphabet Inc. as well as its subsidiary Google.
#26 Queen Elisabeth II – at 90 she became the world's oldest monarch and longest reigning monarch in more than 1,200 years of British history.
#27 Anna Wintour –  the British-American journalist and editor of Vogue Magazine made it to number 27 on the list of most powerful women in the world.
#28 Ho Ching – the Chief Executive Officer of Temasek Holdings and married to the Prime Minister of Singapore.
#29 Emma Walmsley – first woman to run a major Pharmaceutical company, she became the CEO of GlaxoSmithKline.
#30 Sheikh Hasina Wajed – politician and Prime Minister of Bangladesh, in office since January 2009.
#31 Beata Maria Szydlo – as Poland's third Prime Minister one of her most popular initiatives is the "Family 500 plus" program which gives families PLN 500 ($140) per month for every second and subsequent child.
#32 Chanda Kochhar – as CEO of ICICI Bank she became the first Indian woman to receive the Woodrow Wilson Award for Global Citizenship.
#33 Aung San Sun Kyi – a politician, diplomat, and author. Her position in her country is akin to a Prime Minister.
#34 Lucy Peng – Chinese business executive and one of the founders of the e-commerce business group Alibaba Group.
#35 Pollyanna Chu – entrepreneur and billionaire businesswoman who capitalised on her country's growing capital markets and launched Kingston Financial Group in 1992.
#36 Sheikha Lubna Al Qasimi – the first woman to hold a ministerial position in the United Arab Emirate, working as the minister of tolerance to bolster a platform of acceptance and diversity in the UAE.
#37 Amy Hood – first female chief financial offer at Microsoft and was the head of the company's business division.
#38 Jacinda Ardern – at 37, she is the Prime Minister of New Zealand, the youngest female leader in the world and the country's youngest PM in 150 years.
#39 Kolinda Grabar-Kitarovic – the first woman and youngest president of Croatia join the list of most powerful women in the world.
#40 Jean Liu – Chinese business executive and President of Didi Chuxing, China's largest mobile transportation platform.
See Also: Top 11 Richest Writers In The World Right Now
#41 Bonnie Hammer – Chairman (lady) of a cable empire with theportfolio of seven networks – USA Network, E!, Bravo and SyFy.
#42 Nicola Sturgeon – the first woman politician who is First Minister of Scotland and leader of the Scottish National Party.
#43 Nikki Haley – the first female Indian American to serve as the U.S. governor of South Carolina
#44 Rosalind Brewer – the first woman and African-American to become the chief operating officer of Starbucks.
#45 Gina Rinehart – known as the richest citizen of Australia with wealth built on mining. She the chairman of Hancock Prospecting, a privately owned mineral exploration and extraction company founded by her father Lang Hancock
#46 Erna Solberg – the first Conservative prime minister to win a second term since 1985 and the keeping Norway from falling into recession.
#47 Stacey Snider – Chairman (lady) and CEO of 20th Century Fox.
#48 Phebe Novakovic – a businesswoman, former intelligence officer and serves as the Chairwoman and Chief Executive Officer of General Dynamics, one of the world's largest defense contractors.
#49 Elvira Nabiullina – an economist and head of the Central Bank of Russia; was the economic adviser of President Vladimir Putin
#50 Beyoncé Knowles – America's famous singer, songwriter, dancer, and actress. Her stakes in the entertainment industry are worth $350 million.
#51 Peng Liyuan – a famous Chinese opera singer folksinger and actress, President of the People's Liberation Army Academy of Art, and the wife of the current General Secretary of the Communist Party of China Xi Jinping.
#52 Margarita Simonyan – at age 25, she became the editor in chief of RT, a Russain TV network.
#53 Mary Callahan Erdoes – the Chief Executive Officer of J.P. Morgan Asset Management, a global leader in investment management and private banking with more than $2.2 trillion in assets under supervision.
#54  Zhou Qunfei – the entrepreneur who founded the major touchscreen maker Lens Technology
#55 Thi Phuong Thao Nguyen – a businesswoman, and the President and CEO of VietJet Air, a Vietnam low-cost airline. she is worth $3.4 billion.
#56 Lisa Davis – chair and CEO of Siemens Corps as well as a member of the managing board overseeing the global company's energy operation.
#57 Roshni Nadar Malhotra – at age 27, she became the CEO and Executive Director of HCL Corporation, $7.5 billion enterprise which operates in technology, healthcare and infosystems.
#58 Güler Sabanci – the first woman to run Sabanci Holding, her family business dealing originally in textile but has now expanded with stakes in banking, energy, retail and insurance.
#59 Lubna S. Olayan – a member of the wealthiest family in the Middle East and CEO of Olayan Financing.
See Also: Top 7 Retired Black TV Talk Show Queens And Where They Are Now
#60 Dana Walden – the chair and CEO of Fox Television Group, a thriving network and successful Hollywood studio.
#61 Katharine Viner – first female editor of Guardian, the London-base news organization.
#62 Feng Ying Wang – businesswoman, and the CEO and deputy chairman of Great Wall Motors
#63 Donna Langley – Movie executive, and Chairman of Universal Pictures know to produce The Mummy, Fast and Furious, Despicable Me. etc.
#64 Marianne Lake – Chief financial officer of US largest bank.
#65 Hillary Clinton – A woman in politic, Author and former presidential candidate of US – President Trump's fierce opponent.
#66 Mingzhu Dong – Businesswoman and the Chairwoman of Gree Electric, an Aircondition manufacturing company.
#67 Melanie Kreis – chief financial officer of Deutsche Post, the world's largest logistics company worth $66.7 billion.
#68 Dalia Grybauskaite – First female president of Lithuania and only president to be elected to a second tenure.
#69 Priscilla Chan – More than Mark Zurkerberg's wife, she is a paediatrician who recently launched Resolve, a global initiative aim to reduce deaths from heart attacks and strokes in 60 low-income countries.
#70 Gwynne Shotwell – A businesswoman, President and Chief Operating Officer at SpaceX.
#71 Kiran Mazumdar-Shaw – entrepreneur, chairperson and managing director of Biocon Limited, a biotechnology company.
#72 Zanny Minto Beddoes – Editor-in-chief of the Economist overseeing financial news publication that reaches 1.5 million people.
#73 Miuccia Prada – CEO and lead designer of the handbag and fashion empire Prada.
#74 Isabel Dos Santos – The oldest daughter of the longtime former president of Angola is a businesswoman with investments spanning from the financial industry to telecom companies. She also a shareholder in numerous companies in Angola.
#75 Solina Chau – Investor in technological ventures.
#76 Lam Wai Ying – Movie producer one of which is "The Secret Society." She is worth 5.4 billion.
#77 Kathleen Kennedy – Hollywood film producer, famous for guiding the Star Wars franchise.
#78 Kersti Kaljulaid – the first female President of Estonia, first country to digitalize it's public service.
#79 Arianna Huffington – Founder and CEO of Huffington post and a board member at Uber
See Also: Top 10 World Highest Paid Actresses Right Now
#80 Judy Faulkner –  CEO and founder of Epic Systems, a healthcare software company.
#81 Fabiola Gianotti – a particle physicist and CERN Director-General, the first woman to hold this position.
#82 Lynn Good – President of Duke Energy, an electric power holding company.
#83 Geisha Williams – CEO of PG&E, the largest utility in California.
#84 Mary Meeker – Venture Capitalist know for her bets on Chinese commerce site JD.com, Airbnb, Facebook, Houzz and Square.
#85 Taylor Swift – Singer and song writer. One of the leading contemporary recording artists in USA.
#86 Patricia Harris – served in the American administration of President Jimmy Carter as United States Secretary of Housing and Urban Development, and United States Secretary of Health, Education, and Welfare. She's the financial advisal to Micheal Bloomberg.
#87 Drew Gilpin Faust – Holds top position at the prestigious Harvard University since 2007.
#88 J.K. Rowling – Famous Novelist popular for the Harry Potter and the Cursed Child, the play sold over 4.5 million domestic copies.
#89 Eliza Manningham-Buller – Chairperson of the Wellcome Trust, one of the biggest medical trust in the world tackling world's biggest health problems including working on a Vaccine for Ebola and cure for three major tropical diseases.
#90 Raja Easa Al Gurg – Founder of one of the biggest Conglomerates in the Middle East; President of the Dubai Business Women Council.
#91 Debra Cafaro – Real Estate investor and longest-serving CEO of an S&P 500 company.
#92 Shobhana Bhartia – Chairperson and Editorial Director of India's largest media company, HT Media.
#93 Lee Boo-Jin – President and Chief Executive of Hotel Shilla; Majority shareholder in Samsung C&T
#94 Jenny Lee – Venture capital investor. Her investments span fitness, education and robotic.
#95 Kristen Green – Venture capitalist with investments in female-led companies.
#96 Belinda Johnson – Airbnb chief business affairs and legal officer; a deputy general counsel for Yahoo and a board member at PayPal.
#97 Priyanka Chopra – Highest paid actress in India, Producer and a global UNICEF Goodwill Ambassador and United Nations Foundation Girl Up Champion.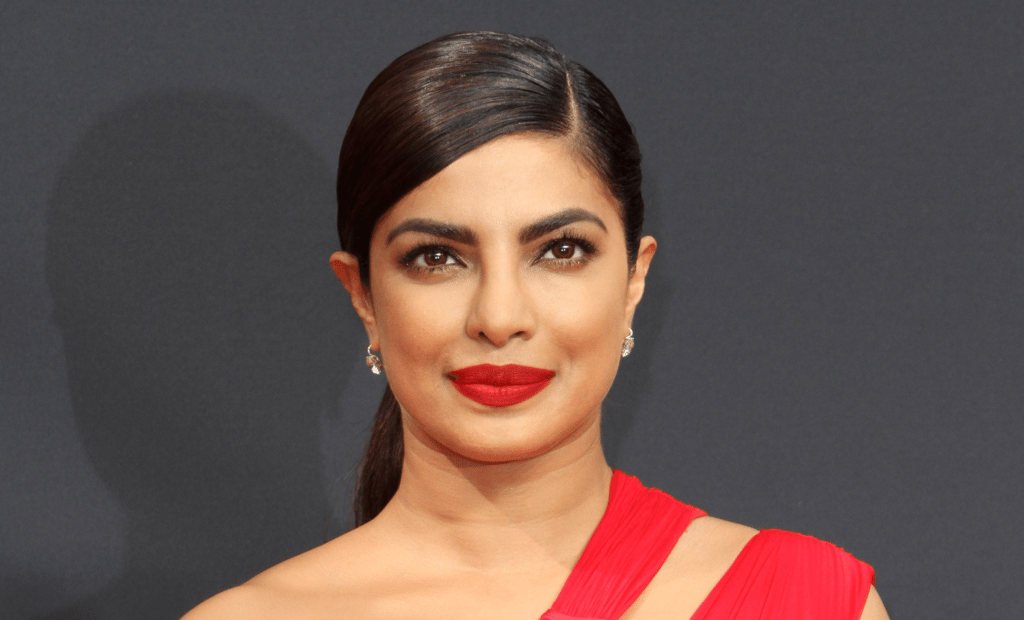 #98 Kathryn Petralia – Founder of Kabbage, an online financial technology company that provides funding directly to small businesses and consumers through an automated lending platform.
#99 Anne Finucane – Vice Chairman(lady) of Bank of America.
#100 Beth Brooke-Marciniak – Head of public policy at professional service firm EY.