Frances Conroy is known for her role in the horror-thriller series, American Horror Story, and for her discolored right eye. A versatile American actress celebrated for her dexterity in voice acting as much as she is admired for the roles she has played both in the small and big screens, Conroy has been a part of the industry for over four decades without losing her relevance.
Her enigmatic personality and looks have had fans calling for her reappearance in a number of TV series. And her life away from the glitz of Hollywood has relentlessly piqued the interest of many with some wondering what happened to her eyes.
The Actress Suffered a Strike to the Eye in a Car Crash 
If you've ever seen the talented actress on TV, you've probably wondered, like most of her fans, what happened to her right eye. According to various reports, the actress was involved in a car accident which resulted in damage to the right eye.
It is said that she suffered physical trauma to her face in the accident, such that usually makes the eye appear lighter in color or glazed. Although she underwent surgery, the eye remains discolored and for this reason, the actress sometimes wears a colored contact lens to hide it.
The Corneal Scarring Has Not Had Any Negative Impact on Her Career
Her acting career began way back in the 1970s and she focused more on stage plays. She worked mostly with The Acting Company. One of her earliest appearances on stage includes Othello where she played the role of Desdemona at the Delacorte Theatre. In 1980, she played the character named Jo in The Lady from Dubuque. Other theatre productions she has appeared in include Painting Churches, Zero Positive, Our Town, Booth, The Rehearsal, and The Subject Was Roses which remains her last theatre appearance. Since 2010, Conroy has been focusing more on feature films and television series.
The actress has conquered the film industry as she has appeared in over 30 films in her career. As early as 1978, she played the role of Diana in the movie All's Well That Ends Well and as recently as 2019, she played Penny Fleck in Joker. Other movies this award-winning actress has appeared in include The Tale, Welcome to Happiness, Blood Worth, Love Happens, and Catwoman.
From the stage to feature films, television movies, and series, Frances Conroy has been a part of at least 130 projects. For someone with such a body of work, it is clear that her eye has not stood in the way of her career. Although we can't tell if it was ever a problem, it's most likely that it was never an issue as the corneal scarring she has can easily be concealed, and the actress wears a colored lens to do so.
The Scar Added Value to Her Character in "American Horror Story: Return to Murder House"
A significant milestone in Frances Conroy's successful career has been her appearance in the horror-thriller series, American Horror Story. The show started in 2011 and has been an anthology series with each season bearing new characters. Frances Conroy has appeared in multiple seasons of this show playing multiple characters.
In the "Return to Murder House" episode of the eighth season of the FX horror anthology titled American Horror Story: Apocalypse, the actress played Moira O'Hara, a maid shot through the eye to death by her mistress after the latter caught her husband trying to rape the maid.
Conroy is known for using a colored lens but in the episode of the popular series, Ryan Murphy required her to not use the lens as it was a natural contribution to the story. Her character was shot in the eyes and her spirit had to reflect the wound.
Apart from American Horror Story, another popular role of the actress was that of Ruth Fisher in the HBO drama series, Six Feet Under, which started in 2001 and ended in 2005. In this series, Frances tapped into her emotional side, playing the role of the family matriarch to perfection. It earned her a lot of recognition and applause.
Meet Frances Conroys' Husband, He's Also an Actor
Name: Jan Munroe
Date of Birth: June 24, 1952
Years Active: 1974 – Present
Duration of Marriage: April 1992 – Present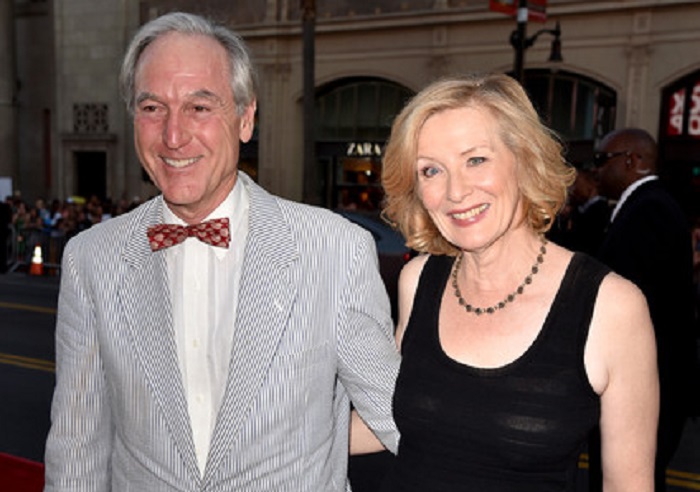 Because of how much the actress has kept her personal life away from her career, and the fact that she is married to a man who strives to evade publicity, many aren't aware that Frances Conroy's husband is a bonafide member of the acting industry.
Jan Munroe has been a part of the acting business as long as his wife. We have traced the beginning of his Hollywood journey to 1974 when he featured as a Fire Breather on The Tonight Show Starring Johnny Carson.
Over the year, he has played various characters in over 50 projects, most of which were small-screen roles. You will find him in popular recent productions like Brooklyn Nine-Nine, The Mentalist, Colony, and Ford v Ferrari. Nonetheless, the works that have defined his career include 1992's A Few Good Men, 2002's Catch Me If You Can, and 2006's Poseidon.
It has been reported in some quarters that before Frances' marriage to Jan, she was wife to a fellow named Jonathan Furst whom she married in 1980. That's all we can tell about that, just as it is hard to tell if she has any child.
What We Know About the Family Conroy Hails From
Frances Hardman Conroy was born on the 13th of November 1953 to two loving parents in Monroe, Georgia, USA. Her father's name is Vincent Paul and he worked as a business executive while her mother's name is Ossie Hardman, a businesswoman. She holds American nationality but her ancestry has been traced to Irish from her father's side.
Frances attended Dickinson College in Carlisle, Pennsylvania. While in school, she was an integral member of the Mermaids Players and was repeatedly featured in college theatrical productions. She later relocated to New York where she studied Drama at the prestigious Julliard School and also at Neighborhood Playhouse.
Alongside other notable people like Robin Williams, Kelsey Grammar, Harriet Sansom Harris, and Kevin Conroy (not related), she was a part of Julliard's Drama Division. Undoubtedly, Frances Conroy had a very solid foundation upon which her acting career is built.