Frances McDormand is a Hollywood veteran who has achieved enviable feats. Simply put, she is a character actress who defies typecasting and doesn't fit easily into any preconceived ideas expected of an actress. For more than three decades, she has remained a true original, a force to be reckoned with off and onscreen as well as an inspiration to all. A chameleon on stage and screen, McDormand cuts into her characters like a chainsaw and has convincingly embodied every decade, age and era. More so, she is a star who wears her fame so lightly. Renowned for her authenticity and natural look, Frances prefers to shine without any glam. If you ever notice any star actress attending award shows without any makeup, it will most likely be McDormand. Not only does she detest the pageantry of awards, she also doesn't subscribe to cosmetic surgery. A Hollywood titan who exudes lots of confidence, McDormand is not afraid to fight for other people's rights. With her ever wry smile, the actress also has a good sense of humor and has been an inspiration for numerous memes and GIFs. Find out interesting facts about the Hollywood veteran including her fairytale love life and prolific career.
What to Know About Frances McDormand's Husband and Son
Frances McDormand is not just successful in her profession but also in her love life. She is one of a handful of A-list stars who can boast of a happy marriage that spans more than three decades. The man behind McDormand's smiles is film director Joel Coen. Frances and Joel's love journey sounds like a story out of a fairytale movie.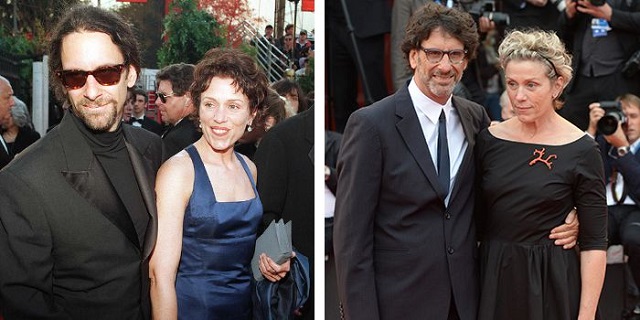 They first crossed paths in 1983 when she auditioned for the movie Blood Simple which was the directional debut for the Coen Brothers'. After auditioning for the role of Abby, McDormand was surprisingly given the role not just because of her talent but also for her confidence and boldness. Thereafter, Frances and Joel who are both film and literature enthusiasts established a romantic connection. Though the actress claims she initially played hard-to-get, today the rest is history as they tied the knot in 1984.
While the marriage is a first for Frances, the same cannot be said of her husband Coen who was previously married and divorced in the late '70s. In fact, McDormand has proven time and again that she is a wholesomely unique woman. Her wedding ring actually belonged to Coen's ex-wife, a situation that is very unlikely to be accepted by other women. More so, she doesn't have any biological children but is an adoptive parent. In 1995, Frances and her husband adopted a son from Paraguay named Pedro McDormand Coen. Pedro came into their lives when he was just six months old and they have lovingly raised him into an adult. He currently works as a personal trainer and massage therapist.
Frances McDormand and Coen are not just lovers but also co-workers. They have since started a family and collaborated on numerous projects. Their working relationship has been special, given the chemistry and bond they share. Frances has appeared in some Coen Brothers films such as Raising Arizona (1987), Mississippi Burning (1988), Fargo (1996), The Man Who Wasn't There (2001), Burn After Reading (2008), and Hail, Caesar! (2016). In fact, her director husband Coen admits that Frances is often his inspiration while writing female roles.
Contrary to expectations, their marriage has lasted for over three decades. According to the celebrity couple, a major key that has kept their marriage strong has been telling each other different stories. Despite having collaborated on films often, they have both had autonomous careers and thus have new stories for each other.
Is She Gay?
Frances McDormand's sexuality has raised eyebrows in some quarters perhaps because of her vocal stance on critical issues. It is no news that the veteran actress is a feminist and a recognized activist who uses her star power to advocate for several causes such as inclusion, gender equality, and diversity. She is famous for her acceptance speeches and at various times has used awarding platforms to drive her point home.
Notably, during her 1997 Academy Award acceptance speech for Fargo, McDormand called on Hollywood executives to create richer and more complex roles for female actors. Also, a highlight of her 2018 Academy Award acceptance speech for Three Billboards Outside Ebbing, Missouri, was when McDormand asked all the female nominees to stand for recognition.
Again, at the 2018 Oscars, Frances McDormand's powerful acceptance speech stressed the importance of an 'inclusion rider' in Hollywood which requires that movie producers hire a diverse cast and crew. The clause not only condemns sexist hiring and pay practices against women but also called for specific provisions for how film productions should include more women and under-represented groups such as people of color, disabled, and the LGBTQ. The suspicions regarding McDormand's sexuality may be traced to her feminism and advocacy for inclusion of the LGBTQ. Nonetheless, her long term relationship with her husband Coen should be a pointer to the obvious unless proven otherwise.
Frances McDormand's Net Worth 
McDormand has established herself as a household name in the entertainment industry. As a veteran, she is believed to have earned a sizeable financial portfolio over the years. Her current net worth is estimated at $16 million.
How did she grow up?
Frances McDormand was born on the 23rd of June 1957. Her birth name is Cynthia Ann Smith before she was adopted at age one by Vernon and Noreen McDormand. Frances was not the only one adopted by her parents as they eventually took in nine children over the years. Her father was a pastor and as expected, Frances and her siblings were raised in a religious household and were imbibed with a fierce moral sense. Though born in Gibson City, Illinois, McDormand grew up in different cities as her family often moved around before finally settling in Pennsylvania.
Frances began exhibiting theatrical talents at a young age. In fact, her first acting role can be traced back to her teenage days at Monessen High School in a production of Shakespeare's Macbeth where she portrayed Lady Macbeth. Given her flair for performing arts, Frances proceeded to study theater at Bethany College and later bagged a master's degree from the Yale School of Drama.
Career
Frances McDormand has been active in the industry since 1982. A true thespian, she has an exhaustive list of stage, screen, and television credits. Despite her fame on both the small and big screens, McDormand remains active in the theatre scene where she first began her career.
McDormand is a talented and award-winning actress as evidenced in her numerous versatile roles. Some of her outstanding performances range from playing a pregnant Minnesota police chief in the 1996 movie Fargo to portraying a single mom in Almost Famous (2000) to playing an alcoholic bookkeeper in the 2001 movie The Man Who Wasn't There, to portraying an English governess in Miss Pettigrew Lives for a Day (2008), and then playing an overzealous personal trainer in Burn After Reading (2008). Not also forgetting her Emmy-winning lead role in the HBO series Olive Kitteridge (2014), as well as the Oscar-winning Three Billboards Outside Ebbing, Missouri! (2017) where she played a grieving mother desperate to solve the mystery surrounding her teenage daughter's death.
The actress is a Triple Crown winner. She has a Tony Award, two Academy Awards, and two Emmy Awards. While her fans are hoping she bags a Grammy soon to complete the elite club circle, the same can't be said for McDormand who doesn't glory in the importance of awards. She is also a recipient of other prestigious awards such as the Golden Globe and the BAFTA Award.
Other Interesting Facts
Frances McDormand never really knew who her birth parents were. Interestingly, she got a chance to meet her birth mother as a teenager, but McDormand turned it down.
Interestingly, McDormand almost turned down the Emmy-winning role for Three Billboards Outside Ebbing, Missouri, because she thought herself too old for the role. Thankfully, her husband Coen pulled his magic strings and encouraged her to take the role. That decision is one she is most likely proud of today.