Funke Akindele (born 24 August 1977) is a 46 year-old Nigerian filmmaker, director, actress, producer, and politician who has been a mainstay in Nollywood for over two decades. She has shown her versatility and talent by appearing in a diverse range of movie genres but is largely synonymous with the Jenifa TV series.
It has been a long journey towards attaining such a respected status for the lawyer cum actress. Her renowned tenacity has seen her branch out to other ventures within and outside the movie industry. Funke has also become one of the richest actresses in Nigeria with a net worth estimated to be between N500 million and N950 million.
Summary of Funke Akindele's Bio
Full Name: Olufunke Ayotunde Akindele-Bello
Nickname: Funke Akindele, Jenifa
Gender: Female
Date of Birth: 24 August 1977
Funke Akindele's Age: 46 years old
Place of Birth: Ikorodu, Nigeria
Ethnicity: Yoruba
Nationality: Nigerian
Education: Moshood Abiola Polytechnic; University of Lagos
Religion: Christian
Sexual Orientation: Straight
Marital Status: Married
Funke Akindele's Husband: Abdul Rasheed Bello
Funke Akindele's Ex-Husband: Kehinde Oloyede (m. 2012–2013)
Siblings: Abimbola Maria Akindele
Funke Akindele's Net Worth: Between N500 million and N950 million
Instagram: funkejenifaakindele
Twitter: funkeakindele
Funke Akindele is 46 Years Old
Funke Akindele was born in Ikorodu in Lagos, Nigeria's most populous state. She was born on August 24, 1977, as the second child of the family. She has a brother and two sisters. Her mother is a medical doctor while her father is a retired school principal. She spent all of her childhood in Lagos, where she also had her primary and secondary school education.
Due to her youthful exuberance and continuous portrayal of the comical character named Jenifa, a lot of people tend to forget that Funke Akindele is gradually aging. Yes, the beloved actress is 46 years of age.
She attended Grace Children Schools in Gbagada and Lagos State Model College located in Igbo-Kuta for her primary and secondary education. For her tertiary education, she bagged an Ordinary National Diploma in Mass Communication from Moshood Abiola Polytechnic, formerly known as Ogun State Polytechnic, in Ogun State. She followed this up by studying law at the famous University of Lagos situated in Akoka.
Due to her Lagos background, Funke Akindele holds a profound bond with her state of origin and has never shied away from extolling the state's virtues. Despite possessing a law degree, Funke Akindele is not a practicing lawyer. Her father convinced her to get a law degree but she always knew acting was her calling.
Funke Akindele Burst Onto the Entertainment Scene at a Young Age
As mentioned earlier, Funke Akindele is a Nigerian movie industry veteran, having been a mainstay for over two decades. At 46 years old, she has seen and done it all, winning her fair share of awards. It is important to note that Funke began her acting career at a pretty young age and advanced steadily overtime. She grew as a person and an actress in the limelight, hitting different milestones in front of millions of fans.
She Began her Acting Career at the Age of 20
Despite having degrees in Mass Communication and Law, it was always clear that acting was Funke Akindele's first love. She had a burning passion for the field and was determined to follow her heart's desire. Her tenacity got rewarded when she made her first acting role at the age of 20 in 1997 after she featured in the Opa Williams-produced movie Unclad Wire as a waitress. It marked the beginning of what has been an exemplary acting career.
She came into the limelight a year later when she got cast in the popular series I Need to Know, sponsored by the United Nations Population Fund (UNPFA). She played the role of Bisi, an inquisitive but highly intelligent secondary school student. Akindele played this role from 1998 to 2002, introducing her to a broader audience and opened more doors for her.
She Became a Household Name and Producer at the Age of 31
Her appearance in I Need to Know brought her to the limelight, but she was far from being a household name. There were still numerous actresses ahead of her on the list of established Nollywood stars. She was also yet to headline a major movie.
As a matter of fact, she struggled for years after I Need to Know ended in 2002. According to her, she had hoped the work she did would be enough to open more doors for her and usher in a new era on her acting journey.
Unfortunately, that did not prove to be the case as acting roles were scarce, and she did not get booked as she had predicted. She had to go back to the basics, which entailed going for auditions once more. Also, she began knocking on the doors of those she knew could help catapult her career and give her the breakthrough she so desperately needed.
Things came to a head when she got a supporting role for a movie in Oshogbo, which excited her greatly. However, things did not quite materialize as the film suffered delays in production and she only had two scenes in the entire movie.
All these challenges changed in the year 2008 with her appearance in the movie Jenifa. She played the titular character and the film became a national and international hit. Her appearance in Jenifa catapulted her to superstardom and it announced Funke Akindele as a household name.
Funke was so popular in Jenifa that she is now fondly addressed as the character. She won several awards, including the 2009 Nigeria Entertainment Awards for Best Actress. She also went on to create two sequels, as well as a successful TV show. Additionally, she hit another milestone as a producer, having been a part of Jenifa's production team.
She Won her First Major Award at 32
Another significant milestone for Funke Akindele came in 2009 when she won an award at the most prestigious award ceremony in Africa, the Africa Movie Academy Award. She took home the award for Best Actress in a leading role for her performance in Jenifa.
Winning such a prestigious award informed the public that Funke Akindele was now on top of her game and was an A-lister in her own right. At the age of 32, she was finally getting the reward to match her endeavor and hard work.
Her Directorial Debut Came at the Age of 42
Funke Akindele is a hugely ambitious individual. This is why she has been so successful in her craft. It is also why she has not restricted herself to a singular profession within the movie industry, with a strong desire to venture into other things such as production and directing.
With over ten movies and multiple TV series to her production credit, the only thing left was for Funke Akindele to sit in the director's chair and make her first movie. This dream came through when she debuted her first directorial effort in 2019. The film, Your Excellency, opened in over 50 cinemas across the country on December 13, 2019, and grossed over N17.5 million in two days. It marked the beginning of her career as a director that will hopefully see her release more excellent movies.
Funke Akindele's Net Worth Became One of the Richest Actresses in Nigeria
The talented and revered actress is quite successful. She is so successful that she is widely regarded as one of the richest actresses in Nollywood. How has she managed to accrue such wealth, and has it been via acting alone? Below are the sources of Funke Akindele's net worth.
She has More than 100 Credits in her Filmography
With over 100 movies to her credit in both Nollywood and the Yoruba movie industries, her acting career has been a financially satisfying venture. Many of her films like Maami, Isoken, Chief Daddy, Moms at War, A Trip to Jamaica, Return of Jenifa, Your Excellency, and Industreet, have appeared in cinemas around the country.
These movies have done financially well, ensuring that Funke Akindele is handsomely rewarded for her efforts. Asides from films, she is also the lead actress on the highly successful TV show, Jenifa's Diary. She additionally makes appearances on another show titled My Siblings and I. As a sought after A-list actress, it should not be surprising that Funke Akindele is frequently smiling to the bank.
Co-Owner, Scene One Production and Scene One School of Drama
Away from acting, Funke Akindele is quite the savvy businesswoman. She co-owns a production company and an acting school with her husband, JJC Skillz. The production company, Scene One Production, produces content for TV series, movies, and even television stations. It also has various entertainment platforms such as Scene One TV and a mobile app where subscribers can watch TV series, Nollywood movies, and music.
Her production company produces the shows Jenifa's Diary and My Siblings and I. We are not sure how much they charge for their services, but you can be sure it won't be cheap,
Additionally, she also has an acting school called Scene One School of Drama. The school teaches aspiring actors, content producers, and dancers how to hone their talents and rise to the top in their chosen career paths. Some of the courses available to potential students include Traditional and Contemporary Dance, Music, Introduction to Drama, Manners, and Etiquette, etc.
Endorsement Deals
Funke Akindele is extremely popular in Nigeria. With the kind of reach she possesses, brands have been eager to associate their products with her. It is therefore not surprising that she has bagged endorsement deals from numerous companies.
In 2019, she was ranked as the second richest Nigerian celebrity on Instagram by Hooper, with each of her posts valued at $50,000. In June 2020, she signed an endorsement deal with Dettol, becoming an ambassador for the brand.
Since 2016, she has been a brand ambassador for Iroko TV, a platform that enables users to watch Nigerian movies and series. It is one of her longest-running endorsement deals. She also has deals with Keystone Bank (signed in 2018) and Waw, a company that manufactures detergents and bar soaps.
Previously, she had endorsement deals with Glo, Klin, Omo, Qlichy.com. Her brand ambassador deal with Vitafoam reportedly fetched her over N20 million.
To recap, Funke Akindele is estimated to have a net worth ranging from N500 million to N950 million. Some put her net worth at 1.2 billion Naira. The sources responsible for her net worth include:
An acting career that has spanned over 100 movie credits.
A production company called Scene One Productions responsible for series like Jenifa's Diary and My Siblings and I.
Business ventures, including her acting school called Scene One School of Drama.
Multiple endorsement deals with companies like Keystone Bank, Waw, Iroko TV, and Dettol.
Funke Akindele's Net Worth Ranges From N500 Million to N950 Million
When you have been as consistent and innovative as Funke in the Nigerian entertainment scene, it is only right that financial rewards trail you. It is therefore not surprising that Funke Akindele is consistently among the richest actresses in Nigeria.
For some, she is the richest of them all, while others have her in their top five. She has an estimated net worth pegged between N500 million and N950 million. She has worked her way into this list by not just relying on only her acting career. Other business endeavors have also ensured that Funke Akindele does not have much to worry about when it comes to money.
Her net worth is sure to soar as the years pass by as she continues to generate movie roles, sign endorsement deals, and do exploits with her business ventures. The actress expressed that two things she has a chronic fear of are failure and poverty. It is safe to say that with how rich she has become over the years and unrelenting efforts, poverty is a thing of the past, and Funke can only get richer.
Does Her Net Worth Make Funke Akindele the Richest Actress in Nollywood?
Funke Akindele belongs to an elite group of actresses in Nigeria's film industry, popularly referred to as Nollywood. These women are the crème de la crème of the industry and it is no surprise that they feature prominently on the richest actresses lists.
Despite her mouth-watering net worth, Funke Akindele is not the richest actress in Nollywood. That title undisputedly goes to another acting sensation, Genevieve Nnaji. Genevieve Nnaji is reportedly worth between N850 million and N2 billion.
Despite how varied the list can be, Nnaji has a consensus at the number one spot. Other actresses reported by some media outlets to be worth more than Funke Akindele include Rita Dominic with a net worth between N520 million and N1 billion, Omotola Jolade-Ekeinde (N650 million – N1 billion), and Mercy Johnson Okojie (N775 million – N1 billion).
What is clear, though, is that Funke Akindele never strays far away from the top five. In an industry filled with talented actresses with excellent filmographies, ranking among the top five richest actresses in Nollywood is an achievement that should fill anyone with pride. But with her hardworking spirit and endless creativity, you can expect Funke to rise on the list in the near future.
She Enjoys a Luxurious Lifestyle, Thanks to her Wealth
It is crucial to reward yourself after achieving success. As hard-working and relentless as Funke Akindele is, she undoubtedly knows how to enjoy the finer things in life. This reflects in the stunning mansion she lives in with her husband and twins, along with her exotic collection of cars.
Funke Akindele's House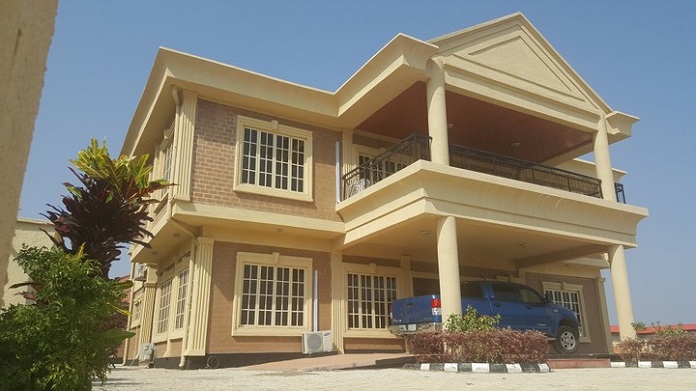 Amen Estate is home to some of the most astonishingly beautiful home in Nigeria and Africa. It offers quality, taste, and magnificence in the Nigerian real estate space. The expanse of beauty, owned by Babatunde Gbadamosi, is also the location of Funke Akindele's mansion.
Bought along with her husband, JJC Skillz, and fondly referred to as 'afin', it is a seven-bedroom detached mansion designed with airy terraces and casement windows. Other beautiful features include the most exquisite porcelain and granite floor tiles, jacuzzi steam bath, fitted wardrobes, a fully fitted kitchen with granite worktops, and stunningly graceful POP ceilings. Words cannot fully describe the beauty of the mansion. When you are as wealthy as Funke Akindele, it is only right you live in a place that reflects your status.
Funke Akindele's Cars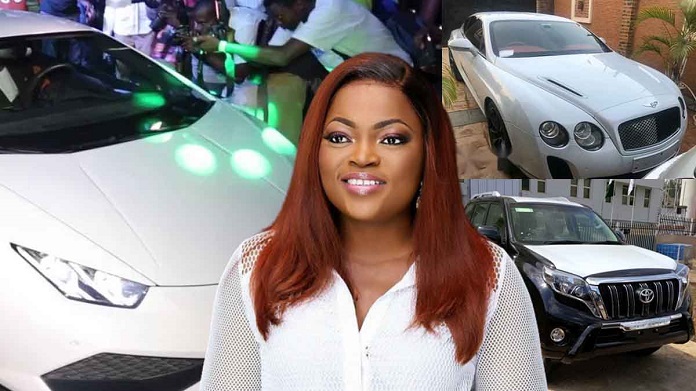 When you are one of your country's richest actresses, it is only proper that you possess a luxurious collection of automobiles that leave people in awe. Below are some of the vehicles owned by the Jenifa superstar.
A White Bentley Continental – the white Bentley Continental is a perfect depiction of the classy nature of Funke Akindele. The stunning vehicle costs nothing less than N70 million and is a real beauty to possess.
Lamborghini Aventador – even more expensive than the Bentley Continental, this baby gulped a minimum of N143 million. Funke Akindele sure knows how to spend her money on some gorgeous vehicles.
Toyota Land Cruiser – the 30-million naira Toyota Land Cruiser is perfect for the Nigerian road with its ruggedness and durability. It possesses anti-lock brakes, anti-whiplash, an up-to-date security system, and stability controls. Well worth its price.
Toyota Rav4 – This is one of the lesser-used vehicles owned by the actress. It is therefore difficult to estimate its price and features.
Classic Rolls-Royce – Yet another white-coloured luxury vehicle that belongs to Funke Akindele. This British-made royalty cost not less than an eye-watering N50 million.