Garrett Clayton is an American actor whose works spread across stage, film, and television. He has even gone beyond the acting sphere as he is also a singer. The Michigan native is most popular for playing the role of Tanner on the Disney Channel musical, Teen Beach Movie, as well as its sequel, Teen Beach 2. As a singer, he has released at least five albums, including the soundtrack of Teen Beach Movie and its sequel.
As much as he has attained fame, Garrett Clayton didn't get it on a platter. He has had to work for everything he has earned in order to achieve his dreams of becoming a Hollywood star.
A Timeline Of Garrett Clayton's Career
Born in Dearborn, Michigan, on March 19, 1991, Clayton attended Crestwood High School in Dearborn Heights, Michigan. It was here that he began displaying his acting skills, performing in the school's drama productions.
After high school, he attended Oakland University where he bagged a degree in musical theatre. He then made his acting debut in 2008 when he played a Zombie in The Tower. Clayton continued to appear in small roles until 2012 when he was cast as Blake in the Lifetime TV movie, Holiday Spin, alongside Ralph Macchio. The actor did a magnificent job in the movie where he played a rebellious teen who had no choice but to stay with his father after his mother died in a car accident.
His Role in Teen Beach Movie Took His Career To Another Level
After playing Blake in Holiday Spin, Garrett Clayton landed three roles in 2013, one of which was that of Tanner on the Disney Channel original film, Teen Beach Movie. The movie, which was filmed in Puerto Rico and directed by Jeffrey Hornaday, also starred the likes of Grace Phipps, Maia Mitchell, and Ross Lynch. His performance in the movie received rave reviews and subsequently brought him into the spotlight.
Clayton then went on to make appearances on the sitcom Shake It Up and on the Days of Our Lives soap opera. He also starred in four episodes of season 4 of The Fosters before appearing as Brent Corrigan (porn star) in King Cobra that featured other actors like Christian Slater and James Franco. In addition to that, he played Link Larkin in NBC TV broadcast, Hairspray Live!, alongside Ariana Grande and Jennifer Hudson. That's not all, in 2017, Garrett portrayed Brady Mannion in Don't Hang Up, a horror-thriller film. His role as Steven in 2018 holds a special place in his life as the project dealt with several challenges he has faced in his life, especially his sexuality.
In regards to his stage performances, the actor has appeared in plays like Sleeping Beauty And Her Winter Knight as Prince Phillip, Cruel Intentions: The Musical as Greg, God Looked Away as Luke, and It: A Musical Parody as Pennywise.
His Exploits as a Musician
Garrett Clayton is a lover of music and his favorite songs of all time are Tracy Chapman's Change and Ludovico Einaudi's Primavera. Though the spotlight is more prominent in his acting career, he is a bit of a singer as mentioned above.
Clayton has five albums to his credit. The first, which was the Teen Beach Movie (soundtrack), was released in 2013. Teen Beach 2 (soundtrack) followed the next year. The other three albums – Pop Dynamic Blast, Pop Style Forte, and Pop Hits Fusion were all released in 2017.
The Story Around Garrett Clayton's Coming Out of The Closet
Garrett Clayton's sexuality became a subject of discussion and debate after his fantastic performance as a gay porn star in James Franco's 2016 biographical film, King Cobra. The movie, which is a film adaptation of a book of the same, was written by Andrew E. Stoner and Peter A. Conway, telling the true story of how gay porn producer Bryan Kocis was murdered in 2007.
In the movie, Clayton played Brent Corrigan, a gay porn novice that Bryan's rivals wanted to work for them. When Bryan refused, they murdered him to get what they want.
Garrett remained mum about his sexual orientation for long until 2018 when his role in the movie Reach inspired him to come out. In a very emotional Instagram post, he poured his heart out, expressing his desire to change lives through his role in the movie.
Clayton Dated Women Before Coming Out
Before Garrett Clayton fully declared as a member of the LGBT community, he was romantically linked to women. He was first linked to Disney Channel star Claudie Lee in 2013. They were spotted together on several occasions at different locations, including Variety's 2013 Power of Youth campaign in Universal Studios, and at Santa Monica shopping. They were also together in Union J's Carry You music videos.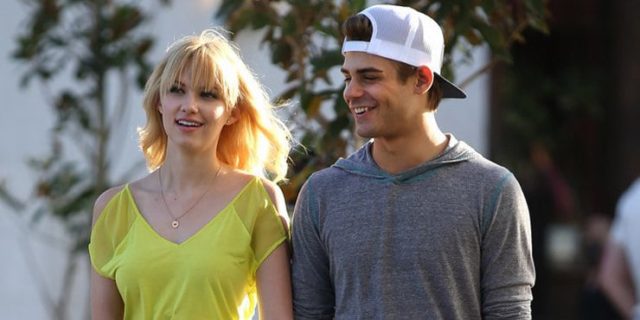 Their relationship got pretty serious that Claudia took Clayton to meet her father. According to her, her dad was very intimidating to the extent that the King Cobra star was pretty scared to meet him. Garrett's mom accompanied her son for the visit and they took pictures which they shared online.
The couple, however, broke-up secretly after a while and no one got to find out why they parted ways. Clayton has since then not been linked to any other woman.
Also Read About: Darren Criss Biography, Is He Gay, Who is His Wife? Net Worth, Age, Height
He is Now in a Good Place with Blake Knight
With a height of 5 feet 10 inches (1.78 m) and an attractive body to go along, there is no doubt that Garrett Clayton wouldn't be a catch for anybody. However, the actor has since gone off the dating market as he is currently engaged to be married to writer Blake Knight.
While Clayton only revealed that he was in a relationship with Knight in 2018 via his coming out post on Instagram, he and his partner had been an item long before then. In another revealing post on January 10, 2019, he shared pictures from when Knight proposed to him.
While there is no news of a wedding yet, the couple look to be happy together, living with their numerous pets that includes a dog named Dart.