Garth Brooks has proven that music is life to the soul. Most of his songs remain evergreen despite the long years they have been released. He has done well for himself as a musician, bringing music to everyone's doorsteps; with his many tours and studio albums. Brooks drives with a success syndrome as all of his albums have been massive hits. Undoubtedly one of the best-selling music artists in the world, he has sold over 170 million records; and based on the estimations of RIAA, he is the best-selling solo artist in the United States at the moment.
This American singer and songwriter is the youngest recipient of the Library of Congress Gershwin Prize for Popular Song which he bagged at the age of 58. Given that, it doesn't come as a surprise that he is a serial Hall of Famer. Garth has been inducted into the Musicians Hall of Fame and Museum, Country Music Hall of Fame, and the Songwriters Hall of Fame
Garth Brooks Began to Develop His Style of Music from Childhood
Brook's life teaches us that consistency and diligence births success. Not everyone knows that the awesome performances displayed by the musician started with his many practices as a child. He started grooming his music skills when he was very young.
The first musical instrument he mastered was the guitar; learning was quite easy for Brooks as he had his mom as one of his teachers and with time, he began working on his voice. He was born on the 7th of February 1962 in Tusla Oklahoma. With music as his passion, Brooks explored various genres that equipped him with a broad sense of what music means to various people. This would later help him to form a unique identity as a musician in years to come.
As much as he was enthusiastic about music, Garth Brooks didn't forsake his education as he obtained a degree in advertising. Upon graduation from college, the vocalist focused fully on his career. He started out performing in clubs and bars before eventually going pro in 1984. With his skills, Brooks kept on creating vibes but it didn't make him famous until four years after he launched his career; that was when he got to sign a deal with Capitol Records. With the record label, he released his debut album, Garth Brooks. Amazingly, his first professional album peaked at the number two spot on the Billboard Top Country Albums.
Fusing Rock and Pop Elements into the Country Genre is His Strong Suit
So much has been said about Garth Brooks' style of music and his songs have been largely categorized as country, country pop, and country-rock. While everyone would agree that his style of music is responsible for his extraordinary attainments, it is not known to all that what makes all the difference for the musician is his ability to mesh rock and pop into what would otherwise be a typical country song.
Brook gained this unusual skill through his exposure to a wide range of music as an infant. He struggled between going with rock or country before he figured out how to carry along all the genres that interest him. This manifested in his second album titled No Fences which spent 23 weeks at the number one spot on the Billboard Top Country Albums Chart and also peaked at No.3 spot on Billboard 200.
Brooks would go on to release more albums. His body of work now consists of 16 studio albums and two live albums. Remarkably, eight of his albums has been certified diamond and he has a total of 137 Platinum certification.
Awards that Shows His Music has Been Well-Received
The serial Hall of Famer is a 7-time CMA Entertainer of the Year. His numerous awards include two Grammy Awards and 17 American Music Award.
It is hard to think of any award in the music industry that Garth Brooks hasn't bagged. He is the only artist to receive eight Diamond certification for eight of his albums which has each sold over 10 million units.
From Billboard Music Awards to Country Music Association Awards, Radio Music Awards, and much more, Garth can boast of 169 nominations and counting; out of which he has won 91.
Garth Brooks' First Marriage was to His College Sweetheart
When Garth Brooks was on the altar with his college sweetheart Sandy Mahl, he must have felt that the marriage would endure till death do them part. But as fate would have it, this didn't happen.
The musician exchanged vows with his first love Sandy on the 24th of May 1986. They lived together in peace for a few years before trouble rocked their paradise and it eventually led to their divorce in 1999.
The divorce forced Brooks into retirement and he had to part with $124 million for settlement. The union produced three pretty daughters; Taylor Mayne Pearl (born 1992), August Anna (born 1994), and Allie Colleen Brooks (born 1996).
He is Now Married to an Avid Entertainer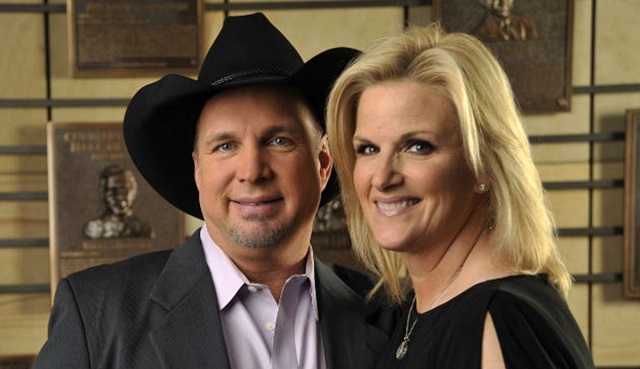 While enjoying his retirement, Brooks fell in love with Trisha Yearwood. A lady who has been married twice. Garth and Trisha subsequently lit up their love lives with an engagement on May 25, 2005. A few months later, precisely on the 10th of December 2005, they officiated their union.
Like her husband, Trisha is an American country recording artist. But more than that, she is also an actress, television personality, celebrity chef, and author. Garth and Trisha make one hell of a power couple as she is influential, as much as her husband is successful.
In July 2013, Brooks became a grandfather as he welcomed a grand granddaughter named August.
The Family He Hails from is Inclined to Entertainment
Brooks is an offspring of Troyal Raymond Brooks Jr. and Colleen McElroy Carroll; he is their youngest child. His dad, while he was alive, worked as a draftsman for an oil company while his mom who passed on in 1999 was an era-country singer.
Apart from his biological brother named Kelly, he has four older half-siblings named Jim, Jerry, Mike, and Betsy; thanks to both of his parents' previous marriages.
Garth Brooks and his late mom aren't the only members of the family that have pursued a musical career. His half-sister Betsy Smittle also trod the path of a musician. She was known for her contributions as a vocalist for Stillwater. Also, Betsy featured in several Brook's albums; Ropin' the Wind, The Chase, In Pieces, Fresh Horses, and the Double Live concert album. She died sometime in the month of October 2013.