Gary Dourdan is an African-American actor known for his unconventional lifestyle and career. He is best recognised for his role as detective Warrick Brown, in the popular series CSI: Crime Scene Investigation.
Early Life
Gary Dourdan was born on 11 December 1966 in Philadelphia, Pennsylvania to Robert and Sandy Durdin. From an early age, Dourdan showed interests in acting, martial arts and music. To hone his talents, teenage Dourdan enrolled in a city program for aspiring actors called 'Freedom Theater' as well partook in musical training and dramatic auditions in Manhattan. At age thirteen, one of Dourdan's uncles who recognized his early musical interests bought him a saxophone which the young entertainer quickly learnt how to play alongside several other instruments.
Career Rise
Before his acting career, Dourdan previously worked as a model and as an attendant for celebrity events. As a strategy to link himself with the big shots of the entertainment industry, he worked as a doorman in a popular New York studio. Between the '80s and '90s, he was soon noticed and began modelling for various brands under the Boss Models agency. While working as a model, he still kept his music and acting passion alive and was auditioning for roles. His strategies soon paid off and he landed his debut TV role after his talent was discovered by a popular actress, singer and dancer Debbie Allen who offered him the minor role of Shazza Zulu in the 1987 series A Different World. His big break and most popular role came in the year 2000 when he landed the role of Warrick Brown, in the CBS blockbuster series CSI: Crime Scene Investigation. Dourdan has thereafter, played unique roles in several movies such as Malcolm X in Muhammad Ali: King of the World, and in 2008, he was the voice-over character Detective Crispus Allen in Batman: Gotham Knight. In 2011, he played the supporting role of Chef McKenna in the movie Jumping the Broom.
See Also: Michael Ealy, Wife, Son, Daughter Brother, Family, Height, Net Worth
He has other small and big screen roles to his credit including Weekend at Bernie's 2 (1993), Black August (2007), Being Mary Jane (2013-), and an ex-police officer in Mistresses (2013-2016).
Dourdan is also an alternative musician and record producer with a couple of solo albums to his credit. He made an appearance in Janet Jackson's 1993 music video for the hit song, Again. More so, he performed in Barrie, for the 2005 Live 8 concert.
Where Is Gary Dourdan Now, Is He Dead?
Dourdan's fame has however not been without troubles. He has been associated with legal issues in the past for crimes including possession of drugs and domestic violence. In 2008, he was arrested for possession of cocaine and ecstasy. Again in 2011, he was arrested for drug possession and domestic violence against an ex-girlfriend, Nicole Cannizzaro who claimed her nose was broken during an argument with Dourdan. Consequently, he was charged with felony battery, issued a three-year restraining order and sentenced to 52 weeks of counselling. But the charges were later dropped after Dourdan completed 20 hours of Narcotics Anonymous. The next year, he filed for bankruptcy.
Like many other celebrities, Gary Dourdan has been a victim of a death hoax but thankfully, he is still alive and well. However, Dourdan who was once named one of the most attractive actors on CSI has been inactive in the movie industry in recent years. It remains uncertain what Dourdan has been up to lately, but given that he hasn't had any recent run-ins with the law, it is safe to assume he is doing quite well for himself and living a good life.
His Wife and Daughter
The green-eyed and 6′ 2″ tall star actor was previously married to an African-American model, Roshumba Williams. Sadly, the couple who got married in 1992, divorced two years after. Gary Dourdan has had an interesting dating history with several other women including Nicole Vail Cannizzaro, Jennifer Sutton, Cynthia Hadden, Jorja Fox, Lisa Snowdon, Shakara Ledard, Anne Greene, and Maria DelAlamo.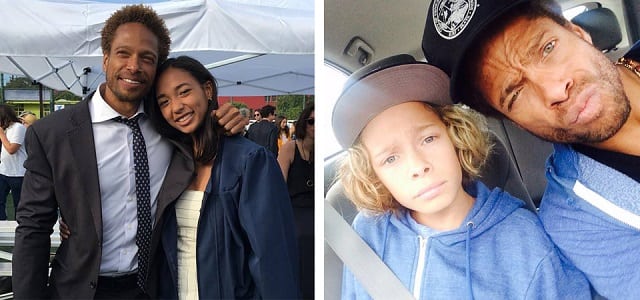 Dourdan has two children from different women, a son Lyric whom he had with his ex, Cynthia Hadden and a daughter Nyla from his previous relationship with Jennifer Sutton.
What Is His Net Worth?
The former C.S.I star has established himself as a household Hollywood name with notable acting credits. Dourdan has a net worth of $500,000 mostly acquired through his success from the movie CSI: Crime Scene Investigation. The value of his net worth would have been more but for his legal woes. He has been accused and arrested for several crimes. After reports emerged that he owed $1.7 million to creditors, the charming and talented actor was forced to file for bankruptcy in 2012.