Gaten Matarazzo is definitely one Hollywood star to watch out for. He is an actor who rose to prominence for his role in several Broadway plays, including Les Miserables. He later hit the spotlight for his role as Dustin in the popular Netflix series, Stranger things. His performance in the series won him the 2017 Shorty Award for Best Actor.
In addition to his career in acting, Matarazzo has a finger in the music industry and has also created avenues of reaching out to the poor and physically challenged through his philanthropic activities. As his popularity grows, more and more fans want to know about his life, both personal and professional.
Gaten Matarazzo was Nine When He Made His Acting Debut
Gaten Matarazzo was born on the 8th of September 2002 in Connecticut, USA. As a child, he was very interested in singing and thus attended Starlight Performing Arts Center in New Jersey to pursue vocal training. He went on to compete in the Starpower Talent Competition Nationals in Uncasville, Connecticut in 2011 where he earned third place with his vocal solo entitled Ben.
Matarazzo later made his acting debut that same year at the age of 9 in a Broadway production of Priscilla, Queen of the Desert. The young talent breathed life into the character of Benjamin. Following his strong performance in the musical, the actor got a role in another Broadway musical, Les Miserables, where he appeared as Gavroche / Petit Gervais in 2014.
He Achieved Fame on the Set of Stranger Things
Gaten Matarazzo became a Hollywood star in 2016 thanks to his role as the funny, quirky Dustin Henderson in the popular Netflix science fiction-horror series, Stranger Things. The supernatural thriller follows a bunch of children trying to discover what happened to one of their friends. The series has become a cult hit and has attracted a legion of loyal fans, including the likes of Shonda Rhimes, Zac Effron, and Stephen King. Stranger Things has also won several awards and helped propel its adorable young cast, including Matarazzo, to fame.
Aside from Stranger Things, Matarazzo has also appeared in other TV shows such as the NBC crime thriller Blacklist (2015), and MTV's comedy show Ridiculousness (2017). He is also part of Zach's Lie – an Erahm Christopher's 2018 production.
Members of Gaten Matarazzo's Family
Gaten Matarazzo comes from a family of five that comprises of his dad Gaten Matarazzo II and mom Heather Matarazzo. Others are his elder sister Sabrina and his younger brother Carmen. His given name Gaten John Matarazzo III is a sure indication of his Italian heritage. However, the actor's ancestry is not only rooted in Italy as he also has English, Finnish and Scottish origins.
People often ask if the actress, Heather Matarazzo (who is most popular for her role in the 1995 movie Welcome to the Dollhouse), is Gaten's mom. This is not surprising given the similar names. The answer is, however, no. She is not Gaten's mom but has acknowledged that the actor who she shares a similar last name with is adorable and good on the screen.
His Sister Was Who Encouraged Him to Act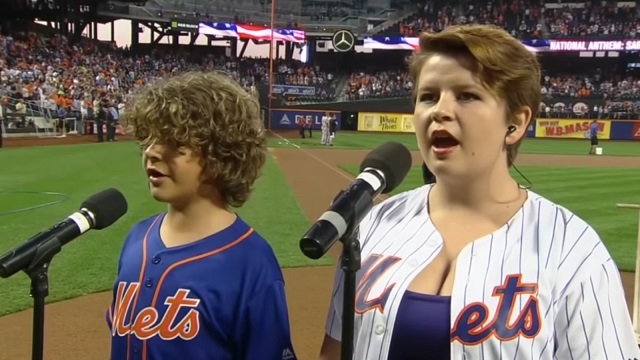 Gaten Matarazzo is not the only talented person in his family. His elder sister Sabrina is also an actress. She has featured in some commercials as well as theatre productions and is said to be the one who encouraged her brother to become an actor. Her manager then signed Gaten on and started getting him auditions.
Aside from acting, all three Matarazzo siblings are talented singers. They have a band called Work in Progress and they usually post covers of songs online. In June 2018, they performed on stage with Paramour, an alternative rock band. The performance took place at a Paramour concert in Brooklyn, New York.
Additionally, Gaten and Sabrina once performed the national anthem before a Mets Game at Citifield in 2015.
Gaten Matarazzo Suffers From Cleidocranial Dysplasia
Gaten Matarazzo has a rare genetic (usually inherited) condition known as Cleidocranial Dysplasia (CCD). The condition affects the growth of bones and teeth and manifests differently in each individual. In the actor's case, it affected the growth of his teeth as he was also born without a collarbone.
Gaten has been vocal about his condition and has spoken extensively about his surgeries where he had some supernumerary teeth removed. The condition, which can also affect one's height, makes him speak with a lisp. He has used his fame to raise awareness about the rare condition and has also collaborated with a charity known as CCD Smiles to raise money to enable people born with the condition to get corrective surgeries.
His Career Has Been Impacted By His Health Issues Both Negatively and Positively
Gaten Matarazzo's condition has been both a curse and a blessing. On one hand, the condition (his lisp and short height) has hindered his ability to get certain roles. On the other hand, some of the roles he has gotten have been due to the condition and his disability has formed part of the plotline.
A good example is his role in Stranger Things where the character's background was modified to have the health condition as well. For instance, in the very first episode of Stranger Things, he is bullied by a bunch of mean kids because of his lisp.
His Fortune Keeps Growing Despite His Disabilities
Even though Gaten Matarazzo is still a high school kid, he has been able to accumulate a small fortune. A conservative estimate of his net worth puts it between $500,000 and $1 million, a bulk of which he made from Stranger Things where he reportedly earned $10,000 per episode in the first season and $30,000 per episode in the second season.
The young actor is also lined up for the third season where his earnings are expected to rocket to $250,000 for each episode. Matarazzo also has an endorsement deal with Verizon Fios (a TV, internet, and phone service offered by Verizon). Taking his young age into consideration, he has the advantage of time and is likely to accumulate more wealth as time rolls by.