Gena O'Kelley is the wife of Chuck Norris, the legendary actor and martial artist. She was born on August 10, 1963, in California, United States, and she is a 60-year-old actress, businesswoman, and former model. 
Before she met Chuck, Gena had a career as a model and had some minor roles in television. She met Norris in 1997 and the couple got married on November 28, 1998. They have twins together, a son Dakota Alan Norris and a daughter Danilee Kelly Norris, born in 2001.
In her prime as a model, O'kelley worked with some well-known brands until she switched to acting. However, her primary claim to fame was her marriage to Chuck Norris. At the time, she received much attention because of the massive age difference between her and Norris. 24 Years later, Gena O'Kelley's devotion and dedication to her husband and their two children has quelled all the rumors about their age gap.
Summary of Gena O'Kelley's Biography
Full Name: Gena O'Kelley Norris
Date of Birth: August 10, 1963
Age: 60 years old
Place of Birth: California, USA
Nationality: American
Ethnicity: Caucasian
Father: Alan Gordon O'Kelley
Mother: Anette O'Kelley
Siblings: Eric, Maureen, and Elizabeth
Education: N/A
Occupation: Ex-Model, Actress, and Businesswoman
Relationship Status: Married (second marriage)
Spouse: Carlos Ray Norris, Chuck Norris (m. 1998)
Children: Four (Kelley Gene Tagudin, Timothy Robert Hinschberger, Dakota Alan Norris, and Danilee Kelly Norris)
How Old Is Chuck Norris' Wife?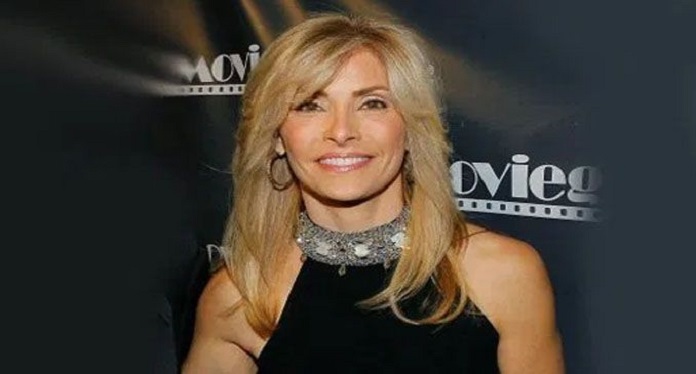 Gena O'Kelley was born in California on August 10, 1963, and is currently 60 years old. She was born into a middle-class family of 6. Her father was Alan Gordon O' Kelley, a security guard at Hewlett-Packard and Kunde Estate Winery; her mother is Anette O' Kelley.
She was raised in her birth state of California alongside her three siblings; a brother, Eric, and two sisters, Maureen and Elizabeth. Gena's father, Alan O' Kelley, sadly died in 2008, and she has never disclosed any information about her early life or what growing up in the O' Kelleys household was like. Details of the high school and college she attended, degrees obtained, and other related information are not in the public domain.
Chuck Norris and Gena O'Kelley Met While On a Date
The story of how Gena O'kelley met Chuck Norris is something like a movie script. During the early years of her acting career in 1997, O'Kelley had gone to a restaurant in Dallas where she was featured in a stage show. Coincidentally, Norris, who was already a well-known star, was on a date with another at the same restaurant.
She did not know it at the time, but Norris took a liking to her while she was on stage.  He would then ask his manager to get her number even though he was with another woman.  Chuck set up a date with her shortly after that chance meeting through his PA. They had their first date in Dallas soon after and then started a relationship
Gena and Chuck Got Married One Year After They Met
Barely one year after they met, Gena O'Kelley and Chuck Norris got married on November 28, 1998. After news of their marriage hit the media, Gena received a lot of attention, not just because Norris was a star but also because he is and has remained inseparable for more than 20 years now. There is a 23-year gap between them, but as far as we can tell – two decades later – the age difference has not affected their love for each other.
How Many Children does Chuck Norris have with Gena O'Kelley? 
Her marriage to Chuck Norris is blessed with children (twins) – a son, Dakota Norris, and a daughter named Danilee Norris, born on August 30, 2001. The early life of the twins was quite a challenging one as they were born prematurely by two months. They stayed in the intensive care unit for a while before they were fit to be taken home. That said, they have not developed any known health issues in their later lives.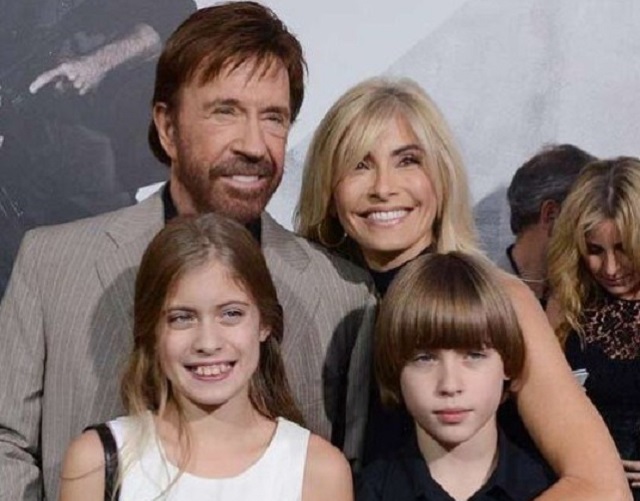 Even though both their parents were involved in showbiz either fully or partly, neither of the twins has shown any serious interest in towing the same path. However, Danilee Kelly Norris appeared in the 2005 film Walker, Texas Ranger: Trial by Fire alongside her father, who played the lead role.
In all, Gena O'Kelley has four biological children of her own. She has two children with her first husband – a boy named Tim and a daughter named Kelly. She is also the stepmother of her husband's three older children – all of who are actually older than she is.
Both Gena and Chuk Norris Were Previously Married to Other People
Gena O'Kelley was once married to her first husband Gordon Hinschberger. The exact details of their marriage – actual date, duration, and reason for their separation have never been disclosed by Gena.
Just as the martial artist and legendary actor is not the first man Gena was married to, she was also not the first in his life. He was previously married to Dianne Holecheck, who was born on November 27, 1941, in Los Angeles, California, USA.
They got married in 1958, and they had 3 children – Mike (b, 1962), Eric (b. 1964), and a daughter, Dina (b. 1963) – who was born out of wedlock. Norris and Dianne divorced each other in 1989 after over 30 years of being together. Norris has 5 children from his two marriages, and he reportedly has more than 11 grandchildren.
Chuck Norris is an American actor, screenwriter, movie producer, and martial artist. Norris was actually named Carlos Ray Norris at birth, and he is a United States Air Force veteran who rose through the ranks to become an Airman First Class.
When he left the Air Force, he took up martial arts and was so good at it that he actually participated in and won several competitions; he has also displayed his mastery of martial arts in most of the movies that he has featured in. He has his own school, Chuk Kuk Do, where martial arts skills are taught. He possesses a black belt in Judo, Tang Soo Do, and Brazilian Jiu-Jitsu.
She Had A Good Run as a Model
Gena O'Kelley is a very beautiful woman with an incredible physique, and it was no surprise that she became a professional model.
However, she is not one to flaunt or reveal her personal and professional life to the public, so there is little or no information with regard to her work as a model. Many of her critics have stated that she had a very modest modeling life, but that should not be a true measure of her life and what she has achieved as an individual and professional.
By the time she met and settled with Chuck, she had already walked away from her modeling career to take care of her family after her first marriage.
Chuck Norris' Wife's Illness
Gena suffered from rheumatoid arthritis, and in the course of treatment, she was later diagnosed with gadolinium deposit disease, a condition that was drug-related. It was linked to the injection she was given during her treatment for an initial health issue known as gadolinium.
She got the injection three times in eight days, leading to a burning sensation that spread all through her body before she was later found to have an issue with her kidney. The duo would later sue 5 companies for a total of $10 million for damages linked to the health complication of Gena.
At the time, the actor decided to take a leave from his career, stating that his focus was strictly to keep his wife alive and well. Not only has he succeeded in doing just that, but he has also returned to his career and has appeared in a good number of films since then.
His earlier retirement would hardly have affected the financial future of the Norris family as it has so much in terms of fortune. Currently, the family seems well secured as they have a net worth of about $70 million.
FAQs About Gena O'Kelley and Chuck Norris
How did Gena O'Kelley and Chuck Norris Meet?
Chuck Norris met Gena O'Kelley at a restaurant in Dallas where he was on a date with another woman, and she was featured in a stage show. He asked his manager to get her number and set up a date.
Is Gena O'Kelley Chuck Norris' First Wife?
No! Gena O'Kelley is not the first wife of Chuck Norris. His first wife is his high school sweetheart Dianne Kay Holechek. They got married when he was just 18 years old. Their union lasted 30 years and produced three kids before they got divorced in 1989.
What Is the Age Difference Between Gena O'Kelley and Chuck Norris?
Chuck Norris is 23 years older than his wife Gena O'Kelley. He was born on 10 March 1940 and is currently 83 years old, whereas she was born on August 10, 1963, which makes her 60 years old.