Once upon a time, George Springer was just a scrawny kid with a stuttering problem. He endured teasing as well as bullying which made him retreat into his shell. The only thing that gave the young kid joy was baseball, and he pursued it with his heart and soul. These days, Springer is one of the best outfielders in the MLB. He has received many individual honors and in 2017; he led the Houston Astros to the World Series title. Want to know more about Springer's incredible story? Then, we have got all you need.
George Springer's Bio, Age, and Ethnicity
George Chelston Springer III was born on the 19th of September 1989 in New Britain, Connecticut. His nationality is American while his ethnicity is Latino/Hispanic (Puerto Rican on his maternal side and Panamanian on his paternal side). Springer grew up in the blue-collar, working-class neighborhood of New Britain. As a child, he had a stuttering speech which led to ridicule and teasing from his peers. He thus found it difficult speaking in public, and the only thing that gave him comfort was baseball.
On noticing this, his dad built him a batting cage in their backyard. He also played with him regularly and often took him to watch the games of minor league side, New Britain Rock Cats. During one of such games, George Springer got a chance to play with Cats player, and future MLB great, Torri Hunter. The whole experience not only solidified his love for the game but also his desire to pursue it professionally.
Career Endeavours
George Springer commenced his journey to the MLB via the school system. He played four years of varsity baseball at New Britain High School, as well as Old Farms School, and was so impressive that he was selected by an MLB side in the 2008 MLB draft. He however declined and enrolled at the University of Connecticut to play college baseball. During his three years in college, 2009 – 2011, Springer received several accolades including First Team All-American honors (by Perfect Game USA) and Big East Conference rookie of the year award. George Springer was drafted into the MLB by the Houston Astros in 2011. He spent the first two years playing for various minor league sides before making his MLB debut for the Astros on the 16th of April 2014.
Since then, the Connecticut native has recorded impressive feats both on and off the field. He was a pivotal part of the Astros squad that defeated the Los Angeles Dodgers 4-3 to clinch the World Series title in 2017. As a testament to his outstanding individual contributions, he was given the World Series MVP award. He was also awarded the Silver Slugger Award as the best offensive player in the American League. Off the field, Springer has been described as the heart and soul of the Astros team thanks to his enthusiasm, personality, and energy. The player has also supported several charity programs, especially those that assist kids with speech problems.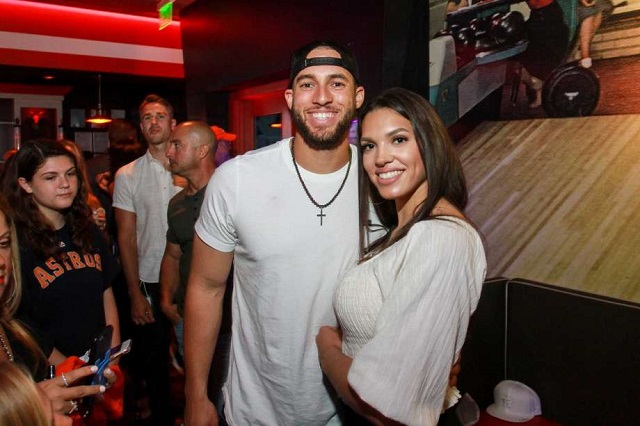 What to know about his wife
The baseball star is married to the beautiful Charlise Castro. Castro is a native of Saugerties, New York and has Puerto Rican ancestry. She is also a gifted athlete and played four years of college softball at Maryland Eastern Shore (1 year) and University of Albany (3 years). At Albany, she was named the American East Conference player of the year due to the feat of being the second player in conference history to win the league's Triple Crown.
On the academic side, Charlise Castro has a bachelor's degree in Communications; as well as an MBA from the University of Saint Rose in Albany. It is not exactly known when Springer and Castro commenced their relationship but they got engaged at the Mexican beach resort of San Jose Del Cabo in December 2016. The couple later tied the knot on the 20th of January 2018. The ceremony took place at the Resort at Pelican Hill, Newport Beach, California.
George Springer's Parents
Springer hails from a tight-knit family background. His father's name is George Junior while his mother's name is Laura. His dad played in the Little League World Series, while his mother is a former gymnast. The outfielder also has two elder sisters namely, Nicole and Lena. They both played softball (a version of baseball) in college. Additionally, the patriarch of the Springer family is the late George Senior. He emigrated from Panama to the US when he was just 17. He played baseball at the Teachers College of Connecticut before going on to become a teacher and a baseball coach.
Height
George Springer is 6 feet 3 inches tall (1.92m) and his weight is listed as 215lbs or 98kg. The outfielder has certainly come a long way from his days as a scrawny teenager. In his freshman year, Springer was just 5 feet 2 inches tall (1.5m) and weighed 100lbs (45kg). His miniature size made his coaches to doubt his ability to go far in his career. He later gained an extra 12 inches and 100lbs and has now risen to become a Major League star.