George Strait is a legendary figure in the Country music industry and the one vital force in the industry. He is an American country singer and song writer whose work endeared him to many hearts and earned him the title "The King of Country". Apart from music, he has also appeared in several film productions.
Just as you cannot talk about country music without mentioning Don Williams and Kenny Rogers, so also you cannot leave Strait out thanks to his massive influence in the genre. Here is everything you need to know about the esteemed American singer beyond just his music.
George Strait's Bio (Age, Ethnicity)
George Harvey Strait was born on the 18th May 1952. He attended the Southwest Texas State University in San Marcos where he obtained a degree in agriculture. He enlisted in the United States Army and commenced performing with a U.S Army's band, "Rambling Country".
His father, John Byron Strait, who was a high school teacher owned a 2000-acre ranch in Texas which gave George the much-needed financial backing to ply his trade in music. George's mother, Doris Couser Strait, left the family, when he was a child, taking his only sister, Pency Edel and leaving George and his brother, Buddy, at the care of their father.
As it is with most famous singers, George loved music since was just a little kid and by time he was in Pearsall High School as a student, he had already known the path he wanted to take. This enabled him to join the rock and roll garage band named "The Beatles". His talents brought the spotlight on him whilst he was still in high school.
Career
After his discharge from the army in 1975, he played in different places including drinking pubs with his band but did not get an endorsement or recording deal until 1981 when he joined MCA Records. His musical career saw major international success almost immediately. His first single Unwound became a hit in the same year, after its release. His music style was influenced by great singers including Bob Wills, Lefty Frizzell, Frank Sinatra and Hank Williams.
With close to thirty albums to his name, Strait has received many awards including a Grammy he won in 2009 for his Troubadour album. Other awards he won are Academy of Country Music, Country Music Association, and American Music Awards among many others. More so, he has been inducted into the Country Music Hall of Fame in 2006.
His "Strait Tours" earned him $99 million in only three years. In June 2004, 104,793 persons were present at his concert which held at the AT&T Stadium in Texas. The event went on to break the record for the largest in-gathering in a concert that North American had ever witnessed. With such following, it is not surprising that the legendary super-star has sold more than one hundred million copies of his albums globally. This is a feat that has not been achieved by many singers.
In 1992, Strait dabbled into film making, producing a motion picture titled Pure Country, and recorded a series of hit songs for the film's soundtrack including, 'I Cross My Heart,' 'Heartland,' 'Where the Sidewalk Ends' and 'The King of Broken Hearts'. He later released a retrospective record which grabbed a phenomenal sale that exceeded five million copies. To date, Strait Out of the Box holds the notable distinction of being the biggest-selling boxed set in country music history. Strait has maintained relevance for Fifty years in country music even after he rebranded himself, his new songs and albums still made tops on the Billboards and generated favorable acceptance from fans and critics.
Net Worth 
Having accomplished as much as he has through the years, the net worth of George Strait has been estimated to be $326 million. He owns houses by Rockport, a lovely ranch in Encinal and a beautiful custom-made house in San Antonio Estate (12.2 acres which recently was put up in the market for sale). All the aforementioned are in Texas. He is also said to own a Yachts and has been associated with cars like Bentley, Garcia, etc.
Read More: Is Barry Manilow Gay, What Is His Net Worth, How Old Is He? Here Are Facts
Geroge Straits' Family – Wife, Daughter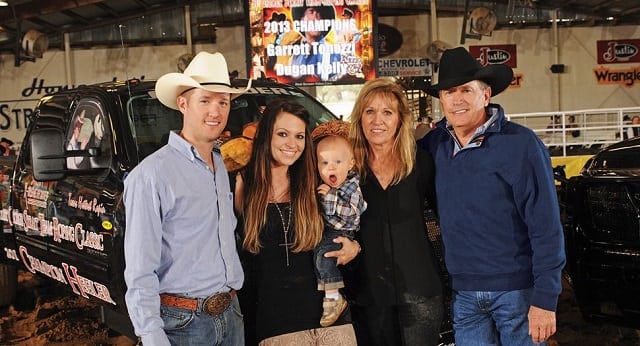 George Strait is not one of the men that have dated many women in the past. He met Norma when they were both in high school and after dating since then, they decided to tie the knot in December 1971 and joined the United States Army immediately after their marriage. The couple was blessed with two kids; Jennifer who was born in October 1972 and George Strait Jr. also known as Bubba who was born in 1981.
Unfortunately for the singer and his family, Jennifer died in 1986 following a car crash in San Marcos. To pay tribute to the young soul that left them at only 13, the family began the Jennifer Lynn Strait Memorial Foundation. The focus of the foundation is to support children charities. It has sustained since 1986 after the tragedy. George Strait Jr., on the other hand, is a graduate of Texas A&M in College Station. He is married to Tamara and they have a son together, George H. Strait III to honor their great-grandfather.
Body Facts – Height
George stands at a height of 1.78 m which is 5 feet 10 inches, with a 77 kg weight that supports his frame. His other body measurements are not known but his foot size is 10 (US).