No other country singer has a sound so original and true to the roots of the decades-old country genre as George Strait. It is for this reason that his outstanding achievements in the genre have led to him being dubbed The King of Country.
Strait is undoubtedly one of the most influential figures as far as country music is concerned. His career, which spans over four decades, is laced with numerous awards and accomplishments. He has sold over 100 million records worldwide to be the 12th best-selling recording artist to come out of the United States. His success over the years has brought him incredible wealth and even in old age, he continues to stay active by touring, entertaining his age-long fans, and keeping his wealth afloat.
Strait was Turned Down By Several Nashville Record Execs Before He Later Got His Big Break
As it is with many famous singers, George Strait loved music as a little kid and by the time he was in Pearsall High School, he had already made up his mind to have a career in music. However, his early years came with some difficulties which had him contemplate his dreams.
When he enlisted in the army in 1971 as an infantryman, Strait performed with Rambling Country, an Army-sponsored band that also performed off base. After his discharge in 1975, he became a part of another band called Ace in the Hole. The band had a regional following and enjoyed local success in south and central Texas. They recorded a handful of songs written by Strait but unfortunately, their success struggled to reach beyond the Texas borders.
With help from his friend Erv Woolsey who had previously worked for MCA records, George Strait got to meet with record execs in Nashville as he searched for a deal. He was, however, turned down countless times which made him consider quitting music as he accepted a cattle-pen designing job he had been offered.
But thanks to his wife's persuasion, Strait persevered and in early 1981, MCA Records came knocking with a deal, but not without conditions. He was offered a one-song deal which would only get him an album deal if the song was successful. Strait made sure not to squander the opportunity as his first single titled "Unwound" became an instant hit.
He Has Released Over 30 Bodies of Work Over The Years
On the heels of his 1981 hit, George Strait released his debut album titled Strait Country which had a refreshing sound as it was different from the heavily pop-influenced sound that was dominant at the time.
In the years that followed, Strait released 17 number one records. Though his chart positions dipped in the 1990s, his album sales were beyond moderate. His 1995 four-disc, box-set career retrospective, Strait Out of the Box, became the second-best-selling box set ever in American music history.
Into the new millennium, Strait's records were still breaking records; in 2009, he had 44 songs top Billboard's Hot 100 Country charts, surpassing Conway Twitty's record of 40. The country legend currently has 60 number one singles, the most by any recording artist across all music genres.
George Strait has continued to maintain relevance for over 40 years in country music even after he rebranded himself. His new songs and albums still take the top spot on the Billboard charts and generate favorable acceptance from fans and critics. His best-selling album remains 1992's Pure Country which sold over 6 million copies, contributing hugely to his over 100 million sold records that make him one of the best-selling acts of all time.
Touring Has Also Been One of George Strait's Biggest Money Makers
As with record sales, George Strait has also set records with touring. He is further credited with introducing festival style tours. His 1998 George Strait Country Music Festival was the 9th biggest selling tour of that year while his 2005 tour grossed over $15 million despite including just 18 performances.
Thanks to touring, Strait made his Forbes list debut in 2010, ranking as the 7th highest-paid country music artist with estimated earnings of $23 million. His 32-date tour which spread over 12 months brought in an average of $1.3 million a night. In 2013, he appeared on Forbes list again as the 9th best-paid act with earnings of $18 million.
Strait's "Strait Tours" earned him $99 million in three years. In June 2004, 104,793 persons were present at his concert which held at the AT&T Stadium in Texas. The event went on to break the record for the largest in-gathering in a concert that North America had ever witnessed. His The Cowboy Rides Away Tour made $18 million in a single night breaking a 33-year-old record. Forbes in 2019 listed him as the 14th highest-paid country act with earnings of $17.5 million.
As a result of his wealth which is estimated to be around $300 million, the country music legend has been able to live a lavish lifestyle. He owns houses by Rockport, a ranch in Encinal, and a beautiful custom-made house in San Antonio which he later put up for sale. He is also said to own a yacht, a Gulfstream G450 business jet, and many luxury cars.
Strait's Illustrious Career is Well Decorated with Several Accolades
With such humungous achievements, it is only befitting that Strait has been honored with a bevy of awards. He won a Grammy for Best Country Album in 2009 for his Troubadour album. He is further the country artist with the most CMA and ACM Awards. On three separate occasions, he has won CMA's Entertainer of the Year Award (1989, 1990, and 2013) and ACM's Entertainer of the Year in 1990 and 2014.
In 2006, George Strait was inducted into the Country Music Hall of Fame. In 2010, he was named the Academy of Country Music Awards' Artist of the Decade for the 2000s. Billboard also named him the top country-music artist of the past 25 years.
In 2013, he became the first country artist to receive Billboard's Legend of Live honor; the award honors the concert industry's top artist based on Billboard's Boxscore chart and box-office performance.
Read More: Is Barry Manilow Gay, What Is His Net Worth, How Old Is He? Here Are Facts
George Strait Has Been Married To One Woman His Whole Life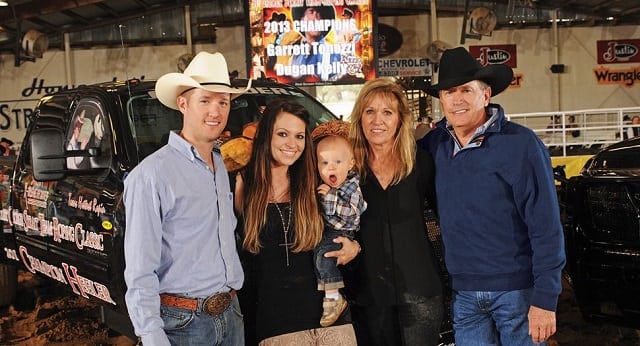 George Strait was so in love with his high school sweetheart Norma that he eloped and married her in December 1971 right before enlisting in the army.
The pair have since remained inseparable as they welcomed their first child, a daughter named Jennifer, in October 1972. Jennifer was unfortunately killed in an auto-crash on June 25, 1986. She was just 13 years old. The Jenifer Lynn Strait Foundation was set up in her honor to donate money to children charities in the San Antonio area.
In 1981, Strait and his wife welcomed their son George Strait Jr. also known as Bubba. Strait Jr. is a graduate of Texas A&M University in College Station. He is married to Tamara and they have a son together, named George H. Strait III to honor their great-grandfather.
A lesser-known fact about Strait is that he has family ties with the world's richest man, Jeff Bezos. Per Wide Open Country, their connection is through the billionaire's maternal grandmother Mattie Louise Gise (nee Strait).