The English actress and TV star Georgie Henley has joined the long list of actresses making waves in the Hollywood industry. Having started her career as a child actress, Georgie has been active in the acting business for over a decade and counting. She garnered wide popularity following her appearance as Lucy in The Chronicles of Narnia Series. Apart from that, the actress has also featured in other blockbuster movies and TV series. Learn more about her age, height, net worth, family and other facts below.
Georgie Henley Bio (Age)
Georgina Helen Henley was born on July 9th, 1995 in IIkley, West Yorkshire, England. She was born to British parents – Mike and Helen Henley. Growing up, she attended Moorefield School for Girls before proceeding to Bradford Grammar school. Upon graduation, she went on to acquire a Bachelor of Arts degree in English from the University of Cambridge in 2016. During her school days, Georgie joined a local drama theatre group called Upstagers and performed popular folklore stage. Some of her popular plays include The Pied Piper, Babushka, and A Christmas Story.
Georgie made her acting debut at the age of ten as Lucy Pevensie in the 2005 British-American fantasy film The Chronicles of Narnia: The Lion, the Witch, and the Wardrobe. The film became commercially successful grossing over $745 million globally. Subsequently, she appeared in its sequels, Chronicles of Narnia: Prince Caspian (2008) and Chronicles of Narnia: The Voyage of the Dawn Treader (2010).
Henley starred alongside Abigail Breslin in the crime drama Perfect Sisters in 2014. The following year, she played Mary Warren in Sisterhood of the Night. The actress also portrayed Nat in the award-winning film Access All Areas. Her other movies include Perfect Sisters and Jane Eyre. In January 2019, she was named as a cast in the forthcoming season of the HBO thriller, Game of Thrones.
Asides from movies, Henley has appeared in stage plays as well. She played Jill in Babes in the Wood courtesy of the Upstagers' Theatre group in 2006. Later in 2013, she appeared in We will Rock You where she portrayed Scaramouche. In her varsity days, Henley featured in Woody Allen's Play it again, Sam; The Penelopiad written by Margaret Atwood; and Anthony Burgess's The Trojan Women: A Clockwork Orange, etc.
Net Worth: How Much is Georgie Henley Worth?
The British actress has been successful in her career, all thanks to her wonderful acting style. She is currently living a decent lifestyle with her net worth pegged at $6 million. Henley made her wealth from her movies, TV series and other business endeavors.
Read Also: Haley Lu Richardson Height, Age, Dating, Boyfriend, Ethnicity
Georgie Henley's Family: Siblings and Boyfriend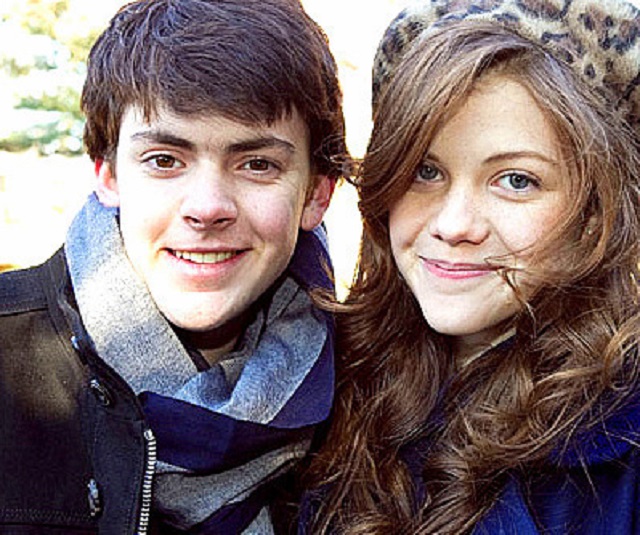 The amazing actress came from a conservative English family and born to Mike and his wife Helen. She grew up along with her two older sisters, Rachael and Laura. Her sister, Rachel is also an actress, best known for playing the older version of Lucy Pevensie's character in British-American fantasy film, The Chronicles of Narnia: The Lion, The Witch, and the Wardrobe.
Having been active in the entertainment industry for a long time, Georgie's love life is something that many will be curious about. Although the actress has been in a few relationships, she is yet to make it down the aisle. Henley had a brief relationship with a Canadian actor named Keanu Pires back in 2009. The two were together for a few months before going their separate ways. Prior to their relationship, the actress was said to have dated an American actor and singer named Luke Benward from 2006 to 2008. Luke is best known for his role as Billy Forester in the film How to Eat Fried Worms.
Just recently, rumors began to fly around that stunning actress is dating her Chronicles of Narnia co-star, Skandar Keynes. The news saw the light of the day shortly after the pair was spotted recently sharing a kiss. However, it is still unclear what the true status of things are between both young TV stars.
Her Height and Body Measurements
Henley is 5 feet 4 inches (1.63 m) tall, weighing around 57 kg (126 pounds). She wonderful body measurement (breast-waist-hips) of 35-29-36 inches. Her features are enhanced by her beautiful blue eyes and dark brown hair.