Gerard Butler can be simply described as a blockbuster staple, he has proved his acting prowess over the years and has been duly rewarded with accolades. Butler is a Scottish actor who gained media attention after his role in the movie, Dracula. He has since gone on to become highly prolific appearing in well over 40 films. Here is a look at Butler's career and facts about his private life.
Gerard Butler – Bio (Age)
At birth, he was named Gerard James Butler. He was born on the 13th day of November 1969 in Paisley, Renfrewshire Scotland. He is the youngest of three children belonging to Margaret and Edward Butler. Butler has one brother – Brian Butler and a sister- Lynn Butler. The Scottish actor was raised Roman Catholic.
Just a year after he was born, Gerard Butler's family relocated to Montreal, Quebec a place his parents would later come to divorce. As a result, his mom alongside his siblings relocated to Paisley and there Butler spent the rest of his formative years.
Gerard Butler was an active theater member during his days at St Mirin's and St Margeret's High School, Paisley and was also the school's head boy. He excelled both academically and socially and graduated top of his class. Upon graduation from high school, the actor enrolled at the University of Glasgow School of Law with sole intentions of becoming a lawyer, however, as fate may have it, he diverted totally from his initial intentions and pursued theatre studies after graduating with a law degree.
Meanwhile, in between his time in school, Butler wasted a year in Venice, taking to alcohol and womanizing. He later found confidence in himself and eventually graduated from the law school despite losing a year. He subsequently took up a job as a trainee lawyer in a law firm however, as time passed, he fell back into alcoholism.
Consequently, he lost his job and travelled to London in a bid to find greener pastures. In London, Butler turned a new leaf and began taking minor jobs. Fortunately, Butler came to encounter an old friend who introduced him to acting.
Gerard Butler gave his first acting shot his all and subsequently bagged a role in the play Trainspotting. His consistency in theatre plays honed his acting skills, and eventually, he moved to Los Angeles where he earned a major role in Dracula 2000.
The success of that movie announced his presence and subsequently gave him other movie roles like in Chasing Mavericks, A Family Man, London Has Fallen, Gods of Egypt, Hunter Killer, All-Star Weekend, How to Train Your Dragon: The Hidden World, Angel Has Fallen 2 and so many more.
For his excellent works in the movie industry, he has been nominated for over fourteen awards and has won at least four different awards.
Is He Married? (Girlfriend, Wife, and Kids)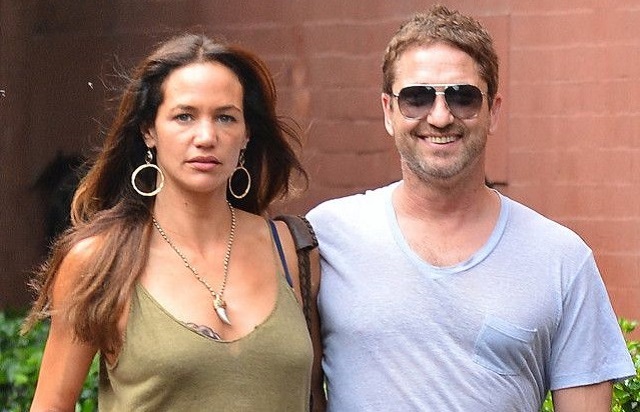 If we are to be Gerrard Butler's love judge, we'd rather say that his love life has been quite complicated. He has been involved with a number of women but sadly, his relationships never make it nowhere. However, he often times is not a participant of a publicized relationship as most of his relationships break into the light after the story has gone sour.
Gerard Butler was romantically linked with Chiara Conti in 2004, then in 2005, he was said to have dated Josie d'Arby, and Yuliya Mayarchuk. He subsequently dated Jasmine Burgess for one year before falling for Shanna Moakler; a love euphoria that lasted for just a year. Other ladies, he has been romantically involved with include Rosario Dawson, Naomi Campbell, Cameron Diaz, Jennifer Aniston, Lindsay Lohan, Goga Ashkenazi, Beatriz Coelho, Martina Rajic, and Lizzie Cundy.
Talking about the now, Gerard Butler is in a relationship with Morgan Brown. Rumors have it that the duo is making wedding plans. Despite his many relationships, Gerard Butler is yet to be a father.
Net Worth
For a blockbuster staple like Gerard Butler, life is really good and bank trips we believe are made with a large smile on his face. One of his most recent projects Olympus Has Fallen was a box office hit grossing $170 million from a $70 million budget. While on set, Butler is said to have broken a few bones while performing stunts of which he was handsomely compensated. All of his endeavours so far have brought him a net worth of $30 million.