Also known as the Customs Excise and Preventive Service (CEPS), Ghana Customs Service is a government agency saddled with regulating, monitoring, and inspecting exportation and importation. The agency was first established in 1839 under the jurisdiction of the Civil Service Department of Ghana but was later revisited in 1986 under the Rawlings government. The Rawlings government made the agency autonomous backing it up by the PNDC Law 144, which was later replaced with the PNDC Law 330 in 1993.
The service is also a member of Ghana's security services and an integral part of the Ghana Revenue Authority (GRA).
Departments under the Ghana Customs Service include: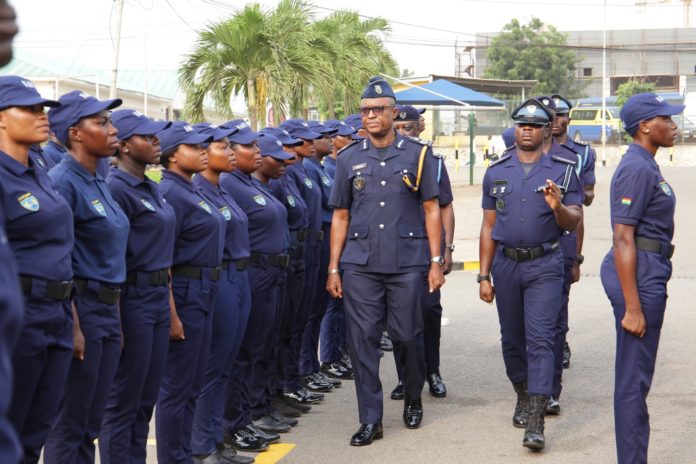 Ghana Customs Service Rank Structure
Just like any service in Ghana, there are rankings in the GCS. There are about 14 ranks in the customs division and here they are in ascending order
Junior collection assistant 3rd class

Junior collection assistant 2nd class

Junior collection assistant 1st class

Collection assistant 3rd class

Collection assistant 2nd class

Collection assistant 1st class

Assistant collector

Collector

Principal collector

Senior collector

Assistant commissioner

Deputy Commissioner

Commissioner
Although we were unable to lay hands on the job descriptions for each of the above-mentioned ranks in the GCS (asides from that of the commissioner), it should be noted that everyone that works in the service does so in synergy with the vision and mission statement of the service which is to protect the territorial integrity of the country.
What is The Highest Rank of Ghana Customs Service?
The highest rank in the Ghana Customs Service is that of the commissioner. The president usually appoints the commissioner, this is in accordance with article 195 of the Constitution. There is really no stipulated period of time the commissioner should stay in office before being changed, that decision is solely for the President to make.
The commissioner is in charge of the service. He/she sees to the day-to-day administrative running of the Service and everyone working in the parastatal comes under his/her authority.
What is the Salary of a Customs Officer in Ghana?
The salary earned by each ranked officer in the Customs Excise and Preventive Service (CEPS) is not made public. Being that it is a government-owned agency, the salary structure we assume should be the same with other government workers in the country.
However, a verifiable source has it that the least a Customs official in Ghana earns is GH¢ 630. Customs and border inspectors' salaries range from GH¢ 630.00 to GH¢ 4,500 per month. Customs officers earn between GH¢ 2,000 to GH¢ 5,000 monthly.
Senior officers earn between GH¢ 5,000 to GH¢ 7,000.00 monthly, while those with PHDs or are Professors earn about GH¢100,000 annually. This does not include allowances, incentives, and bonuses accrued to them.
Welfare Packages and Incentives Enjoyed by Customs Excise and Preventive Service (CEPS) Officials
Just like every worker in a government establishment is entitled to some welfare packages, incentives, and bonuses, custom officers in Ghana are equally entitled to such benefits as housing, medical, travel/vacation, wardrobe, etc.
However, we could not lay hands on the figures for these incentives, bonuses, and allowances at the time of writing this article as they are not made public. But we can only assume that whatever the figures are wouldn't be too far from what is paid to other workers in government-owned establishments.
Becoming A Custom Officer In Ghana
The service calls for applications whenever there are vacancies. The interesting thing about Ghana Custom Service recruitment is that it is open to every citizen irrespective of their level of education. Thus, whether you have a BSC, HND, ND, NCE, GCE, NAPCO, or even an SSCE certificate, there is a space your qualification can fit in in the service.
Asides from being a Ghanaian citizen and having any of the above educational qualifications, you must also meet the following requirements to be eligible to apply for a job with the GCS:
You must have at least 4 subjects Credits including English and Mathematics in either SSCE or NECO certificate or
A General Certificate of Education (GCE) Ordinary Level and Credit in four (4) subjects including English Language and Mathematics.
Your educational certificates must be obtained from reputable Government approved institutions
You must not be less than 18 years and more than 35 years of age if you are applying for the post of "Superintendent Cadre" (whether Both Male or Female)
If you are a male applicant, you must not be less than 1.68 meters tall and mustn't be less than 1.65 meters tall if you are female.
You must be physically and mentally fit, without any form of disability (persons with any form of disability are advised not to apply)
You shouldn't have any criminal record
The Customs Excise and Preventive Service (CEPS) calls for application from time to time and when they do, interested candidates are usually advised to visit the agency's official website at @ www.gra.gov.gh to get registered.
Once the recruitment exercise is on, interested applicants can visit the site to kick the registration process by filling out the following forms and printing them free of charge
Parent/guardian consent form
Local government attestation form
Acknowledgment form
To avoid fraudsters, you can check the website from time to time to know when recruitment exercises are on. Applicants should, however, note that when they pass the recruitment exercise, they will undergo 24 weeks of training on customs and paramilitary before resuming duties at their respective departments in the service. This is because the agency believes in equipping its personnel with not just the right knowledge but also with appropriate training, which in turn leads to a seamless working process.
Major Functions of Ghana Custom Service
Besides the above-mentioned functions of the GCS, other of its functions are:
Collection of import and export duty tax
Collection of petroleum tax and import excise
Promotes the protection of revenue through the prevention of the smuggling of goods across Ghana's borders
Protection of the boundaries of Ghana by preventing external aggression
Promotes territorial integrity of Ghana.
The service also supervises Import and export restrictions and prohibitions