Ghana Customs Service is a paramilitary organization that operates as a division of the Ghana Revenue Authority (GRA). Those who work in the Customs service are responsible for guarding every entry and exit point to Ghana. Because they are the first line of defense against invaders, the country is very much interested in their welfare and service.
There is a unique salary structure for Ghana Customs Service personnel, depending on their qualifications and rank. If you wish to know more about Ghana Custom Service's salary and ranks, keep reading this post.
Ghana Customs Service Ranks and Their Badges
Just as is obtainable in every other uniform job, there are different ranks that separate officers in the Ghana Customs Service. Generally, every officer in the service wears a blue uniform. However, their ranks are often differentiated based on the badge that they wear on their uniform. Each rank goes with a different badge and a certain number of stars. These ranks are divided into 13 different categories as seen below with their respective rank badges:
Junior Collection Assistant 3rd Class
Junior Collection Assistant 2nd Class
Junior Collection Assistant 1st Class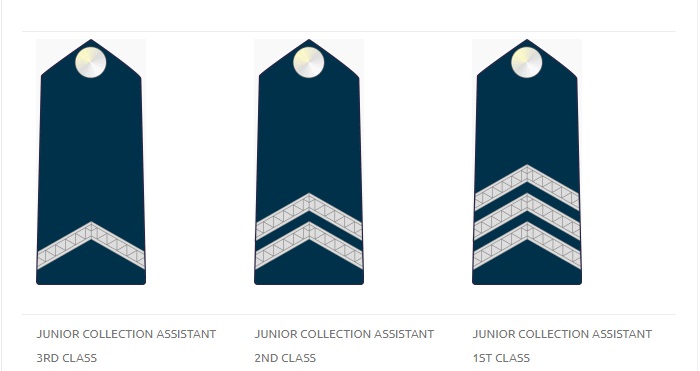 4. Collection Assistant 3rd Class
5. Collection Assistant 2nd Class
6. Collection Assistant 1st Class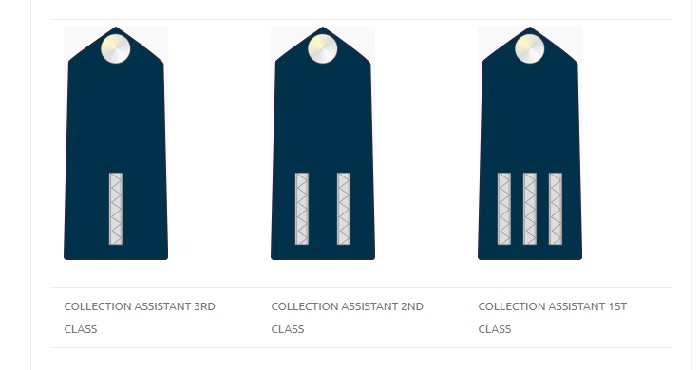 7. Assistant Collector
8. Collector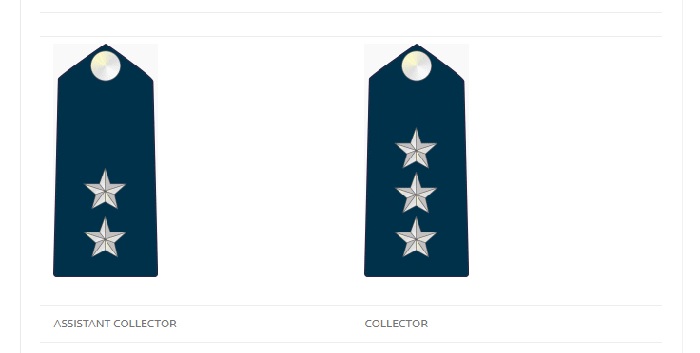 9. Senior Collector 1
10. Principal Collector
11. Senior Collector 2
12. Assistant Commissioner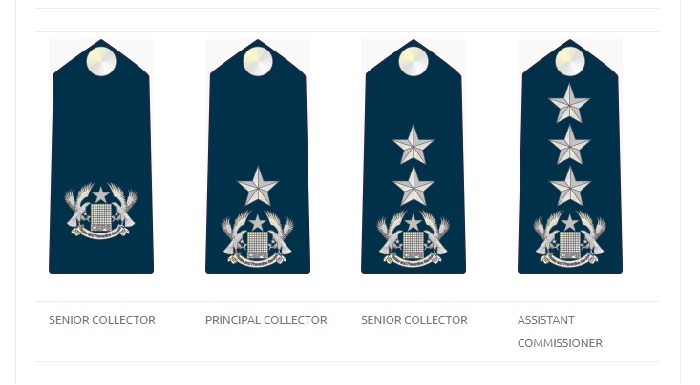 13. Deputy Commissioner
14. Commissioner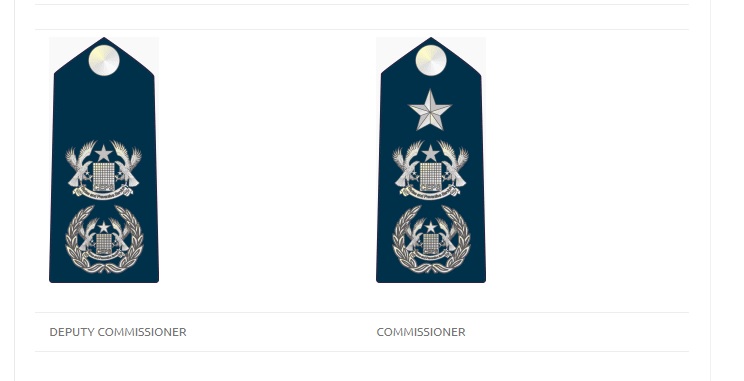 What Is The Highest Rank of Ghana Customs Service?
Of the fourteen different ranks of officers in the Ghana Customs Service, the Commissioner is the highest-ranking office. Because the office of the commissioner oversees the overall activities of all Ghana customs officers in the country, whoever occupies that position answers directly to the President of the Republic of Ghana.
Although the commissioner is the highest rank in the Ghana Customs, not all officers get to that position whether they are hardworking or not. This is because the Constitution gives the president the sole power of appointing who becomes the commissioner. Moreso, not every officer gets to that position before retirement because there is no stipulated number of years a commissioner must serve for. He can only be removed by the presidency.
What Is the Salary of a Customs Officer in Ghana?
The salary of Customs Service personnel is not available to the public, hence, there are no authoritative quotations as regards how much officers under Customs Excise and Preventive Service (CEPS) earn. However, we do know that the earnings of each individual officer depend on a good number of factors. Most importantly it depends on your rank, position, and qualifications. Customs officers who work as border inspectors reportedly earn some of the lowest salaries in the Ghana Customs Service. Their salary ranges from GH₵ 630 Ghana cedis to GH¢ 45000 per month.
There are also reports that the lowest a customs officer in Ghana can earn is between GH¢ 2,000 Ghana cedis to GH¢ 5,000. This is aside from border inspectors. While this has not been confirmed by any relevant authority, it seems to be a popular belief.
The salary figure above is considered the entry-level payment for those who just got into service as new recruits or for those who have low qualifications or do not have the necessary documents required to upgrade their rank and service level. However, if you wish to increase your salary, you can do this by improving your qualifications and by amassing more years of service.
Senior officers in the Ghana Customs Service reportedly earn a monthly salary that is between GH¢ 5,000 to GH¢ 7,000. whereas those with a high level of qualifications and long years of experience can allegedly earn as high as GH¢ 100,000 if they have gotten to Commissioner level in the service.
Incentives and Welfare Packages For Active Officers
Aside from their salary, customs officers in Ghana receive incentives that supplement what they receive as salary. While there is no detailed list that compiles what these incentives entail, it covers housing, medical care, Hazard allowances, transport allowances, and more.
Even though the details of the welfare packages are not available, the notion exists that customs officers are some of the government workers that earn well. This would explain the constant hustle to join the service.
Requirements For Joining The Ghana Customs Service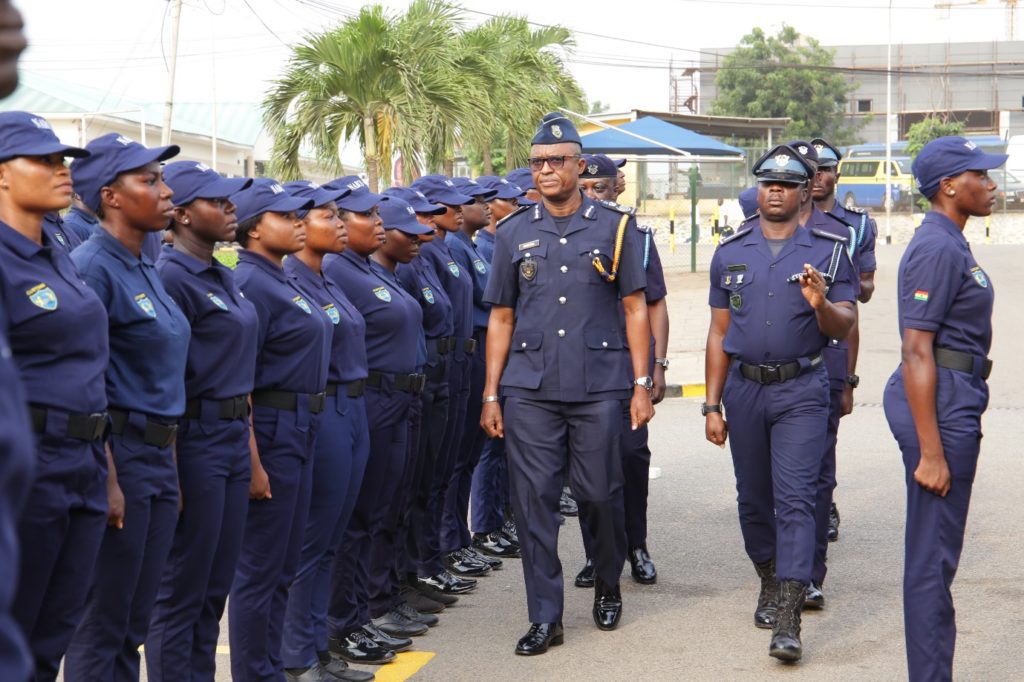 To become a customs officer, an applicant has to meet the following requirements:
Must be an adult between 18 to 35 years of age
Must have a bachelor's degree as the minimum educational requirement
Have a minimum grade point of 55 percent
Be in a fit condition to undergo training for a period of 6 months or 24 weeks
Must be at least 1.68m tall as a man and 1.65m tall as a woman
Must be mentally and physically stable
If all you have is a WASSEC of SSCE result, you are most likely to get a low-paying job in the customs service. These include positions like that of a gardener, cleaner, or security personnel
To get into the customs service with an SSCE result or certificate, you must have credit in Maths and English. However, you can also get a custom job with a D7 in your Wassce result, but those with better grades may be given more preference
Unfortunately, as a result of the work demands of a customs officer, those who are disabled cannot join the service. Having a criminal record of any sort can also jeopardize your chances of joining the paramilitary
Recruitments and vacant positions are most often announced and advertised on the official website of the Ghana Customs Service.
Ghana Customs Service Rank Promotion Conditions and Requirements
It is important to note that promotion for officers of the Ghana Customs Service happens chronologically. This means that officers can only be promoted to the next respective rank ahead of them. Also, in order to get a promotion, certain requirements are considered, especially in terms of the qualifications one has, the years of service they have put in amongst other things.
However, an officer can facilitate their promotion by being diligent in their work, improving their qualifications, and gaining more experience.
Previously, to get promoted, officers are subjected to an exam and an interview. However, this method has since been abolished. Now, officers are only promoted based on how the division sees their performance and grades their integrity.
What You Should Know About Ghana Customs Service
This organization plays a very important role in Ghana's security and has its headquarters in Accra Ghana with a host of other branches scattered across the country. The Ghana Customs Service is responsible for the preventive protection of the country with its major work being to watch the country's borders. This organization was created in 1893 and has posts at different legal and illegal entry points where they ensure that criminal activities like money laundering and illegal exports do not take place.
The duties of Ghana Customs are divided into three main parts which include:
To ensure public security and safety
Generation of revenue from import and export
Facilitation of legitimate trading within the country
Broken down into a more detailed explanation, the above points mean that the Ghana Customs Service is responsible for collecting and mobilizing export, import, and petroleum tax and ensuring that everyone who comes into the country is granted legal access.
They ensure that no goods are smuggled in and out of the country and that all the legally imported goods are of the appropriate standard to avoid harmful products from getting into the country.
Departments In The Ghana Customs Service
In order to successfully carry out the responsibilities of the customs service, this paramilitary organization is divided into 6 divisions which include;
Mining operations
Suspense regimes
Petroleum organization
Post clearance unit
Preventive unit
Port operations