Ghana Institute of Journalism (GIJ) is one of the leading universities of media and communication in Ghana and across the Sub-saharan African region. The institution which was established in 1959 was originally a department at the Accra Technical Institute – now Accra Technical University. The institute which is situated in Greater Accra has attracted students from within and outside Ghana. However, the Ghana Institute of Journalism admission processes and requirements remain of utmost importance before candidates make it into the in.
Admission requirements at GIJ vary in accordance with the program one intends to take. The university offers diploma programs, Bachelors of Arts communication, a top-up program for diploma, and Masters of Arts program. For all these programs, admission requirements range from SSSCE to WASSCE, diploma certificates, and degree certifications. These requirements are for Ghanaian citizens and international students alike.
How To Apply For Admission Into Ghana Institute Of Journalism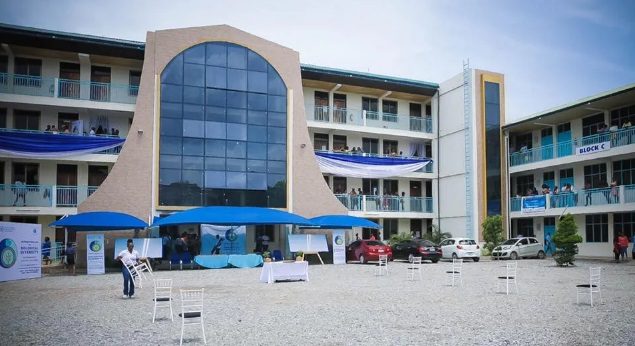 Admission processes can commence offline and online.
Offline Admission Process In GIJ
First, an applicant has to pay an application fee at any branch of Fidelity Bank.
At the payment center, the complete name and phone number of the applicant will be requested.
An application number/transaction IP will be issued to the candidate at the bank in order to gain access to the online admission portal.
Application By Post
After the online registration, print the application form, attach it with a passport photograph and other documents.
Send the form, passport, and documents to this address:
THE DEPUTY REGISTRAR
ACADEMIC AFFAIRS REGISTRY
GHANA INSTITUTE OF JOURNALISM
P.O. BOX GP 667, ACCRA
Also, you can send your documents via email at [email protected]
For postgraduate applicants, the email can be sent to [email protected] or [email protected]
Online Admission Processes In Ghana Institute Of Journalism
Fill in your correct details on the application form.
Click on the 'Create Application' button.
The Cost Of Admission Form In The Institution
Diploma Applicants
Ghanaians: GH₵200.00
International students: USD$100.00
Bachelor Degree Applicants
Ghanaians: GH₵250.00
International students: USD$100.00
Masters Degree Applicants
Ghanaians: GH₵300.00
International students: USD$150.00
Documents Needed For GIJ Application
Ghanaian Applicants
Online admission form
Payment slip
Passport photograph
SSSCE or WASSCE (diploma courses),
WASSCE, GCE, or diploma certificate (degree courses)
Degree or HND certificate (Postgraduate applicants)
Candidates awaiting results can also apply.
International Applicants
Complete List of Requirements For Application At Ghana Institue of Journalism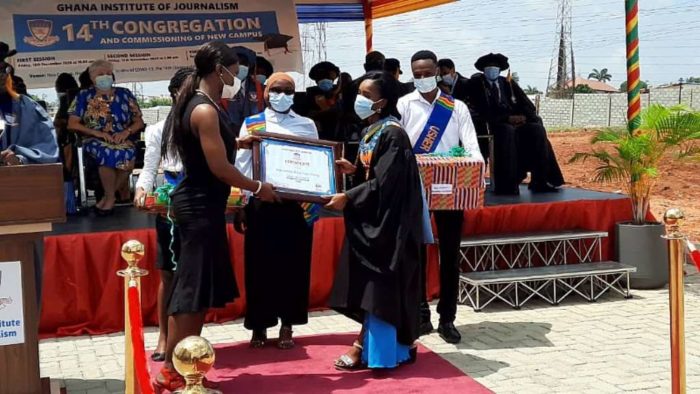 Diploma Applicants
SSSCE Holders
6 passes (A-D) in all subjects, including mathematics and English.
Applicants must have 3 passes in relevant subjects in the area of specialization the candidate is applying for.
WASSCE Holders
Candidates must have at least three passes in relevant fields of application.
In total, an applicant must have 6 passes (A1-C6) in all subjects, including mathematics and English.
Mature Students
Not every applicant can apply as a mature student. Requirements for this application include:
Applicants must be at least 25 years old.
The candidate must present a birth certificate or any other legal document to prove the date of birth.
the legal document or birth certificate must be up to 5 years at the time of application.
General Requirement
All applicants will be admitted based on the cut-off mark the institution has set.
B.A Communication Studies Applicants
SSSCE Holders
Applicants must have at least 6 passes ranging from A-D. The passes must include 3 core subjects, including mathematics and English, as well as any other three subjects with an overall aggregate of 24 or better.
WASSCE Holders
Candidates must have at least AI to C6 in 6 subjects.
The 6 credits must include at least 3 passes in mathematics, English, and any other relevant subject connected to the course you are applying for.
Candidates must have at least an overall aggregate of 36.
GCE Advanced Level Holders
Candidates must have a minimum of Grade E in three subjects that must include mathematics and English.
Level 300 Top-Up Weekend Session
Each candidate must possess a Diploma certificate from GIJ with a final CGPA of at least 3.0. Or a Diploma certificate from a recognized communications training institute with at least a CGPA of 3.5.
In a situation where the candidate has a final CGPA of 2.50 – 2.99 or a similar Diploma from any accredited communications training institution, the institute may consider the applicant for a fee-paying option.
Candidates who are diploma holders with a Final Grade Point Average of 3.00 in Archival Studies, Public Administration, Social Administration, Educations and Management Studies can apply.
Higher National Diploma (HND) holders who possess at least a 2nd Class Lower Division can also apply.
Post-Graduate Applicants
Candidates must have at least a Bachelor's degree in Communication Studies or any field from the Ghana Institute of Journalism or from any other recognized institution.
Applicants must have a minimum of a second-class lower division.
A candidate must pass an entry exam and selection interview.
Courses You Can Apply For In Ghana Institute of Journalism
The school has a number of faculties. Each of these faculties has different departments/courses they offer students.
Faculty of Integrated Communication Science
Department of Communication Sciences
Department of Social Sciences
Department of Languages
Faculty Of Journalism And Media Studies
Department of Journalism
Department of Media Studies
Faculty Of PR, Advertising & Integrated Marketing 
Departments of Public Relations
Departments of Advertising
Department of Integrated Marketing
School Of Graduate Studies And Research (SoGSaR)
Department of Public Relations & Advertising Hosting MA in Public Relations (MAPR)
The Department of Communication Hosting MA in Development Communication (MADC)
Department of Journalism and Media Studies Hosting MA in Journalism (MAJN) & Media Management (MAMM)
MA Programmes In Ghana Institute of Journalism
Masters of Arts (MA) in Journalism
Master of Arts (MA) in Media Management
Master of Arts (MA) in Public Relations (Regular & Weekend)
Master of Arts (MA) in Development Communication
What To Know About Transfer And International Students' Admission Into Ghana Institute of Journalism
For Diploma applicants, the institution has not given any criteria for applicants who wish to transfer from other institutions of GIJ. However, the school receives direct entry students from other institutions. For Diploma holders, the requirement is an average point of 2.50 to 3.5 CGPA. For Higher National Diploma holders, the requirement is a minimum of a second class lower division.
In the same light, degree and HND holders from different institutions can apply for post-graduate studies at the Ghana Institute of Journalism.
On the other hand, international students can apply for admission at the school with certificates such as GSCE/O'Level. However, for applicants from non-English speaking countries, certificates such as IELTS, and TOEFL are necessary.
FAQs About Ghana Institute of Journalism Requirements And Admission Processes
How much is the tuition fees at the Ghana Institute of Journalism?
Although the institution has not released the tuition fees for the 2021/2022 sessions, 2020/2021 session fees was as follows:
100L – 400L: GH¢2,520
Top-Up Fresh students (300L/weekend): GH¢3,100
Top-Up (400L/weekend): GH¢2,730
First-year Diploma: Regular(GH¢2,3100), evening (2,660), and weekend (2,900)
Second Year: GH¢2,310
Post Graduate: regular (GH¢10,500), weekend (GH¢13,000)
Foreign students: Fresh Degree ($4,410) Degree Continuing ($4,200), Diploma first year (3,360), Diploma second year ($3,150), post-graduate programmes ($5,250)
What can I do if I log out of the application portal before submitting my application?
If you log out before you complete your registration, this link will automatically take you to where you can log in. You can then enter your username/email address and password to continue with the registration.
Can an applicant apply with an awaiting result?
Yes. The institution allows applicants to send in their applications while awaiting results. However, the results must be presented during registration or when the school demands for them.
How long does it take to graduate from GIJ?
Diploma in Communication Studies programs last a total of two (2) years. B. A, on the other hand, lasts for four (4) years. Also, B. A in Communication Studies (Top-Up and Weekend) for GIJ diploma graduates is a two-year program while M. A programs last for 15 months.
Does GIJ offer certificate courses?
Yes, GIJ offer certificate and short courses in more than 15 fields. You can send a mail to [email protected] for further enquiry.
Who can I contact for Enquiry?
No matter what course or program you intend to apply to, you can send a mail to [email protected], [email protected], or i[email protected]. Also, you can contact 0302-228336 or 0269501772.
Can GIJ Application Be Done Totally Online?
The application can totally be done online. You can opt to pay the application fee online into the Fidelity account details which the school provides. However, you have to keep the receipt used for payment for future purposes.
8. Can I gain a scholarship from GIJ?
Yes, the Ghana Institute of Journalism provides financial aid to students. However, the form has to be filled. The forms can be gotten here.
Requirements for the scholarship include:
The applicant must be a Ghanaian.
Must have a good character.
The applicant must be enrolled as either a regular or a weekend undergraduate student at GIJ.
Must possess a minimum of 2.5 CGPA on a scale of 4.0.
The student must have financial needs.
He/she must be willing to progress academically.
The candidate must be graduating within 4 years.
9. Where and how can I apply for the GIJ scholarship?
Financial aid is made available every year. After downloading the application form, it has to be completed. Emails are usually given on the school portal for the applicants to submit their forms. Also, students can submit them at the Academic Affairs Registry before a given deadline.