While many in the music circle would be familiar with the name Raashaun Casey aka DJ Envy, only a few know Gia Casey, the woman behind his smiles and success. Gia is the wife of acclaimed American mixtape DJ and co-host of The Breakfast Club show on Power 105.1 radio. She has been her husband's pillar and bedrock. While she may not be famous as her husband, Gia is more than just a celebrity spouse. She is a social media sensation and a digital broadcaster renowned for her The Casey Crew podcast. Find out interesting facts about the devoted wife and mother.
Gia Casey Biography
Gia Casey was born on February 3, 1979. While information regarding her birthplace, parents, family, and education have been kept under wraps, we do know that she was mostly raised in New York and heavily influenced by the hip-hop culture in that hood.
A gorgeous beauty, Casey is apparently bi-racial and of mixed ethnicity. She has paternal Afro-American roots and maternal Chinese roots.
Gia Casey may not be as successful as her husband but she is doing well in her own rights. Together with her husband, Casey runs a podcast The Casey Crew which discusses and analyzes the highs and lows of relationships, marriage, and family. She has an active social media life and a huge fan base on popular platforms. On her Instagram account which has over 200,000 teeming followers, she shares memorable photos of her family on various vacations in different cities.
Her Family
Gia Casey is married to her high school sweetheart and the love of her life, DJ Envy. After several years of dating, the longtime partners took their relationship to the next level in 2001 when they exchanged marital vows in a private ceremony. However, details like the exact date and place of their wedding have not been made public.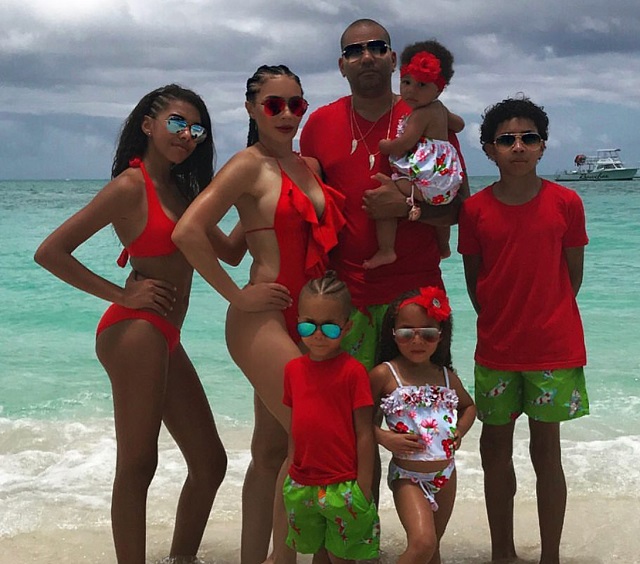 The family-oriented duo who have since increased in number are parents to five children. Together, Casey and Envy have three daughters (Madison, London, and Brooklyn) as well as two sons, Logan and Jaxson.
Facts About DJ Envy's Wife
Gia Casey and her heartthrob DJ Envy have been married for nearly two decades and share an enviable bond. While they may seem inseparable and stronger by the day, the couple has been through some highs and lows and has survived some storms in their union.
One of such marital troubles was in 2013 when DJ Envy made headlines with news of his infidelity with Love & Hip Hop reality show star, Erica Mena. In January that year, Envy called Gia Casey on the air of The Breakfast Club admitting that he had cheated on her with Mena and apologized for his wrongdoings. Describing the 'evil' affair as one with a 'low class, bird, liar, and desperado', Envy apologized for making Mena feel unnecessarily special. Though Mena later fired back with allegations that Envy was 'ashamed' of his wife, Gia nonetheless forgave him.
Again, there was an alleged Snapchat message controversy involving DJ Envy exchanging compromising private information with another woman who is not his wife. In the Snapchat messages that went viral, Casey's husband was seemingly excited telling the other woman that he enjoys pegging (a sexual act between a heterosexual couple where a female uses a strap-on to anally penetrate her partner). However, Envy later debunked the trending reports alleging instead that the leaked Snapchat messages involving a 9.5-inch strapon were completely fake.
The couple has since rebuilt their marriage after the scandals and together they even host their own podcast The Casey Crew. Gia and Envy are happily growing strong with no signs of discord.
Gia and her family once lived in a New Jersey home bedazzled with almost 4,000 crystals. The luxurious fortress which had a standard pool, screening room, spa and bar, a separate closet for her shoes and another for handbags, was later put up for sale at an asking price of about $2 million.
See Also: Meet Lesly Brown – Pat Sajak's Wife: 5 Key Facts You Need To Know
Given her comfortable and luxurious lifestyle, many have been curious to know the amount of Gia's net worth. While the celebrity spouse and internet sensation has not revealed her exact earnings, we do know that her hubby has amassed a decent amount of fortune. A successful record producer, rapper and VJ, her husband DJ Envy has an estimated net worth of $6 million.