Gia Ruiz is a brilliant director and screenwriter who is talented and popular in her own right as a result of her dedication to her profession. Her relationship and marriage to Danny McBride are also some of the reasons she has become popular. She is a devoted and dedicated person who has been with Danny way before he became popular and successful. The couple has worked on some projects together and currently have two children.
Who Is Gia Ruiz?
The stunning director was born Gia Marina Ruiz in Los Angeles, California, on the 23rd of May 1976. Despite being into showbiz and getting married to a popular guy, Gia has been very careful about her personal details that have been made available to the public. Information about her childhood, education, and family have been kept tightly under wraps.
Gia Ruiz met her husband Danny McBride before he became the popular and celebrated actor that he is today. McBride is a writer, actor, comedian, director and a filmmaker who struck gold when he met Ruiz. Despite the many successes he has had in his career, his family is very important to him and he literally won't stop gushing about his wife and kids.
Although Gia isn't the type to put herself out there, she does show up beside her husband at the several important occasions that he attends. Before they got married, Gia worked alongside her husband in the different film projects he has been involved in. Unlike her husband who takes the lead role in acting and screenwriting, Gia prefers to work behind the camera. She is credited as the art director in The Foot Fist Way (2006) and as an art department assistant in her husband's HBO hit TV series Eastbound & Down (2009 – 2010).
The couple tied the knot on the 9th of October 2019 and have since welcomed a son (Declan George born 26th of September 2011) and a daughter (Ava) in 2015.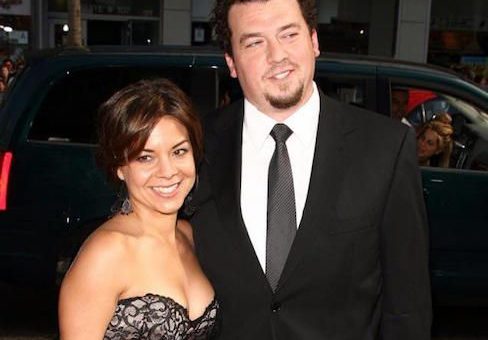 5 Facts To Know About The Director
1. How she met her husband (Danny McBride)
According to several reports, the couple met on the set of Danny's hit HBO series – Eastbound & Down where Gia worked as an art assistant. This unconfirmed notion might be incorrect as Danny himself, according to Rolling Stone Magazine, revealed that they met in 2002, at a Super Bowl Party in LA and soon began to date. Danny, who was then frustrated with his none existent job prospects, already made plans to move back to North Carolina. He did take the trip to North Carolina with Gia in tow and came right back to Los Angeles with her as he couldn't bear the thought of losing such a 'great girl'. They dated for 9 years and got engaged in their 6th year together.
2. Physical attributes
Compared to her husband, Gia has a petite stature. She is 5 feet 3 inches tall while he is 5 feet 10 inches in height. Gia Ruiz also weighs around 55kg.
3. The age difference between Gia Ruiz and her husband
Another interesting detail about Gia and her husband is that they were born the same year (1976). While Gia was born in May, Danny was born in December of the same year which means Gia is older with about 6 months.
4. Her husband gushes about her
From the series of interviews her husband has given, it is obvious that Gia is the center that holds Danny and their family. His life totally changed for the better after he met her as he now has a sense of purpose and responsibility. Moreover, Gia Ruiz gets all the laughs at home. Three months into her marriage, she gets knocked up and her husband boasts and jokes about them expecting a well-hung boy who could grow to be a porn star or a three-legged girl who could grow to be a marathon runner.
Read Also: Heather Childers – Bio, Fox News Career Achievements, Salary, and Net Worth
5. Social media
It seems Gia Ruiz has really done all she can to stay away from any sort of media brouhaha. From all indications and after a thorough search, she does not have any active account on any of the social media platforms. At least not with her known name. Her husband, on the other hand, has an active account on Instagram and Twitter with a handful of posts and pictures.