The Hadid sisters are among the most popular models worldwide, even to fashion outsiders. Bella and Gigi Hadid have had a rapid rise as models and this has seen them rub shoulders with the biggest names in the industry. Gigi has gone a step further to win major accolades like International Model of the Year and a Top 50 spot on models.com.
But while most people are familiar with her accomplishments today, not everyone knows how the journey began, including the failures and small victories that set her on the path to becoming a world-renowned model. It has been a beautiful story of talent and perseverance and it all started with her folks – a real estate developer, Mohamed Hadid, and a former model, Yolanda Hadid.
Gigi Hadid Is Part Of A Family Of Models
One of the reasons why Gigi Hadid must have come into mainstream modelling so early is the fact that modelling is undoubtedly in her blood. Her mother, Yolanda Hadid, was a renowned Dutch model who later became a Real Housewives of Beverly Hills star. Mohamed Hadid, her father, is a real estate developer.
Gigi Hadid has two siblings from her parent's union – a brother named Anwar Hadid and a sister named Bella Hadid. They are both models as well. Gigi and Bella have walked together in the Victoria's Secret Fashion Show and also starred alongside each other in campaigns for Fendi and Moschino in 2017.
They are in fact, the first siblings to both have their names on Forbes World's Highest-paid Models list. The sisters seem pretty close as Gigi Hadid has credited Bella for being a source of her strength.
The model also has two paternal half-sisters named Marielle and Alana who are older than her and five stepsisters from her mother's second marriage to David Foster. Two of her stepsisters are Erin Foster and Sara Foster who star in VH1's Barely Famous.
She Started Modeling As A Toddler
Mohamed and Yolanda Hadid did a good job in directing their daughter on the right path. Gigi was born as Jelena Noura Hadid on April 23, 1995, in Los Angeles, California. She did, however, grow up in Santa Barbara. Her mother is Dutch and her maiden name is Van den Herik. Her father, Mohamed, is of Palestinian origin.
Gigi is adored and respected by millions of people around the globe, and it might be a family thing. She is the descendant of Daher Al Omer, the Prince of Nazareth and Sheik of Galilee.
She started her modelling career pretty early, at only two years old. A family friend, Paul Marciano, co-founder of Guess, discovered Hadid. It was in that vein that Gigi Hadid began striking poses at such a young age for Baby Guess, Guess Kids and Guess.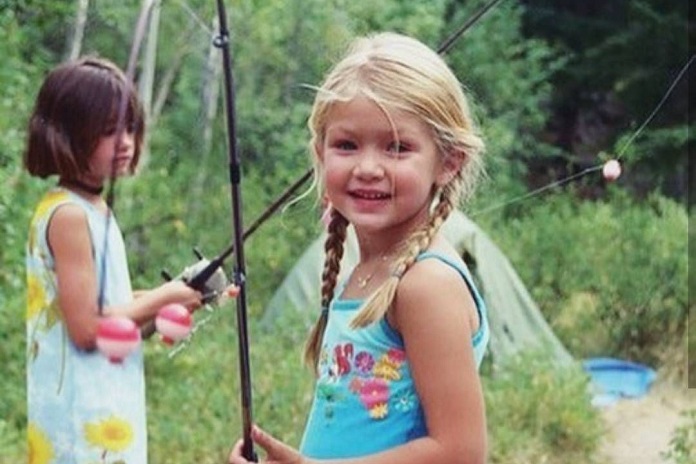 Gigi Hadid suspended her modelling career briefly to begin competitive horseback riding and club volleyball. Her goal was to have a normal childhood. Thus, she went to Malibu High School where she became captain of the varsity volleyball team. Later on, she attended The New School, a New York-based university, and began studying Criminal Psychology.
While she was in school, she resumed modelling and was named the face of a Guess campaign in 2012. To take full advantage of the opportunities coming her way, Gigi Hadid dropped out of college and became a full-time model.
Her Breakthrough Came Via A CR Fashion Book Magazine
Gigi signed her first professional contract with IMG Models before starting at The New School. Thus, after dropping out, her modelling career had the space to take off. She made her New York Fashion Week debut in February 2014, walking in Desigual's runway show.
Gigi Hadid did not announce her presence on the modelling scene as a big star until her appearance in CR Fashion Book magazine. Her appearance in the February 2014 issue transformed her from a modest name to a national star.
She followed up on the feat by recording another shoot with Patrick Schwarzenegger in July 2014 for Tom Ford's Eyewear autumn/winter campaign. The designer would go on to hire her for various other fashion and fragrance campaigns later that year. In January 2015, Maybelline named Gigi Hadid as their brand ambassador.
It hasn't all been a rosy journey for the supermodel though. She once had two auditions to be a Victoria Secret's Angel but they end up in rejection. In December 2015, however, she walked the brand's runway for the first time. She made her second appearance on the famed fashion show in 2016 and in that way, officially earned her Victoria's Secret wings.
Building A Supermodel And International Superstar Profile
Gigi Hadid became a brand ambassador for Tommy Hilfiger in 2016 and collaborated with the designer on a capsule collection. She also began walking the runway for such designers like Chanel, Versace, Marc Jacobs, Balmain and Miu Miu, all in the same year. She has also been a Reebok brand ambassador.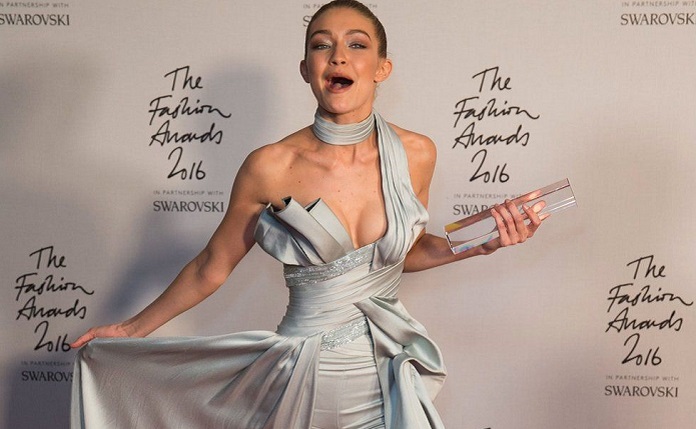 The expansion of her resume also meant a larger body of work for her to be rated on. In 2016, her portfolio helped her win one of the industry's most coveted accolade, the International Model of the Year award at the British Fashion Awards. She received the award from fashion icon, Donatella Versace.
Since reaching the pinnacle of modelling accolades, Gigi Hadid has cemented her place as a supermodel. She has made yearly appearances in campaigns for most of the major fashion brands, walked all major runway shows, and seen her popularity rise to mainstream levels.
Her portfolio includes campaigns for Moschino, Fendi, Valentino and other high-end brands. She has made more than 35 appearances on the cover of international Vogue magazines. Other appearances in significant magazines include in Harper's Bazaar, Elle, Sports Illustrated, Vanity Fair, W Magazine, and several others.
On Instagram, a vital metric for modern models, Gigi Hadid has more than 54.9 million followers, a figure that puts her among the top ten most followed models in the world.
Hadid Has Ventured Into Several Media Platforms
Outside of photoshoots, ads and commercials, Gigi Hadid has also represented on the acting front. In 2012, she appeared in a short film called Virgin Eyes, an American Film Institute Conservatory thesis project. In 2014, she appeared as Slay-Z in her friend Taylor Swift's Bad Blood music video.
She has also appeared in the music videos of such artists as Joe Jonas, Miguel, Cody Simpson, Calvin Harris and Zayn Malik, as well as directed DNCE's 2015 Cake by the Ocean video. In 2012, she made her first reality television appearance with her mother in Bravo's The Real Housewives of Beverly Hills. Since then, she has appeared in other reality TV shows like Lip Sync Battle and Masterchef.
So far, Hadid has nine acting credits to her name. She also directed the music video for DNCE's Cake by the Ocean and appeared in more than twenty reality TV programs.
See Also: Tyra Banks Son, Married, Husband, Height, Boyfriend, Body Measurements
The Model Has Been in Two High Profile Relationships
Her first notable relationship was with singer and songwriter, Cody Simpson. They began dating in 2013 and were together until 2015. During their time together, Gigi and Cody were a lively couple. Aside from filling social media with photos of each other and granting interviews, she also appeared in his music video for Surfboard. Unfortunately, none of it was enough to make them a lasting couple.
Zayn Malik is Gigi's second most high-profile relationship. Before him, however, she dated Joe Jones and had a ting with Lewis Hamilton. Her relationship with Zayn Malik began in November 2015 and they have had an off and on affair ever since.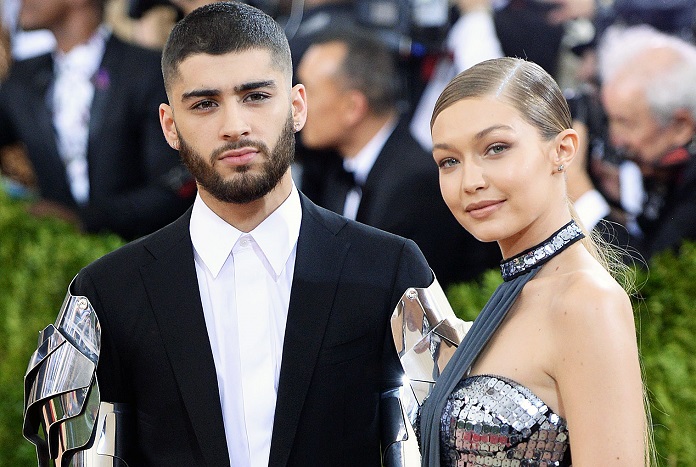 Despite their unstable relationship, they shared a few milestones. In February 2016, the two starred together in Malik's Pillowtalk music video. They had a joint photoshoot as a couple in April 2016 for Vogue and again, in August 2017, for Vogue's cover story. The two also attended several high-profile events together.
Their first official break up was in March 2018, when Gigi posted a statement on Twitter. Subsequent ones have been a lot quieter. During one of the 'on' phases of their cyclical relationship, the couple got pregnant. The model shared news of the pregnancy in April 2020, and their baby is expected later in 2020.