The Ghana Institute of Journalism (GIJ) student registration portal is the only information gateway through which students, both new and returning can engage in any form of online registration with the institute, ranging from admission registration, updating of student profile, checking of admission status, to other information such as Course registration details, announcements, academic calendars, fee payment, accommodation and many more.
It is important for newly admitted students and returning students to be knowledgeable on how to use the portal to register their accounts (new students) and to register new courses or fee payments (for returning students). The GIJ student portal and Registration process are quite user-friendly and easy to navigate.
How to Register an Account on GIJ Portal – A Step By Step Guideline
Before delving into any online registration as a new student, the applicant must first, ensure that he/she pays the acceptable registration fee specifically at any Fidelity Bank branch. In doing so, the candidate must provide his/her full names as well as an active mobile number. The payment ranges from GCH 200.00 and USD 100.00 for Ghanaian and international students respectively (for Diploma candidates) to GHC 250.00 and USD 100.00 respectively (for Bachelor Degree candidates), and GHC 300.00 and USD 150.00 respectively (for Masters Degree Applicants).
Step 1: Upon the successful payment of the registration fee, the applicant will be given a unique transaction ID and application number. This will be his/her ticket for accessing the admission portal.
 Step 2: Log on to the registration portal via http://registration.gij.edu.gh/Apply/Start  Clicking on the above link takes you to the registration interface where you either click on Start a new application or continue a saved application.
Step 3: If you are a new applicant, you are to click on start a new application to begin. It
directs you to the start application page where you will be required to fill in information such as Transaction ID / Application No. Under this, it is expected that you may have changed the Transaction ID given to you in the bank to your personal Username or Student Number, so for example, if your Student ID is GIJs3383, then automatically, your username will be GIJs3383 as well, and you have to enter this before you can proceed to put your Surname/other names, Email, Contact Phone.
Step 4: After login, students are to change their password to ensure their login account
is secure. The system requires a password that consists of a combination of letters, numbers, and symbols. The password should be a minimum of six characters. It is advisable to create a password that you can easily remember. Once you put in the Password, you would be asked to confirm your Password again to ensure that it matches with the previous one.
Step 5: After this, you will be required to choose a program. Under the program options, you will see a list of programs that you will need to choose from for both undergraduates and Post Graduates programs, you are expected to choose the particular program you have been admitted to study.
 Step 6: After filling in the necessary information do not forget to click on the accept button to indicate your acceptance of the application conditions. As soon as this process has been completed, new candidates are then expected to make a printout of the completed application form and attach it with one passport photograph and other relevant documents and send it to this address:
The Deputy Registrar,
Academic Affairs Registry,
Ghana Institute Of Journalism
P.O. BOX GP 667, Accra
However, if you wish to make any more inquiries you can dial the following numbers: 0302-228336 or 026-9501772 or you can send a mail of your inquiries to: admissions@gij.edu.gh
At this point, the applicant is hereby advised to give accurate and actual information about themselves as any applicant who gives any false personal information or with regards to his/her certificates and other requirements, or who decides to give a piece of distorted information stands the risk of being denied admission and even in the case that admission is already being given to such a candidate he/she stands the risk of being withdrawn immediately from the institution if such false information is discovered.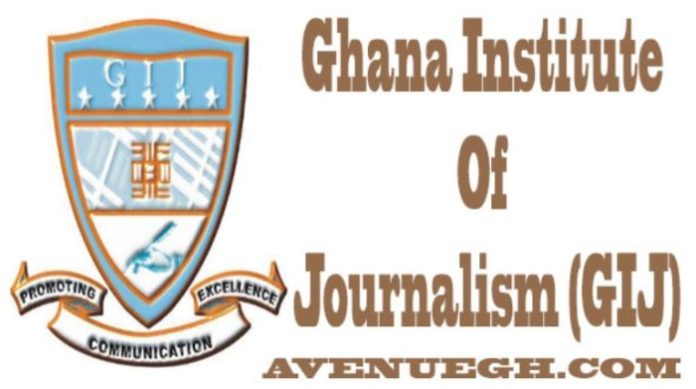 Logging Into GIJ Student Portal After An Account Has Been Created
To proceed with the login after registering an account on the portal, all a student (First-year students, and Continuing/Returning Students) need to access is an internet-enabled device (Smartphone or a personal computer) using preferably chrome internet browser which supports these types of applications. and take the following steps:
Log on to the portal: http://registration.gij.edu.gh/Apply/Start 
Once it opens, insert your username then put in your password
After this, it will lead to the homepage or dashboard where you will see a number of activities that you can do on the portal
Creating A Strong Password On GIJ Portal
Creating a unique password is one of the ways to secure and protect your account on any platform and the GIJ Portal is no exception.
To achieve this, you are to create a minimum of 6 characters and for it to be strong, it should include alphabets, (lower and uppercase), symbols (@,#, etc), and numbers. It is also advisable to create a password that you can easily remember.
Other Kinds Of Registration You Can Do On The Student Portal Account
There are several other activities that can be done on the GIJ student portal and some of these activities include:
Payment of Acceptance fee
Checking your GIJ Admission status
Printing of admission letter
Paying your GIJ tuition/accommodation fees
Registering your Courses
Checking your result and grade
Applying for extra credit hours
Downloading your GIJ transcript
Apply for Deferment of Admission
Getting u to date and latest information about the semester, academic calendar, and more.
How to Reset or Retrieve Your Password on the GIJ Registration Portal
In the case that you forgot your login details and password, there is no need to panic, here is what you can do to retrieve it back or to reset your password.
Go to the top right-hand corner of the portal where you can see
username
Click on the manage account button where you would be asked to put in the old password that you can remember and the new password which you wish to change, afterward you would be asked to confirm the new password to be sure that it matches with what you earlier entered as the new password.
After this has been confirmed, click on change password and your password would be
automatically changed.
However, if for any reason these procedures fail to work and you are still unable to log in, you can then report to the ICT Unit of the Academic Affairs Department.