Genius Kadungure, popularly known as Ginimbi was one of Zimbabwean richest socialists and businessmen. He was popular for his extravagant lifestyle and flair for everything good that money could buy and this included houses and automobiles.
His house in Domboshava village is said to be worth millions of dollars. His love and taste for cars were evident in the collection he had in his garage during his lifetime. He had an array of the world's most expensive cars in his garage, ranging from range rover, Rolls Royce, Ferrari, Bentley, and even Lamborghini.
Ginimbi Built Mansions in More Than One Country
Ginimbi House In Domboshava
Ginimbi built a magnificent and tastefully furnished mansion in his village Domboshava, some 39 kilometers from the Zimbabwean capital of Harare. Although located in a village, the mansion is of magnificent extravagance.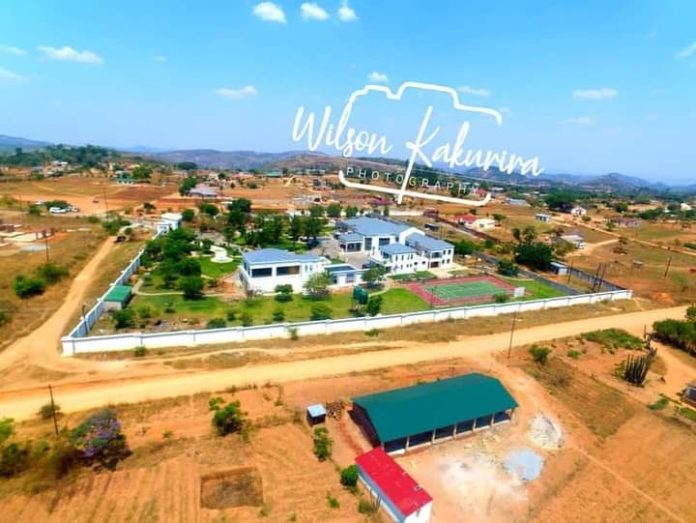 In a court hearing in 2016, in which the socialite was accused of failing to declare income returns, Ginimbi told the media that his Domboshava Mansion is worth Sh20 million.
Speaking on the design of the house, the late socialist said he made sure that the architect he engaged to design the house studied and understood the way lived his life; from his choice of cars to dress sense to social interests before coming up with something that depicts all of these things.
And the result was a two-story 6 bedroom edifice of pure class, built on four acres of land, with a breathtaking landscape, fully equipped gym, swimming pool, 14-seater state-of-the-art cinema, and tastefully furnished kitchen. The beds in the house are said to be worth $10,000.
Other features of the house include a reception, guest bedrooms, lush gardens, and of course, a series of garages for Ginimbi's range of cars. The late business mogul's friend Philip Chiyangwa revealed during his tour of the mansion, that this type of mansion is only found in Malibu, United States.
He threw a party that lasted three days to celebrate the opening of the house. The party reportedly cost thousands of dollars.
Ginimbi's remains were laid to rest in his Domboshava mansion and there are speculations that the home may eventually be converted into a hotel or a museum; this of course could be as a result of the controversies surrounding how he made his money.
There are also rumors that Ginimbi's ex Zodwa Mkandla is laying claims on the  Domboshava mansion on the grounds that she and the late socialite were co-proprietors of the house. Ginimbi and Zodwa were said to have gotten under a Marriage Act that gave them both rights over Ginimbi's properties, including his cars
Ginimbi's House in South Africa
Kadungure had another chain of businesses in South Africa and Botswana and being a man of class and taste, news that he may have had mansions in these places wouldn't come as a surprise at all.
There are reports that the king of glamour had other mansions that are not well known, especially the one said to be located in South Africa. Although we do not doubt these claims, we were not able to confirm where this mansion in SA is located (if there is any there) at the time of putting this article together.
However, we do know for sure that he had another tastefully furnished house in Botswana. The mansion which is located in Phakalane Golf Estate Gaborone, Botswana, is said to have cost him P5 million to build. The house comes with a beautiful garden, boys cottage, wine cellar, balcony, swimming pool, and a state-of-the-art kitchen.
Ginimbi's Car Collection Is Worth Millions Of Dollars
Before his death in November 2020, Ginimbi boasted that his car collection runs into millions of dollars. He added a Ferrari and a Lamborghini to the collection in January and September of 2020 respectively. Just before his untimely death in November of the same year.
After announcing the arrival of his Lamborghini in September, Ginimbi went ahead to share a video of his car keys on social media and a schedule of how he plans to drive each of his cars every day of the week. "Look at my problems. Monday Rolls Royce Wraith, Tuesday Bentley Continental, Wednesday Ferrari 488, Thursday Rolls Royce Ghost, Friday Lamborghini Aventador S Roadster"
Rolls Royce Wraith – Worth $330,000
This model of Rolls-Royce debuted in 2014. It is similar to the Rolls Royce Ghost model which was first launched in 1907. It is 4 seaters 12 cylinder car, comes with a double door, a length of 5457mm, a width of 1948mm, and a wheelbase of 3295mm.
It is 1 Petrol Engine (6592 ccs) with an Automatic transmission and depending on the variant and fuel type, Rolls Royce Wraith has a mileage of 10.2 km & Ground clearance of Rolls Royce Wraith is 150mm.
We are not exactly certain when he got this car but we want to assume it should be between 2015 and 2016 because he first posted it on his IG handle in January of 2016.  The plate number is customized with his name "GINIMBI", almost all of his cars come with that customization.
This was one of his favorites as he drove it regularly. Sadly this was the same car that sent him to his early grave. Ginimbi was driving home with this car when it collided with an oncoming Honda and crashed into a tree before it burst into flames.
Bentley Continental Convertible W 12 – Worth $236,000
This is another of Ginimbi's machines, a Bentley Continental Convertible W 12. It is a 2020 model belonging to the continental family and it's currently the best performing variant in the lineage.
The car cost a whopping $236,000 and the socialite was one of the first people that got it when it was first launched.
Some of its unique features include:
All-Wheel Drive
4 seater
8-Speed Automatic
6.0L Twin-Turbo W12 Gas
Trunk Volume: 12.6 ft³
Body Type: Coupe

Horsepower: 626 hp @ 6000 rpm
This was also one of his favorite cars, he was always seen in it from time to time.
Lamborghini Aventador S Roadster – Worth $460,000
Costing $460,000 before tax, destination, and other fees, Lamborghini Aventador S Roadster is actually one of the most expensive cars among the V12 brethren. It comes in six different colors – Verde Mantis Giallo Orion, Rosso Mars, Balloon White, Grigio Estoque,  and Blue Sideris.
Some of its major features include:
V12 MPI (Multi-Point Injection) engine
Two-door, two-seater
 507 lb-ft of Torque
4WD electronically controlled with Haldex generation IV
 729.877 horsepower
Shifting characteristics depending on drive select mode
This was Ginimbi's latest addition to his fleet of cars before his untimely death. He got this in September just before his birthday in October. Since his death, there have been fights about who will inherit the car.
According to reports, a will that surfaced after Ginimbi's death stated that the car is given to someone by the name Kit Kat. The family has, however, questioned the will and is unwilling to give any of the late businessman's property to any "stranger".
Ferrari 488 Spider – Worth $420,600
Despite being called the "little" Ferrari, the 488 is not just one of the fastest Ferraris but also one of the fastest cars in the world at the moment. It is the latest edition in the history of Maranello's open-top v8 sports cars.
It comes with:
An exquisite sounding twin-turbo V8
Generates 661 horsepower and sprints from 0 to 100 km/h in a mere 3.1 seconds
The extreme 488 Pista version produces a colossal 710 horsepower and lots more
Rolls Royce Ghost – Worth $315,000
Rolls Royce Ghost is luxury meets class; it's everything and more you would want in a high-class automobile. It has a 6.6L V-12 Engine and a breathtaking interior. Othe features of the car include:
19″ silver aluminum Wheels
8-spd auto w/OD Transmission
Rear air conditioning, with separate controls
563 @ 5,250 rpm Horsepower
605 @ 1,500 rpm Torque
Front air conditioning, dual-zone automatic
Driver and front passenger heated-cushion, heated-seatback, etc
The king of glamour added this ride to his car collection in July 2018
Bentley Bentayga – Worth $230,000
Ginimbi added this toy to his collection in December of 2017. This model of the Bentley cost $230, 000 and was among the most expensive of the Bentayga family at the time.
It is powered by a redesigned 6.0-liter W-12 engine that develops 600 hp and 664 lb-ft of torque. Despite weighing more than 5600 pounds, this piece of luxurious machine accelerates from 0-60 mph in just 3.5 seconds.
Other Features of the car are:
21″ silver aluminum Wheels
664 @ 1,350 rpm Torque
600 @ 5,000 rpm Horsepower
8-spd auto w/OD Transmission
all-wheel drive
Anti-lock brakes
Range Rover Sport SVR 2018 – Worth $45,302
The late business mogul added this to his collections in March 2018 and took to social media to announce his latest acquisition to friends and fans. The car cost between $45,302 and $56,878 at the time.
This model of Range rover was built by Jaguar Land Rover's Special Vehicles Operations division and became the first in the family to receive an updated 5.0-liter supercharged V8.
Other amazing features the car comes with include:
Double overhead cam
8-speed shiftable automatic
575 hp @ 6,000 rpm horsepower
516 lb-ft @ 3,500 rpm torque
4-wheel drive
Range Rover VELAR 2017 – Worth $79,800
Another Range Rover car in his collection of cars is Range Rover VELAR 2017. He got it in October 2017, probably gifted himself this to celebrate his birthday. It is a beautifully crafted car that will give any user comfort, class, and luxury.
Among its outstanding features include:
3.0-litre twin-turbo diesel V6, 296bhp @ 4000rpm, 516lb-ft @ 1500rpm
Eight-speed automatic
4-wheel drive
6.1 sec 0-60mph, 150mph, 167g/km performance, etc
He is said to have another collection of cars in his garage like Benz SL 65 AMG, Range Rover Lumma, G wagon, and other models of Lamborghini, Bentley, and Rolls Royce. Contrary to reports that the Ginimbi gifted cars to people, including family members and friends, the late Dreamlife nightclub boss never publicly made such gestures.
Ginimbi's Love For Designers Clothes And Jewelleries Was Out Of This World
Asides from his love for posh cars, another thing that stood Ginimbi out was his fashion sense, he loved to look good and he spends real money to look good. He was very particular about what he wore, no wonder his choice of clothes was from some of the world's best designers.
From Versace to Dolce & Gabbana and then Gucci (which seemed to be his favorite in his later days). He also did Louis Vuitton, Christian Louboutin, and Dsquared and he never failed to flaunt his designer's clothes on social media.
So many times he showed off his shopping spree in the United States of America and other times he shared photos of himself having breakfast or just chilling with friends in a Dolce & Gabbana robe and matching morning shoes.
"Dressing is a way of life,"
was one of Ginimbi's quotes. He believed in dressing how you want to be addressed. He also believed in hanging out with people who knew how to dress well and spend money on designers clothes.
"If you look at my male friends, they know how to dress. They take their time. Even the girls that hang around us, they're not just girls," he once said.
He was reported to have said he only invited those who can afford new clothes to his all whites parties.
His love for quality things transcended just dressing and applied to every area of his life. His love for Versace was pronounced to the point that some of his kitchen wares also had the Versace logo on them; even some part of the doors and gates in his domboshava mansion has the Versace logo design.
Following Ginimbi's death, there were reports of the surfacing of a will that Ginimbi was supposed to sign on the 9th of November (a day before he died). According to reports, in the will, Ginimbi wished to have all his assets to be sold, and the money given to charity and his expensive designer clothes and shoes burnt.
It was also said that Ginimbi stated in the will that his mansion is turned into a hotel where people will remember him each time they come there to sleep. His elder sister, however, came out to dispel the claims.
She was quoted to have said:
"Nothing is going to be burnt. Do you know the cost of his clothes alone before we go into jewelry and his bedroom?"
"The clothes he was wearing on the fateful day alone cost thousands, and you think we will go on to burn such. The Gucci shirts?