While there are people who become famous as a result of their marriage to famous celebrities, there are also others who have made a name for themselves before marrying such celebrities and Giovanna Yannotti happens to be one of them. A lot of people may know her as an actress, while others may see her as a stuntwoman. However, Giovanna has become even more popular for being the better half of Kurt Angle.
Renowned for his outstanding performances during his wrestling career, Yannotti's spouse won several championships and accolades. In 2006, he emerged the greatest Shoot Wrestler ever per USA Wrestling. He also ranked among the organization's top 15 All-time college wrestlers. Following his retirement, Angle started working as a WWE backstage producer. He is also an actor.
Despite being married to a well-known celebrity, Yannotti is also successful in her own right. As an actress, she rose to the mainstream in 2009, following her performance in My Bloody Valentine. Learn more about Giovanna Yannotti, including the details of her personal and family life below.
Who is Giovanna Yannotti – Kurt Angle's Wife?
She is an American actress, stuntwoman, and model, born on 26th March 1987. Her birth took place in Pittsburgh, Pennsylvania, U.S.A and she is of Italian-Mexican descent. Giovanna Yannotti's birth sign is Aries and her nationality is American. She is someone who likes keeping her privacy. She has therefore not yet shared any information about her background including her parents, siblings, and childhood. We, however, know that she developed a deep passion for fashion while still a child. On graduating from high school, Giovanna went to the University of Pittsburgh but dropped out after a year to pursue a career in modeling and acting.
The beautiful actress first began her career, working as a model before she delving into stunt performance. She made her first film appearance in 2009 with a role in The Twilight Saga: New Moon. The following year, she starred in the TV show, Justified, playing the role of a gang member. Thereafter, she starred as a lawyer in the horror thriller, 6 Souls, and Unstoppable in the same year. In the latter, she portrayed a double stunt performer. 2012 saw her star along with her husband in Death From Above. She has also appeared in the TV special, WWE Hall of Fame. Her other notable films include End Game and Shelter.
Giovanna Yannotti's Relationship with Kurt Angle 
Giovanna met Kurt Angle in 2009. It happened that duo co-starred in a movie. The film titled End Game saw Kurt playing the role of a killer and kidnapper and Giovanna the minor role of a restaurant customer. Fate appeared to have controlled the duo's meeting as they connected at first sight. Unfortunately, Kurt sustained an injury after they completed the movie's filming.
As he was recovering, Giovanna would come around regularly to keep him company and the rest became history! The pair subsequently engaged in 2011 with the plans to marry same year. Giovanna however, became pregnant, causing them to postpone the wedding. They eventually tied the knot on 20th July 2012 after dating for two years. Their wedding ceremony took place in Pennsylvania in the presence of both families and close friends.
While it was the first marital stint for Giovanna Yannotti, it is noteworthy that its the second for Kurt Angle. The famous wrestler previously married Karen Smedley, a professional wrestling valet in 1998. They, however, divorced in 2008.
Meanwhile, Giovanna has been getting significant public and media attention due to her husband's fame. She is very supportive of Kurt Angle and his career and usually steps out with him to several occasions and public functions.
See Also: How Long Are Peter Dinklage and Wife Married and Do They Have Kids?
Do They Have Children?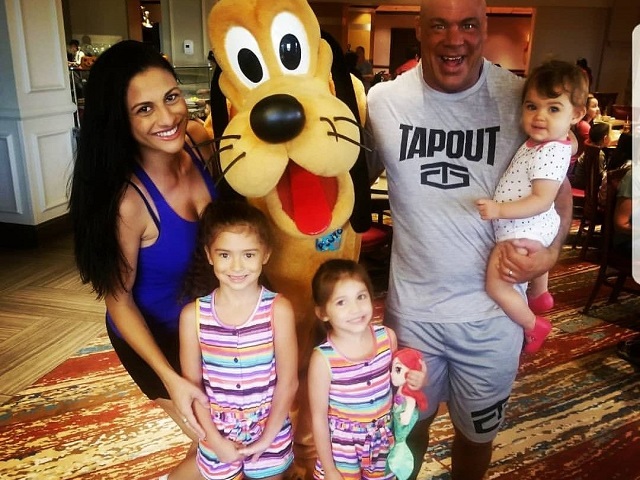 The amazing couple has since welcomed four adorable children – three daughters and a son. The couple had their first daughter named Giuliana Marie Laine on 22nd July 2011. Giuliana arrived about a year before Giovanna and Kurt married. Their second daughter, Sophia arrived on 31st December 2012. The couple later welcomed their third daughter, Nikoletta Sky on 5th November 2016.
In June 2019, Giovanna Yannotti and her husband, Angle adopted a son from Bulgaria named Ivan. In addition, Kurt had two children (a daughter and a son) from his marriage with first wife, Karen who are now Yannotti's stepchildren. Meanwhile, Giovanna is evidently enjoying a luxurious lifestyle with her cute and beautiful family. The talented actress is also very active on social media platforms where she often shares her memorable moments with her family, especially via Instagram.