An innocent voter trying to exercise his right to vote has become the toast of Kenyans online who have dubbed him the Githeri man. The man was spotted absentmindedly enjoying his Githeri, a traditional maize and bean meal in a plastic paper bag as he stood in a queue with several other people waiting to cast his vote when a photo of him was taken and posted online.
He became an internet sensation almost immediately the picture hit the internet and multiple photoshopped images of him began to surface with the hashtag #GitheriMan. Tens of memes of the man around the world in famous movies and with celebrities have had the internet literally laughing out loud.
Here are a few memes and tweets of the Githeri Man.
#Githeriman strikes again 😂😂😂😂 pic.twitter.com/T2myCZ1TJ5

— Druh Kariuki (@kirioh) August 9, 2017
The Githeri man spotted behind U.S. President Donald J. Trump as he disembarks the Army One Helicopter. In the second photo, he is behind Kenya President Uhuru Kenyatta. The third photo spots the Githeri man enjoying his meal on a balcony in New York.
Here he is again enjoying a conversation with Kenya's political elite. Who knows what the future will hold with the Githeri man as he his the only one to not be contesting for an elected position this year. 2022 perhaps?
Hotline Bling #GitheriMan 🤣🤣🤣🤣 pic.twitter.com/X1Zq8bQkOx

— Droid (@droid254) August 10, 2017
The Githeri man showing off his dance moves as he watches over a pot of his favorite dish still cooking.
Retweet if you would have voted for #Githeriman 😂😂😂😂😂😂😂😂 pic.twitter.com/HLiieJix1w

— Xtian Dela™ (@xtiandela) August 10, 2017
The Githeri man on the ballot box. Apologies for the false statement earlier claiming that he was not contesting for an elected position.
#Githeriman went to USA to meet Kim Kardashian pic.twitter.com/5P9IGiFlph

— Mahdi Yussuf (@imyusf) August 10, 2017
It is only right for the kind of woman you have by your side to match your fame. The Githeri man spotted with his favorite dish as he takes a stroll in Hollywood with his new girlfriend, Kim Kardashian.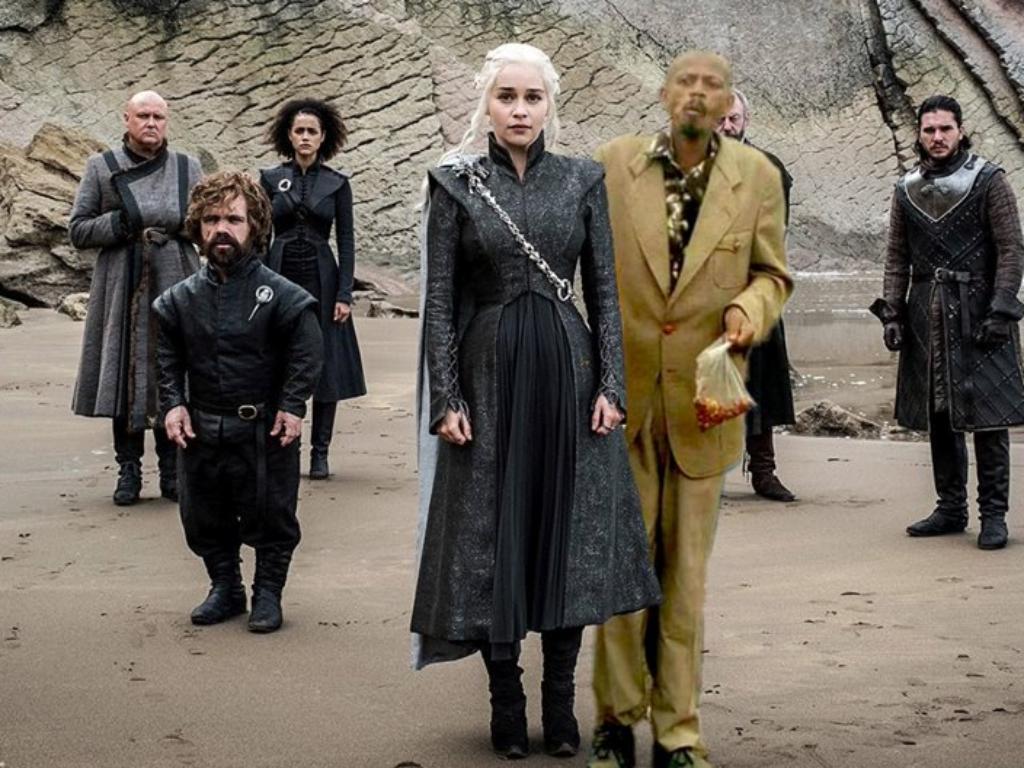 The Mother of Dragons has John Snow, Misandre, Tyrion Lannister, Ser Davos, and Varys to consult. She, however, prefers the wisdom of the Githeri man. Who wouldn't? If he is good enough for Trump, Uhuru and probably Kim Jung Un, then he is good enough for Khaleesi.
Westeros has been saved.
https://twitter.com/SimonNgania/status/895515407368556544
Winter and Githeri are here. Enjoy!!
#Githeriman this guy is the undisputed winner, everyone has observed he enjoyed his githeri in a free & fair and transparent bag

— Johnson Karimi (@Jkarimi) August 10, 2017
Who Is The Githeri Man?
Citizen TV has identified the Githeri man as Martin Kamotho, a 41-year-old father of one who works for the City County Government of Nairobi as a cleaner.
The Kayole estate in Nairobi resident told the news broadcaster that being a low-income earner, he cannot afford a decent breakfast and had to grab what was within his means.
Mr. Kamotho said his inspiration to queue for long hours to cast his vote was motivated by the need to vote out bad leaders and install new ones who are mindful of the people's welfare.
Watch The Citizen TV Interview Of The Githeri Man Below
With increased tension in the country surrounding the hotly contested presidential race featuring longtime rivals; President Uhuru Kenyatta and opposition leader, Raila Odinga, the Githeri man did a lot to unite Kenyans online.
He came at a time when the electoral commission indicated that it would need about five days to look into issues raised by concerned parties before they would call the election.
It had only been two days since votes were cast on August 8 but the suspense had, however, made it feel like a week. Kenyans online were driven towards conspiracy theories as debates sprung up mostly on issues of ethnicity between members of different ethnic groups. This debate trickled down into the streets, as it slowly dawned on everyone that there could be a repeat of the post-election violence.
During that time, news analysis and commentary had left viewers more confused and anxious with a majority of Kenyan families packed in front of the television, switching from one channel to another, trying to piece together what was being reported while trying to predict the outcome of the election.
#GitheriMan wanted for bringing that much-needed humour to our TL! A reward will be granted to the first person who leads us to him. pic.twitter.com/MIqdzg4JFq

— Britania Foods Ltd. Kenya (@britaniafoods) August 9, 2017
So needed and welcomed was the distraction of the #GitheriMan that Kenyans online looked to move on and create another. Say hello to the Sukumawiki (collard greens) woman.
Introducing. ………
Sukumawiki woman. ….
She is not moved by any threat….business as usual. …..#sukumawiki woman …..#Githeriman pic.twitter.com/G6I3FJyf74

— 🍬shiko_kim🍬 (@shiko_nellie) August 10, 2017
Unfortunately, the Sukumawiki woman did not have much of an effect as her predecessor did. It only showed the desire of Kenyans to be distracted from the ongoing political tension.