Gladys Knight is one of the greatest singers of all time. The African-American is not just one of the rich soulful singers in the music industry in the past 60 years but she is also a powerful inspirational singer who has given her very best to the world. It's no wonder the Super Bowl organizers deemed it fit for her to render the National Anthem in Super Bowl LIII Championship opening ceremony, sharing the stage with the likes of Maroon 5, Big Boi, and Travis Scott.
She is a songwriter, musician, actress, author, and businesswoman and has walked through different phases in her personal life and career. She survived racism, 3 failed marriages, single motherhood, smoking and gambling addictions, to drop over 40 albums in all, 11 solo studio albums and other several singles.
Herself and her close-knit group members – The Pips; made up of her brother, Merald aka Bubba, her cousins Edward Patten and Williams Guest churned out series of hits songs. The hits were enough to earn them 3 Grammy Awards and an induction into the Rock and Roll Hall of Fame for their songs; Midnight Train To Georgia, Neither One of Us (Wants To Be The First To Say Goodbye), and Love Overboard.
Gladys Knight's Biography
Gladys Maria Knight was born on 28th May 1944, in Atlanta, Georgia to Merald Woodlow Knight Sr. and Sarah Elizabeth Woods Knight. Her parents were both singers in their local church, although her dad who worked in a postal agency later left the family, leaving the upbringing of the kids to his wife alone. Gladys Knight had 3 siblings; 2 brothers named David Knight (who later died) and Merald Knight Jr. and a sister Brenda Knight.
Her rich vocals came to the fore, at the young age of 7 after she participated in a national music competition tagged Ted Mac and The Original Amature Hour. She finished well and earned the first prize of $2,000. Before then she had been singing in her local church choir at Mount Moriah Baptist Church since she was only 4 years old.
After high school, her mother helped her along with her brother, sister, and cousin to form and become the renowned music group Gladys Knight and the Pips, and that was the beginning of their journey in the entertainment industry. Their fame soon spread like wildfire and they started singing on tours, road shows, headling events for other top acts like Diana Ross, Little Richard among others.
Some of their notable hit songs came after they were signed on to Motown Record and Buddha. And they are; I Heard It Through The GrapeVine (1967), If I Were Your Woman (1970), Neither One of Us (Wants To Say Goodbye) (1972), Imagination (1973), I Feel a Song (1974), Save The Over Time For Me (1983).
Her solo career took off in 1987 with hits like That's What Friends Are For (1985) Licence To Kill a theme song in a James Bond Movie (1989), Good Woman (1991), Just For You (1994), Missing You (1996) among other good songs. She held sway by consistently re-inventing herself with the changing music genres hip hop, R and B, Rock and Roll as well as soul.
The beauty whet her skills as an actress with her then-husband Barry Hankerson in the movie Piped Dream, which earned her a Golden Globe nomination. She later featured in other notable films like Tyler Perry's I Can Do Bad All By Myself (2009) as Wilma and Hollywood Homicides (2003) while her some of the Tv shows appearances include, episode 16 in the 5th season of Muppet Show, Living single, Jamie Foxx Show, New York Undercover, JAG, The First Family, the list goes on.
The actress also authored 2 books; At Home with Gladys Knight and Between Each Line and Glory: My Life Story, Hyperion all published in 1991 and 1998 respectively. From all of these endeavors, Gladys Knight is estimated to be worth about $28 million.
Read Also: 7 Lesser Known Facts About Mary J. Blige– The American Singer
Who Is Gladys Knight's Spouse?
The Empress of Soul, as she has been dubbed, was thrice unlucky in marriage. Her first marriage was at the age of 16 to her then High school boyfriend, Saxophonist, musician and former part member of the Pips, James Gaston Newman II a.k.a Jimmy. They got married after Knight got pregnant for him in 1960. She eventually lost the baby and 4 years down the line, their union sadly went sour. Jimmy left his family and turned to the use of hard drugs from which he died a few years after their divorce in 1973.
A year after the ordeal of his death, she fell for the Uncle of late R and B singer Aaliyah, producer of the Winans, Barry Hankerson in 1974. They had a son Shanga Ali Hankerson before their marriage packed up in 1979 with Hankerson having full custody of their only child.
Gladys Knight spent about 3 years married to the former DJ Jocey, and motivational speaker Les Brown. They got married in 1995 but by 1997 they had parted ways.
At the height of fame and wealth, the legendary singer tried marriage the 4th time in 2001 when she tied the knot with Corporate consultant William McDowell. He later assumed the role of her manager after her son's demise and they have been having the best times of their lives together ever since.
What to know about her Daughter and Sons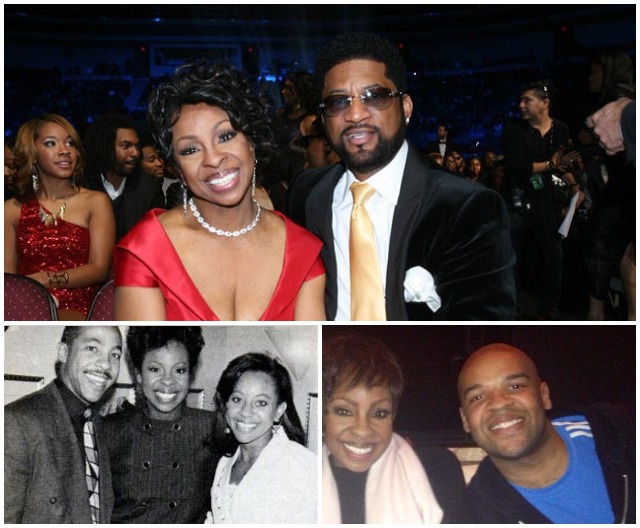 Her first marriage brought forth a son James Newman III who was born in August 1962 while her daughter Kenya Newman came in 1963.
Jimmy Newman III towed the same career path as his parents and he eventually became his mother's music manager via his establishment – Newman Mangement Inc. when her solo career took off. Sadly he died in his sleep from cardiac failure in 1999 at the young age of 37 years. His death was a big blow to his mother.
Her 2nd son Shangan Ali Hankerson from her second marriage, established a food business in Atlanta, with the license he got from his mother called Gladys Knight and Ron Winans Chicken and Waffles.
It boomed and branched out to other cities and even featured in the Travel Channel Man and Food. Unfortunately, in 2016 he was busted for withholding tax by the police and Georgia Revenue Tax Office. The tax amounted to almost a million dollars which he allegedly wasted on Marijuana and his wild sex appetite. A year later, his mother disassociated herself from the brand and ordered the removal of her name from it. Her last child Kenya Jackson is married and living a quiet life off media attention.