The American political commentary space is filled with different personalities. A few of them, through their rhetoric, charisma, and resources have been able to build a large following of men and women who listen to them for insight and direction for various political and social issues in the United States. For Conservatives, the story is the same. One of the many commentators in the conservative political commentary space is Glenn Beck. The political commentator is also the owner of TheBlaze, a media company.
Glenn Beck has been the subject of controversies with his opinions such as accusing former US President, Barack Obama of being racist. This and many more has made Glenn Beck an interesting man to read about. Learn more about the fascinating character by reading below.
Who is Glenn Beck?
Glenn Beck is a native of America's seat of power, Washington. He was born in Everett, Washington to William Beck and Mary Clara Beck on February 10, 1964. He was raised in Mount Vernon and in Sumner, with Glenn Beck moving to Sumner after his parents' separation. Beck, together with his older sister, moved in with his father after their mother's death in 1979. The political commentator lived in Bellingham with the rest of his family until his graduation from Sehome High School when he relocated to Provo, Utah.
What will end up being a successful career as a media personality began at Provo in Utah where he worked at KAYK, a radio station in Utah. Beck didn't spend a lot of time in Utah, relocating back to Washington after just six months. He joined WPGC, a radio station in Washington in 1983. He later moved to Texas in 1983, working at KZFM, a Corpus Christi radio station. From 1983 to 1999, Glenn Beck kept bouncing from various radio stations across the country, mostly for controversial reasons.
Things started taking a more successful route for Glenn Beck in 2000 when The Glenn Beck Program started to air on WFLA, a radio station in Tampa. The show proved popular among listeners, resulting in ratings jump for WFLA – from eighteenth to first in a year.
In a bid to consolidate the popularity of the show, the station's corporate owner, Premiere Radio Networks launched the show in 47 radio stations across the entire country. By 2008, the show had expanded to over 280 radio stations, including satellite radio, XM Satellite. His growing popularity on radio culminated in appearances on television programs, starting with CNN who signed Beck for a news commentary show in 2006. The show which was titled Glenn Beck continued the trend of popularity that followed Glenn Beck's career.
By the time his contract with CNN was up, he had the second largest audience in the country behind Nanny Grace. After he left CNN, Beck joined Fox News Channel. He joined Fox in 2009 and his show, Glenn Beck and At Your Beck and Call was highly popular and he remained an active part of the news organization's roster until 2011.
After his show ended in 2011 and he left Fox, he started his own Television channel, GBTV. The channel proved to be popular, raking in over $40 million in subscription revenue in its first year. The channel was later renamed to TheBlaze TV and joined its first Television Provider, Dish Network in 2012. The channel is currently available on over 90 Television providers in the country.
Apart from his media endeavors, Glenn Beck is also an author who has written and published 27 books. His books have reached number one on the New York Times bestsellers list six different times in four different categories. Glenn Beck has built wealth and fame from his media career and he gives back as a philanthropist through Mercury One, a non-profit organization.
Net Worth
Glenn Beck is the founder and CEO of Mercury Radio Arts, under which he has properties like TheBlaze, which has radio and television reach. He has been able to build a wealth worth $250 million from his entrepreneurial ventures.
Is Glenn Beck Married and Who Are His Family?
Glenn Beck has been married twice. His first marriage was to Claire whom he married in 1983. Together, they share two children, two daughters named Mary and Hannah Beck. Beck's addiction to drugs led to the divorce from his first wife.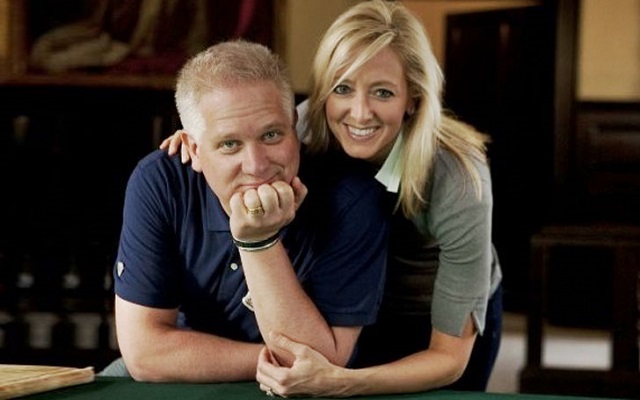 Beck got married for the second time to Tania in 1999. The couple is still together and currently have two children, Cheyenne whom they gave birth to and Raphe who is adopted.
What Happened to Him?
Glenn Beck has been the subject of many struggles over the course of his life. He lost his mother and stepbrother to suicide and his first child, Mary was diagnosed with cerebral palsy. He has been a victim of substance abuse and he was suicidal for a period of time. Most recently, he has been diagnosed with macular dystrophy.