Even as Gloria Govan is famous as an American actress, author, a TV host, and reality television star, she's more popular as the wife of the former NBA player, Matt Barnes. She became known after appearing on the Florida version of the reality television series, Basketball Wives and later, Basketball Wives: LA – after Matt was traded to the Los Angeles Lakers.
Sadly, Gloria's marriage to the NBA player which put her on the map did not last long. While she was separated from her husband, it was discovered that she was already in a relationship with another NBA star named Derek Fisher. This gave rise to questions about her faithfulness to her husband while they were married.
Gloria Govan's Age and Ethnicity
Gloria Govan was born and raised in Oakland, California, alongside two of her siblings – Laura and brother, Lonnie Govan. It is not certain when exactly she was born as different reports bear conflicting dates. While some media reports have it that she was born on February 22, 1970, others record February 22, 1985, and even January 1, 1970.
However, judging by the fact that her younger sister, Laura, was born on September 21, 1979, it is most likely that Gloria was born in 1970 but whether it is February 22 or January 1, we do not know for sure.
The Basketball Wives star is an American national. She belongs to the Afro-American ethnicity, having an African-American ancestry from her father's side and a Hispanic (Mexican) ancestry from her mother's side.
Details of her Net Worth
Breaking through in the entertainment industry is dependent among other things, on one's physical appearance and for Gloria Govan, who is a combination of good looks, proper height, and perfect shape, making it in Hollywood was not going to be difficult. Apart from her looks, Gloria has a wonderful personality and good social skills which all contributed to her success in addition to being married to a former NBA player, Matt Barnes.
The beautiful lady has appeared in a number of movies, including More Money, More Family, and Chocolate City.
Gloria and her sister, Laura, gained popularity after appearing on the VH1 reality television series Basketball Wives which premiered in April 2010. Subsequently, she also featured in Basketball Wives: LA, the Los Angeles-based spin-off that premiered on VH1 on August 29, 2011. The show was a chronicle of the lives of a group of women who have been romantically involved with professional basketball players.
The actress also worked in partnership with the Ultimate Fighting Championship (UFC) to promote the association with Fox TV. It is believed that this made UFC one of the most watched sports networks on television.
As a TV host, Gloria Govan has sat down on live TV with top-ranking celebrities such as Ted Turner, Kevin Hart, the Earth, Wind & Fire band, Aretha Franklin, among others. She is also an author of a cookbook titled A Mixed Girl's Favorite Recipes.
Through hard work, the beautiful lady has earned an estimated net worth of $1.5 million.
Gloria Govan's Kids and Sister
Gloria Govan is the mother of two cute twin boys named Carter Kelly Barnes and Isaiah Michael Barnes; they were born on  November 6, 2008. She had the boys with her former husband, retired basketball star, Matt Barnes, while they were still dating.
The couple first met as kids in the eighth grade but their relationship did not start until their paths crossed again in 2006 when Matt moved to California, Gloria's hometown after he signed up to play for the Golden State Warriors. They dated for six years before finally tying the knot in 2012. Unfortunately, their marriage crashed just 1 year and 11 months after as they separated on October 14, 2014, and finalized their divorce on 21 December 2016.
Following their divorce, they both agreed on child and spousal support. According to reports, Matt paid $5,000 child support every month for each son in 2016. However, the figure would increase to $10,000 per child moving forward until the boys turn 18.
Meanwhile, Gloria received one-year spousal support of $20,000 per month from January to December 2016. It was also agreed that the couple would attend counseling on co-parenting in a bid to ensure that they would be able to get along as they raise their kids together.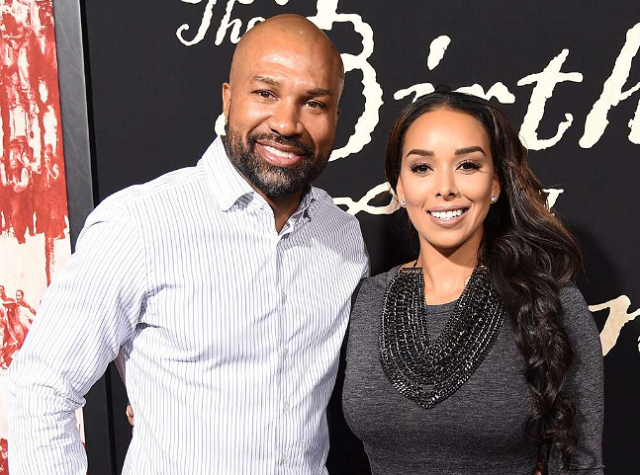 In 2018, Matt Barnes filed for the reduction of his child support payment claiming he could not afford the $20,000 per month to his ex-wife for their two sons, having retired from professional basketball. His plea to have his payments reduced to a more reasonable amount was granted as the judge brought it down to $7,500; that is $3,750 per child.
In September 2018, the former basketballer was also granted a restraining order against Gloria Govan after the Basketball Wives star was arrested for child endangerment at their children's school. Consequently, Gloria was ordered to stay at least 100 yards away from her kids and was allowed to see them for just four hours, once a week, in the presence of a professional monitor. In all, Gloria's four-year-long custody battle with her ex-husband came to an end in favor of Matt.
Gloria Govan has a younger sister named Laura Govan. She is known for appearing in the first two seasons of Basketball Wives: LA. Laura is the former fiancée of NBA player, Gilbert Arenas. They were together for 16 years and within the time, they had four children – Izela, Alijah, Hamiley, and Aloni- even though they were never married.
The relationship between the two ladies is the direct opposite of the kind of relationship that usually exists between sisters. They are famed for always washing their dirty linens on social media and Laura considers Gloria as the major factor which led to the death of her relationship with her fiancée, having accused her constantly of sleeping with her man – an accusation Gloria denied bluntly.
Speaking of their relationship in 2017, Laura said they really do not have much of a sister relationship and, that they intend to keep it that way even though their kids play together all the time and love each other very much.
Laura was a basketball player when she was in high school. She played the game so well that she earned a scholarship to New Mexico State University. Unfortunately, her aspiration to play at the professional level was cut short due to reoccurring injuries. However, she was able to bag a Bachelor of Arts degree in International Business and later, a Masters in Sports Psychology.
At the moment, she is still not married. She is the CEO of ShopInRealLife.com, a site selling high-end items like necklaces and rings.
Height and Other Body Stats
Height: 5 feet 4 inches
Weight: 56 kg
Bra size: 33 B
Body Measurements: 33-26-33 (bust-waist-hip)
Shoe size: 6