Golden Tate is an American professional footballer who began playing in the National Football League (NFL) after he was selected by the Detroit Lions in the second round of the 2010 NFL Draft. The wide receiver had the opportunity to become a baseball player but chose to build a career in football for reasons best known to him.
Early Life and Career Achievements
He was born to Golden Tate II (father) and Yolanda Tate (mother) on August 2, 1988, in Hendersonville, Tennessee. The young star whose full name is Golden Hickory Tate III toed the path of his father who was a footballer and played for Tennessee State University as a wide receiver.
During his time in Pope John Paul II High School, Golden excelled in many sports activities, including football, baseball, as well as track and field. His outstanding performance in football resulted in the Tennessee Sports Writers Association and the Tennessee Football Coaches Association naming him as a Tennessee Division II first-team all-state pick in 2006. Later on, his jersey was retired by the school in recognition of his excellent contribution to the game and the school during his time there.
His journey away from high school baseball to track and field resulted from an injury he suffered on his thumb in his senior season. He posted the state's top qualifying times in the 100-meter dash (10.93 s) and 200-meter dash (22.33 s) and was also part of the school's 4 × 100 m relay team that won the state title with a time of 42.86 seconds.
Golden Tate left high school before time as he was drafted by the Arizona Diamondbacks in the 2007 amateur draft but instead of signing with the baseball club, he decided to enrol into the University of Notre Dame where he played both baseball and football. He scored the third-highest runs (45) by any Notre Dame baseball player during his sophomore year.
See Also: Marvin Jones Wife, Height, Weight, Age, Biography, NFL Career
The athlete was selected on June 9, 2010, by the San Francisco Giants in the 50th round of the year's MLB Draft but he did not seal the deal with the team and since his sophomore year at Notre Dame in 2009, he has not competed in baseball again.
During his freshman season in Notre Dame, Golden Tate started two games, totalling 6 catches for 131 yards and one touchdown. He made an average of 21.7 yards on 15 kickoff returns for the season. In his sophomore season, his total performance was 58 catches for 1,080 yards with 10 touchdowns.
Golden's topnotch performance in his final college season in 2009 with 93 receptions for 1,496 receiving yards and 15 touchdowns, earned him the Biletnikoff Award. He was also named first-team All-American.
Having made a choice to shelve baseball for football, Golden Tate in 2009 forwent his senior year in college, opting to take on professional football. He was selected by the Seattle Seahawks in the 2010 NFL Draft. The wide receiver was picked by the team in the second round (60th overall) and on July 28, 2010, he agreed to the team's terms and conditions of a four-year contract worth $3.261 million.
At the end of the 2013 season, he moved on to the Detroit Lions.
Moving over to the Detroit Lions, the highly-productive player signed a five-year deal worth $31 million, including an $8,000,000 signing bonus, $16 million guaranteed and a yearly salary averaging $6,200,000. The footballer's base salary in 2018 is $7,000,000, while his cap hit and dead cap hit are $9,351,250 and $9,351,250 respectively.
Is He Married or Does He Have a Girlfriend?
Golden Tate got engaged to his girlfriend, Elise Pollard, on 12th September 2015, in San Diego. Elise works as an account executive and director of business development at Harvey Nash.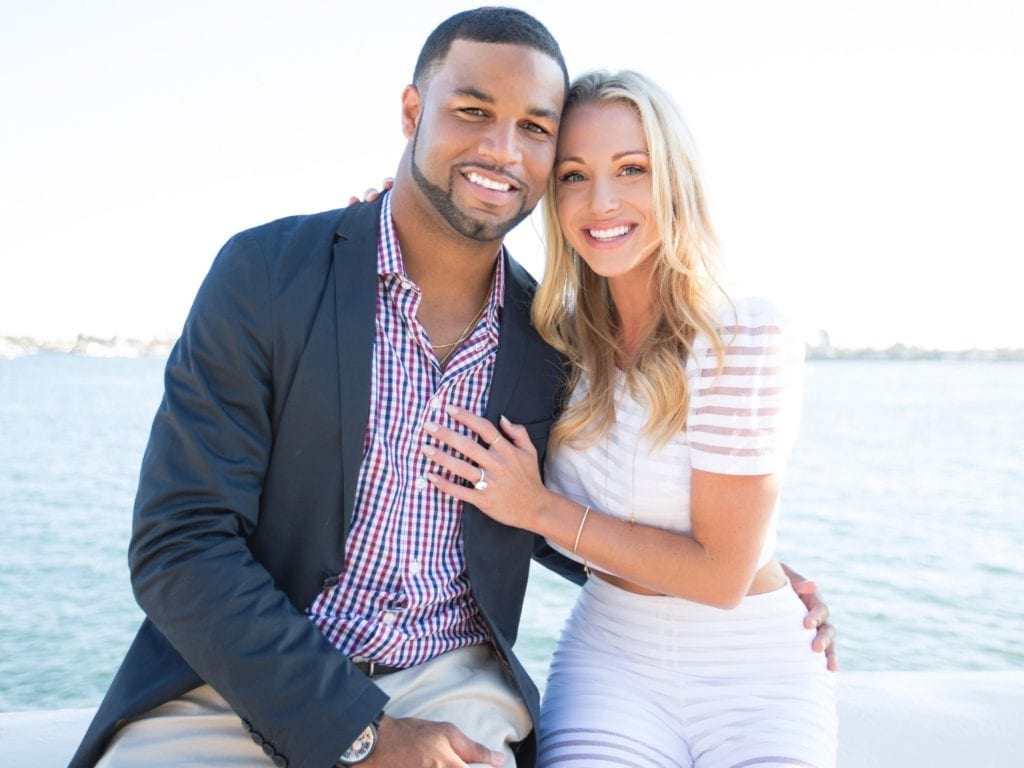 The couple did not tie the knot until March 11, 2017, when they exchanged vows in holy matrimony with family and close friends present at Cabo San Lucas, Mexico. They already have another member added to their young family as they welcomed their first child, a daughter, named Londyn Marie Tate, on January 18, 2018.
Before Golden Tate got married, he was allegedly in a romantic relationship with Ashton Meem, the then-wife of Russel Wilson. The alleged affair resulted in the dissolution of Ashton's marriage.
The quick player has two younger sisters named Breanna and Deanna Tate. They are twins and both sprinters at the University of Mississippi.
Breanna is the girlfriend of Jalen Ramsey, an American footballer who plays as a cornerback for the Jacksonville Jaguars of the National Football League. They welcomed a daughter together in July 2018.
The super sound route runner has just the perfect body size needed to play his kind of sport. He has an average height of 5 ft 8 in (1.78 m) and bodyweight of 89 kg (197 lbs). His arms measure 30 1/2 inches long while his very reliable hands measure 9 1/4 inches.