Cooking might be a survival act for most, but for some, it is an art. Gordon Ramsay is one individual who has cooked his way to fame. He is a highly accomplished British chef, restauranteur, and reality TV star. In a career spanning three decades and counting, Ramsay has established a string of successful restaurants in various parts of the world, such as the UK, US, Singapore, Hong-Kong, and Dubai.
His restaurants have received a total of 16 Michelin stars, the highly coveted mark of excellence in the restaurant industry. Ramsay has also appeared in several cooking reality TV series and published a variety of books, cementing his place among the world's biggest celebrities.
A Football Injury Launched Gordon Ramsay's Cooking Career
Had Gordon Ramsay been blessed with better knees and a healthier body, he would not have been the beloved chef he is today. At the precipice of his teens, he began playing football for Warwickshire, to work his way to the highest level.
A couple of impressive on-pitch displays got him signed to the Scottish powerhouse team, Rangers, at the age of 15. Unfortunately, he battled with a lot of injuries and failed to achieve consistency. After a severe knee injury in training, the club released him.
Determined not to define his life by how he would have been a successful footballer if not for injury, he decided to take his cooking interest seriously. He enrolled in North Oxfordshire Technical College and studied hotel management. He also worked as a commis chef at the Wroxton House Hotel before moving to London.
In London, Ramsay worked for several restaurants, including Harveys, for two years and ten months. Afterwards, he worked at Le Gavroche in Mayfair before moving to the French Alps after a year. At the age of 23, Gordon Ramsay relocated to Paris and continued building his experience and resume under Michelin-starred chefs, Joel Robuchon and Guy Savoy.
He spent three years in France before taking a year detour to work as a personal chef on the private yacht, Idlewild. By the time Ramsay returned to London in 1993, he was skilled in Italian and French cuisine and consequently became the head chef at Aubergine. After years of working for others, in 1998, Gordon Ramsay decided to open his own restaurant, sparking the beginning of his empire.
He Now Has More Than 35 Restaurants
Gordon Ramsay opened his first restaurant, the now-famous Restaurant Gordon Ramsay, in 1998. He started the eatery with the help of his father-in-law, Chris Hutcheson, and staff from Aubergine. Within the first three years of its existence, the restaurant had won three Michelin stars, a record for any Scots person. The London establishment remains his flagship restaurant to date.
Having proven he can run a world-class restaurant, Gordon Ramsay began expanding his portfolio. Over the next two decades, he started several restaurants, receiving over 16 Michelin stars. Some of them have closed, but many of them, up to 35 at least, are still in business.
Ramsay has restaurants in many high-class hotels around the globe. He owns Verre in Dubai and Gordon Ramsay at Conrad Tokyo, as well as Cerise by Gordon Ramsay in Tokyo. In New York City, his restaurant, Gordon Ramsay at the London, won the top newcomer by Zagat guide when it opened in 2005.
Pubs And Grills Are Also Part Of His Portfolio Worldwide
While restaurants dominate his Gordon Ramsay Holdings, they are not the only ones. He also owns pubs and grills, burger joints, and street kitchens. Some of them include Gordon Ramsay Pub & Grill, Gordon Ramsay Burger, Heddon Street Kitchen, and Gordon Ramsay Plane Food. He launched the latter in December 2007 at Heathrow Airport.
With success comes franchising and licensing deals. Thus, potential restaurant owners have leveraged on his revered name to boost their outfits. The chef has licensed his name to restaurants like Laurier Gordon Ramsay in Canada and his first presence in the Western US, an in-house restaurant at The London West Hollywood Hotel. Both restaurants no longer carry his name. In June 2019, he signed a deal with Lion Capital worth $100 million to open 100 restaurants by 2024.
He Was And Still The Star Of Over 17 TV Shows
If his restaurants solidify his place as a talented and accomplished chef, his television career makes him one of the world's most recognizable celebrities. In the same year he launched his first restaurant, Gordon Ramsay appeared onscreen for the first time in a significant capacity as the star of the documentary series, Boiling Point.
In 2004, he began appearing in one of his trademark shows, Ramsay's Kitchen Nightmares. The show ran for seven seasons and had 36 episodes. A US version of the show, Kitchen Nightmares, began airing in 2007 and ran for seven seasons, but with 92 episodes.
Over the years, Ramsay has gained notoriety for his onscreen treatment of chefs. His bluntness, fiery temper, and colorful use of expletives are wildly well-received and made many of his shows famous. With more than 19 produced TV programs and over 100 appearances in reality TV shows, past and present, Gordon has equally built a media empire.
Some of his renowned shows include Hell's Kitchen, The F Word, MasterChef, MasterChef Junior, and 24 Hours to Hell and Back. Others are Hotel Hell, Gordon Ramsay: Uncharted, and Gordon's Great Escape. Also, his shows have won multiple awards, including Emmys and BAFTAs.
Beyond his cooking shows, he has also appeared in or lent his voice to works like Big Hero 6: The Series and Phenoms. With more than ten acting credits, his other appearances include Smurfs: The Lost Village, New Girl, Extras, and Love's Kitchen.
Ramsay Has More Than 26 Published Works
One other aspect of Gordon Ramsay Holdings, the umbrella company that houses most of his public business interest, are books. He published his first book, Gordon Ramsay's Passion for Flavour, in 1996 before launching his first restaurant. Since then, he has written and published an additional 25 books, detailing his knowledge and experience as a superstar chef.
Except for 2002, 2014, 2015, and 2017, he has published a book every year since 1999. In his extensive catalog are two autobiographical works, Humble Pie and Playing with Fire, released in 2006 and 2007, respectively. His TV show, MasterChef, has also inspired two books, Pasta Sauces, and Fish and Shellfish. He also published two cook cards, Hot Dinners, and Cool Sweets, in 2006.
He Has A Net Worth Of $220 Million
Considering the caliber of people who make it onto Forbes' Celebrity 100 list, it takes a lot for a chef to crack the list. That is why it comes as no surprise that Gordon is the only chef on the list, with $220 million in net worth. He has consistently ranked among the highest celebrity earners, with up to $70 million as recently as 2020.
As detailed above, he makes his money from having his hands in different aspects of the hospitality industry, as well as a thriving media empire. Gordon Ramsay's Midas touch, which grew his business to a value of £67 million within a decade in 2007, has made others and himself a lot of money.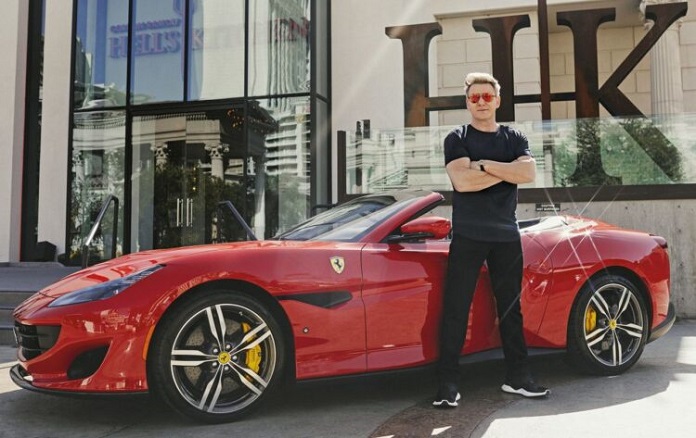 His TV shows have made Fox, his primary TV backer, more than $150 million in annual ad revenue. In turn, he makes $225,000 per episode and an additional 10% for brands that advertise on his shows and the ones he endorses. Via the shows and his restaurant businesses, he has consistently accumulated more than $40 million per year since 2017.
With such earnings and wealth, it is no surprise that the renowned chef owns several real estate properties. Some of them include a $6.75 million home in Bel Air and a Fowey property that cost him $6 million in 2015, with an additional multiple six figures in renovations.
Gordon Ramsay Grew Up In A Complicated Family
Ramsay comes from a family of six. His father was Gordon James Sr., who worked as a swimming pool manager, welder, and shopkeeper. His mother is Helen nee Cosgrove, and she worked as a nurse for years.
The chef also has an elder sister named Diane and two younger siblings, Ronnie (brother) and Yvonne (sister). Their father struggled with alcohol addiction and was physically and verbally abusive. Unfortunately, James Sr.'s disease passed on to his brother, Ronnie, who has dealt with drug addiction for much of his life.
The famous chef once had to take him to get a fix just so that he would be able to attend their father's funeral. In 2007, Indonesian authorities jailed Ronnie for drug possession before he was eventually released. Having seen first-hand the devastating effects of drugs, it inspired one of the many works in Ramsay's filmography, the documentary, Gordon Ramsay on Cocaine, in 2017.
He Is Married To A Montessori-trained Schoolteacher
Contrary to the chaotic persona that defines his television career, Gordon has a more stable and happy life at home. He has been married to Cayetana Elizabeth Hutcheson since December 21, 1996, after they met in London in 1992 when she was 18. At the time, she was studying to become a Montessori teacher while she worked day and night shifts at Le Pont de la Tour.
Since her marriage to Gordon Ramsay, her career hats have changed. Popularly known as Tana, she is now the author of several cookbooks and a TV presenter with multiple shows. Some of them include Tana Ramsay's Kitchen Secrets, Tana Ramsay's Family Kitchen, and Homemade. She has also written for the Daily Mail and BBC's Good Food Magazine.
The couple has welcomed five children since they said their 'I Dos.' Their first child, Megan, was born in 1998. Most of her siblings came over the next four years. The twins, Jack Scott and Holly Anna were born in January 2000. Matilda was born in November 2001, and the family's last child, Oscar, was born much later in April 2019.
Before the birth of Oscar, Gordon Ramsay and Tana Hutcheson suffered a miscarriage five months into a pregnancy. The couple had named the child Rocky and in memory of the loss, their daughter, Megan, ran the London Marathon.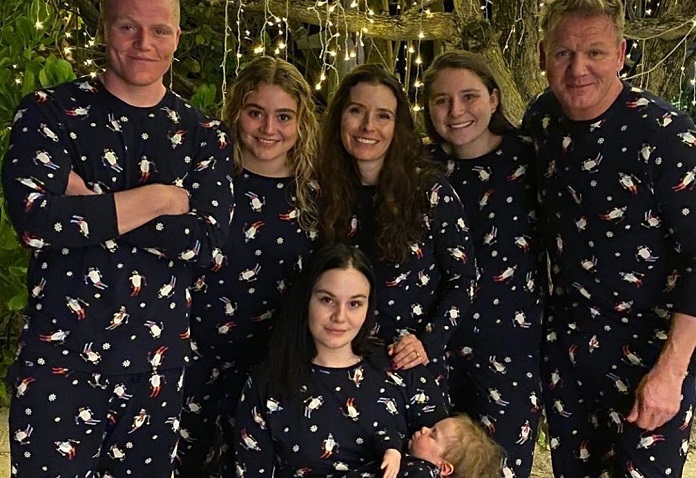 While most of his family members have made appearances on his or his wife's shows, only one of them has outrightly followed in his steps. His daughter, Matilda, has a children-focused cooking show, Matilda and the Ramsay Bunch, on CBBC. The show began filming in April 2015 and has more than 75 episodes thus far. Gordon and his family live in Los Angeles and London.
His Father-in-law Spent Six Months In Jail
The drama that surrounds Gordon Ramsay's extended family does not end with his parental one. His father-in-law, Chris Hutcheson, once helmed the business operations of Ramsay's restaurant empire, Gordon Ramsay Holdings. He held the position until 2010, and seven years after, he went to jail, where he spent six months for conspiracy to hack a computer system related to Gordon's business interests.
According to the sentencing, he and his sons conspired to access his restaurant company's systems almost 2,000 times between October 2010 and March 2011. The sons, Adam and Chris, received four months of suspended sentencing. Neither Gordon nor Chris's daughter, Cayetana Hutcheson, attended their sentencing.