With the current economic reality in Nigeria and the level of competition that the pay television industry has faced in neighboring countries, it became very necessary for Multichoice, the parent company of DSTV, to put on their thinking caps and come up with a cable network that serves the needs of the everyday fellow and at the same time is friendly to his pocket; thus GOtv was launched.
Since it came into existence in 2011, the Nigerian market has embraced it with open arms. But then, no matter how well thought out and beneficial things are, they unavoidably pose some unique challenges. Because of this, certain GOtv self-service codes have been put in place to help users. 
GOtv Self Service Codes and How to Use Them
If you decide to join the many GOtv users, just walk into any Multichoice office and get the GOTV starter kit. The starter kit comes with a decoder, an antenna, and a remote controller. You'll also be assigned a tech agent that will help in the installation if you need one.
To get you started, GOTV gives you a free max subscription for the first month so as to give you the premium experience. Subsequently, you can choose the package that best suits your needs and budget.
At some point, a subscriber would get an error message. It happens for a number of reasons, and the good news is that it's straightforward to fix. If you are a GOtv subscriber, you are likely to encounter one of the following error messages, below is how to go about getting rid of it.
E16 Error Message
E16 means that your GOtv subscription has expired and you are yet to renew it. But in some cases, you can make your payment but for the fact that the decoder was off at the time of payment, the error code still persists.
How to Fix It
You can fix the E16 error message via SMS or online through the GOtv website.
Via SMS – Send 'RESET' + IUC number to 4688
Example: RESET123456789 to 4688 
Via GOTV Website 
Step 1 – Open the GOTV website (here) and navigate to "Eazy Self Service" tab. 
Step 2 – Click on the inverted triangle for the drop-down menu.
Step 3 – Locate and click on "Fix errors"
Step 4 – Click on clear error code and select E16, enter your IUC number and click on 'Fix error'.
E48-32 Error Message
This error code means that there is a signal problem with the decoder. This can occur due to bad weather or a faulty installation. 
How to Fix It
*  In some cases, you just have to sit and wait out the bad weather. 
* But when the error message won't leave even when the weather is clear, proceed to check the cable: check the two points that are attached to the decoder and the antenna, make sure they are firm. 
* If it stills persists, try moving the antenna around for maximum signal quality. 
* When you have done all these and it failed to get rid of the error message, just rescan the decoder. 
E30 Error Message
This means that the decoder is off or hasn't been used for a long time. It usually occurs when a subscriber has an unresolved E48-32 error.  
How to Fix It
SMS 'RESET' + IUC number to 4688. Before you do this, ensure that your subscription is fully paid.
Self Service Code for Activating Your GOtv Decoder 
New GOtv Nigeria users are required to activate their accounts before they can access the contents that GOtv has to offer. You can do this through SMS or through the GOtv Nigeria website.
How to Activate through SMS
To active your decoder through text message, send: accept*IUC number*Surname*mobile number*City*Package type# to 4688
Example – Accept*2000123345*Surname*12345678912*Enugu*GOtvMax#
Alternatively, you can follow the instructions below to activate your decoder.
Step 1 – Visit https://eazy.gotvafrica.com/en/ng/activations with your computer or internet-enabled device. It will take you to the page pictured below.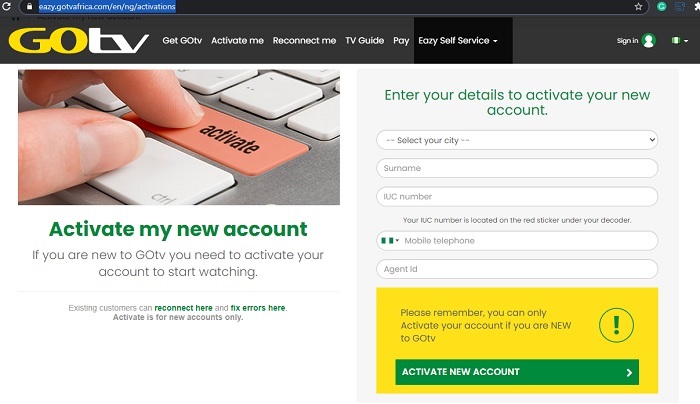 Step 2 – Fill in the required details which include your city, surname, IUC number, and mobile number.
Step 3 – Click on "ACTIVATE NEW ACCOUNT"
How to Subscribe through the Eazy Self Service 
GOtv Nigeria users have different packages to choose from. It all depends on what they can afford. Below is a summary of the packages and what they offer.
GOTV Max – This is the highest bouquet available. For N3600, you get unlimited access to the 90 channels that are on GOtv for a period of one month.
GOTV Jolli – This package was introduced not too long ago. Valued at N2460 and showing 82 channels, Jolli is next to Max in terms of the premium experience. The only downside is that football fans will have to settle for match replays as most of the sports channels aren't available on GOTV Jolly or any lower package. 
GOTV Jinja – For just N1640, GOTV jinja is yours. It has 57 channels and differs from the higher two packages in the movie department.  
Payment for these bouquets can be made at Multichoice offices but there are easy options available to customers. GOTV tried peddling subscription cards for its packages in the past, but the ship never set sail; the market wasn't receptive to the idea and it phased out.
Making Payment through GOtv Eazy Self Service
With the Eazy Self Service, you can pay for your own subscription or pay for someone else. To get this done, visit this page (https://eazy.gotvafrica.com/en/ng/pay) fill in the required details and it's done. 
Alternatively, you can use the banking platform to subscribe to your package. 
Via Stanbic Mobile Wallet
This is USSD-based. You will be required to dial a shortcode and the menu will be displayed on the screen.
Step 1 – Dial *909# on your mobile phone
Step 2 – Send Select '4' and press Register.
Step 3 – Provide customer information required for each field and send it.
Step 4 – You will be directed to GOtv Page on Stanbic Mobile to Pay for GOtv Subscription.
Through FCMB Bank 
You can walk into any FCMB bank near you with your money and pay for your subscription. You will be required to fill a form, specifying your name, phone number, and IUC number.
Meanwhile, retailers use different payment platforms such as Paga. But bear in mind that this method will require you to pay a little more for using their service. 
Via GOtv Mobile App
Another subscription option is through the GOTV mobile app. The app is user friendly and can literally solve any problem a subscriber may encounter.   
How to set up the GOtv Mobile app 
Step 1 – Download the MyGOTV app either from the google play store or the Apple store, depending on your mobile device. 
Step 2 –  Launch the app and register as a new subscriber. 
Step 3 – Click on "ACTIVATE" and you are good to go.
With this app, you can monitor your subscription, clear error codes, make payments, and do so much more.