Greg Kelly is a foremost American TV journalist. He has worked as a correspondent and anchored several news shows. One of his projects is Good Day New York, a morning show on WNYW Fox 5. He co-anchored the show for several years and endeared himself to many with his intelligence, good looks and ability to keep things real.
The fearless reporter also provided extensive coverage from Iraq on many occasions, including the storming of Saddam Hussein's presidential palace by the United States military forces. Thus, he emerged as the first journalist to follow US military forces while infiltrating Baghdad, broadcasting live pictures. This act of bravery was obviously inculcated in him during his long term stint in the US Marine Corps before he took to the path of journalism.
Greg Kelly First Served As An Attack Pilot In The US Marine Before Venturing Into Journalism
Greg Kelly grew up in Garden City, New York, and completed his elementary and high school education there. After that, he moved to Fordham University (NYC) where he studied Political Science. He obtained his B.A. in the year 1991. After leaving college, Kelly did not immediately go into journalism. Rather, he followed his father and grandfather's footsteps into the U.S. marine.
As a member of the marines, he spent nine years in active duty, serving as an attack pilot. As such, he specialized in flying the AV-8B Harrier Jet. Kelly made 158 aircraft carrier landings and was part of Operation Southern Watch. The operation enforced the U.N. no-fly zone over Iraq. Prior to his retirement from the Marine Corps Reserves in 2014, the TV personality achieved the rank of Lieutenant Colonel. Apart from being a military pilot, Kelly is also a licensed commercial pilot.
His Early Career Roles At Different Media Outlets
While in college, Greg Kelly worked briefly as an on-air reporter for WFUV, a non-commercial radio station owned by Fordham University. He then resurrected his journalism career in the late 90s after quitting active military service. His first stop was an ABC affiliate TV station in Binghamton (New York) called WIVT-TV. There, he anchored a morning news program and also interviewed then-US President, Bill Clinton.
He subsequently joined another TV station, NY1, where he covered politics, as well as the 9/11 attacks. He equally provided extensive coverage of the 2001 mayoral campaign before joining Fox News Channel in 2002.
He Became A Well-known Journalist After Moving To Fox News
Joining WNYW Fox 5 in the year 2002, Greg Kelly worked as a reporter that followed the third Infantry, Second Brigade of the United States Army to Operation Iraqi Freedom in 2003. Thus, he provided extensive and exclusive coverage of the war and in the process, became the first TV journalist to show pictures of American soldiers on Iraqi soil during the 2003 invasion.
Kelly once sustained a minor shrapnel injury during his time as an embedded army reporter in Iraq. He visited the country severally, as he had four long term assignments in Baghdad. In 2005, he was made a White House correspondent and held that post until 2007. Kelly joined Good Day New York as co-anchor in 2008. Later in June 2012, he was promoted to the co-anchor of the network's 6 PM and 10 PM newscasts. As a result, he was replaced by David Price as the co-host of GDNY.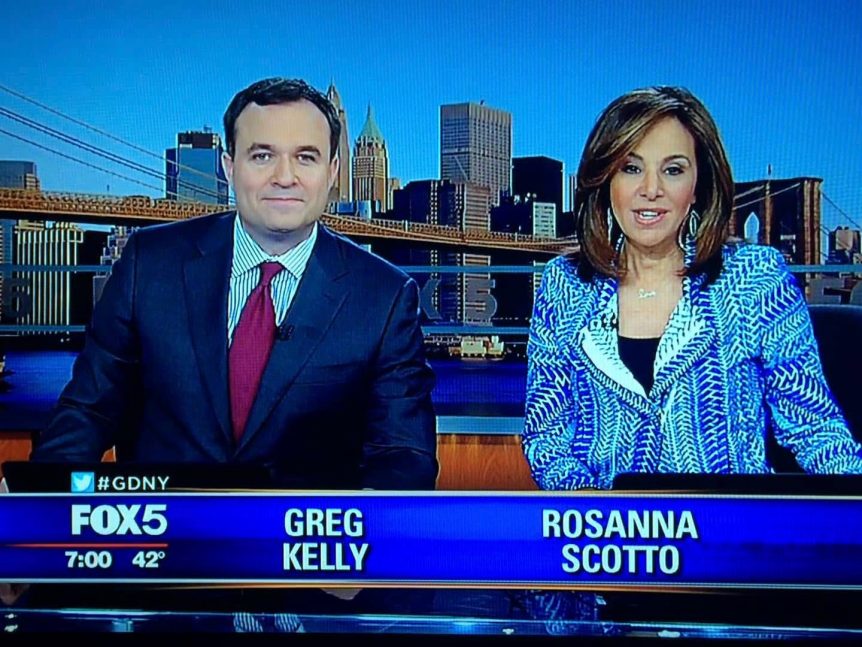 With the departure of Price from Good Day New York in January 2003, Kelly once again took up his role as GDNY co-host. Then in September 2017, the broadcast journalist took a final bow from the show after making his last appearance on September 29th, 2017 and was replaced by Lori Stokes.
Why Greg Kelly Left Good Day New York And What He Is Up To Now
Greg Kelly spent nearly a decade working as the co-anchor of the highly-rated morning show, Good Day New York which began airing on WNYW Fox 5 in August 1988. On the program, he, alongside Rosanna Scotto, covered a wide range of topics relating to news, traffic and weather reports, as well as entertainment news. They also interviewed many public figures on the show.
Becoming the first-morning newscast to be aired on a fox-owned station, Good Day New York has mostly placed second among the overall morning newscasts in the New York City market. As a result, Kelly cultivated a dedicated fan base during his time on the show. After leaving GDNY, Greg Kelly took some time off the screen. This left many of his fans wondering why he left Good Day New York, with many also curious to know about his recent whereabouts.
My take on Joe Biden's weird press conference https://t.co/6DLFO9rDj7

— Greg Kelly (@gregkellyusa) July 1, 2020
Well, the answer is that Kelly has not revealed the reason why he left the highly-rated morning show. He has attributed his inability to do so to contractual obligations and NDAs. Currently, the popularly known journalist is associated with a cable news channel owned by Newsmax media called Newsmax TV. He began working as the anchor of Greg Kelly Reports in January 2020 and the nightly opinion-based program airs on the TV network on weekdays at 7 PM.
The Famous Journalist Is A Married Man
Greg Kelly is doing quite well in his personal life. He tied the knot with an Australian lady named Judith Grey in 2017. Kelly and Judith got to know each other through a mutual friend in 2015. They had their first date at a Manhattan restaurant in December 2015. During the date, they got talking and found that they liked each other.
Soon afterwards, they commenced a relationship and were together for more than a year before splitting up in March 2017. The split was caused by the fact that Grey wanted to settle down while Kelly was commitment-phobic. The couple eventually settled their differences and got back together in October 2017.
Their nuptials took place on the 12th of November 2017 at the University Club of New York. The ceremony featured about 200 guests and was officiated by former New York mayor, David Dinkins. The lovely couple expanded their family with the arrival of a baby girl named Analise Kelly in February 2020.
What We Know About His Better Half Judith Grey
Greg Kelly's wife is a freelance creative director in advertising. She is the daughter of Samuel and Eva Menahem and the youngest of three children born to her parents. Her father is a pediatric cardiologist who also works as a professor at Melbourne's Monash University.
She hails from Melbourne and has a Bachelors degree in Fine Arts from the Royal Melbourne Institute of Technology. She also has a B.Sc. in Neuroscience from Columbia University in the City of New York.
Judith Grey has made a name for herself in the advertising industry. She has developed innovative campaigns for big brands such as Pfizer. She has previously worked as a writer and has written on political advertising for The Daily Beast, as well as Business Insider. She also served as the writer and director of the 2003 award-winning documentary, Sin Embargo: Never the Less.
As an artist and designer, Judith Grey has worked for several companies, including Lowe and Partners Worldwide, Sony Music Entertainment, Bates, Young & Rubicam, and McCann Erickson.