Gwen Stefani is one of the powerful figures in the music world who co-founded the ska-pop band group, No Doubt where she held sway as the group's lead singer. The group has a  successful self-titled studio album, No Doubt.
When she later left the group to forge a solo career, she recorded massive success as a solo act and was ranked 13th on the list of VH1's 100 Greatest Women in Music in 2012. She is a songwriter, actress, fashion designer, and singer with several awards including 3 Grammies.
Gwen Stefani's Bio and How Old She Is
Gwen Renee Stefani was born on October 3, 1969, in Fullerton, California, the United States to a Yamaha marketing Executive father, Dennis Stefani and Patti Stefani an accountant cum housewife mother. She was raised as a Catholic in Anaheim California alongside her elder brother Eric Stefani and 2 younger siblings, Jill and Todd.
Her first name Gwen is believed to have been gotten from the 1968 novel titled Airport whereas the middle name, Renee was from the cover of The Left Banke's 1966 song Walk Away Renee. Having been born into a family with a great passion for folk music, Gwen was exposed to music and made to listen and draw inspirations from the likes of Bob Dylan and Emmylou Harris.
At an early age, her mum taught her how to sew clothes, she later grew up having interests in fashion and even became a designer.
She attended Loara High School in Anaheim, California but her academics were poor as she suffered from dyslexia but she more than made up for her poor grades with acting and singing as extra curricular activities which also helped her to combat her learning disability. She proceeded to Fullerton College but later transferred to California State University, Fullerton.
Gwen Stefani's tentative entry into the music industry is tied to her gifted elder brother, Eric Stefani, who officially introduced her to working with professional musicians in 1986. She sang for groups like Madness and The Selecter.
Eric also asked Gwen to provide her sensational golden vocals for No doubt, a group which was in the works at that time. John Spence was the group's lead singer while Gwen was the second vocalist; however, following John Spence's suicide in 1987, Gwen became the group's lead singer.
The band was officially signed to Interscope Records in 1991 with their first studio self-titled album No Doubt released on March 17, 1992. The album was not well received, but it announced their entry into the music industry. In 1994, Eric Stefani left the group to pursue a career in animation.
However, in 1995, they released their second studio album titled The Beacon Street Collection; which made the group, a leading force in the industry. The group went ahead later to drop more albums; Tragic Kingdom (1995), Return of Saturn (2000), Rock Steady (2001).
Whilst Gwen Stefani was holding sway as No Doubt's lead vocalist, she was also collaborating with different acts to release singles and also building a solo career. November 12, 2004, saw the release of her solo debut album titled Love. Angel. Music. Baby. The album landed at Number five spot on the US Billboard 200, and it had a large number of collaborations with producers and acts like Tony Kanal, Tom Rothrock and Linda Perry to mention but a few.
She released her second studio album titled The Sweet Escape on December 1, 2006. It spotted as Number 3 on Billboard 200 and sold 243,000 copies in the first week of its release. After the release of the album, she embarked on The Sweet Escape Tour. In 2012, Gwen reunited with No doubt group to produce their sixth studio album titled Push and Shove.
The year 2014 was a remarkable one for Gwen as she appeared in Coachella, an annual music and arts festival where she joined Pharrell Williams to perform Hollaback Girl, she appeared in the season seven of The Voice, an American music singing competition where she replaced Christina Aguilera as a coach. She also attended the 2014 MTV Video Music Awardz and also released a single Baby Don't Lie.
On March 18, 2016, Gwen Stefani released her third studio album entitled This Is What the Truth Feels Like. It became Gwen Stefani's first Number one song on the Billboard 200. The other songs on the album are Used To Love You and Make Me Like You. She again embarked on her second tour to promote the album.
October 6, 2017, Gwen Stefani's dropped her 4th studio album titled You Make It Feel Like Christmas, it reached number 16 on the Billboard 200 albums chart in the US. She hosted a Christmas television special titled Gwen Stefani's You Make It Feel Like Christmas, the show was aired on December 12, 2017, and was widely received.
In 2018, Gwen headlined a 5-date concert residency titled Just a Girl: Las Vegas, the show which is taking place at Zappos Theater, Las Vegas began since June 27, 2018, and would conclude in March 16, 2019.
Gwen Stefani has also had a great movie career, as she has over 14 films and Television Shows to her credit including The Aviator (2004) which starred the Titanic Legendary Leonardo DiCaprio, Gossip Girl (2009) and Portlandia (2013), she also played herself in an action film released in 2001 titled Zoolander.
What You Need To Know About Her Husband and Kids
Gwen Stefani was formerly in a relationship with her No Doubt bandmate, Tony Kanal. Although she loved Tony and revealed she would have loved to have a baby with him, the relationship hit the rocks after about 7 years. In some of her singles like Don't Speak, Sunday Morning and Hey You, she chronicled her journey with Tony.
She later hooked up with another musician, Gavin Rossdale in 1995 after they performed at a holiday concert for radio station KROQ. They tied the knot on September 14, 2002, after 7 years of dating at St Paul's Covent Garden, London, and a fortnight after, they had another wedding ceremony in Los Angeles.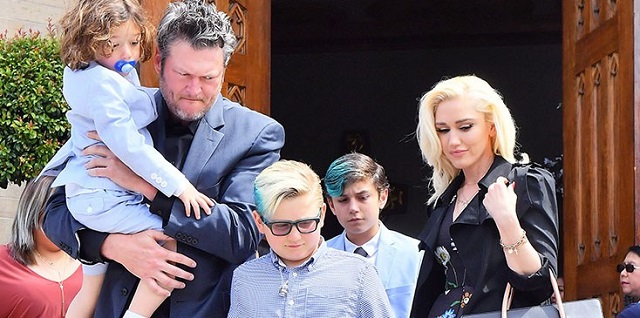 Gavin McGregor Rossdale was born on October 30, 1965, in Marylebone, London to a Douglas Rossdale and Barbara Stephan. He is a singer, songwriter, actor, and instrumentalist who plays the bass guitar very well.
Their union is blessed with 3 sons; Kingston Rock Rossdale, Zuma Nesta Rock Rossdale and Apollo Bowie Flynn Rossdale, born on May 26, 2006,  August 21, 2008, and February 28, 2014, respectively. Sadly their marriage hit the rocks on August 3, 2015, when Gwen filled for a divorce citing irreconcilable differences; though infidelity rumors were peddled against Gavin as he was alleged to have cheated on Gwen with their Nanny. However, the divorce was finalized in April of 2016.
She has since moved on with her longtime friend Blake Shelton who is also a divorcee. They started dating in November 2015. In January 2016, Blake Gifted Gwen with a beautiful horse for her birthday and the pair are still strong together. They have appeared in several shows like the Jimmy Fallon and Ellen DeGeneres shows where they gushed about each other.
What Of Her Twin Sister?
Gwen Stefani was never born a twin, but with the striking resemblance she shares with her sister Jill, they are addressed as twins. Jill Stefani was born 3 years after Gwen, on December 15, 1972, in Fullerton, California United States. In most pictures where she appeared alongside Gwen, they so much look alike that they are hardly differentiated.
Net Worth
Gwen has enjoyed a very successful music career since the early 90s, with well over four solo albums and six albums with the No Doubt band. As of 2008, she was the 10th highest paid music personality in the world with $27 million in earnings.
Her fashion line business named L.A.M.B which she launched in 2004 expanded her source of income. Though she has invested a fortune in philanthropic gestures, she still has enough to boast of as her current net worth is estimated to be within $100 million.
How Tall Is She?
Gwen Stefani is beautiful and talented and has an impressive height that stands her out among other female celebrities. She knows she has got the body and has always flaunted it to the admiration of her fans. The mother of three stands at 5 ft 6 (1.68 m) and weighs 55 kg.