Habiba Abdul-Jabbar is the ex-wife of Kareem Abdul Jabbar, an American former professional basketball player. Kareem was a senior at UCLA when he met Habiba, whose birth name is Janice Brown, at a Lakers game. They married in 1971 and welcomed three children – Habiba, Sultana, and Kareem Jr. – before divorcing in 1978.
Who is Habiba Abdul-Jabbar?
Habiba Abdul-Jabbar's birthplace might be New York because that's where her parents lived. She was brought up as a Christian and only made the switch to Islam because of her husband Kareem. What most people fail to realize is that Habiba used to be known as Janice Brown until she met her ex-husband. She was reportedly still in college when she met Kareem.
How Kareem Abdul-Jabbar Became Kareem Abdul Jabbar's Wife
Habiba Abdul-Jabbar and Kareem were married on the 28th of May, 1971. During their marriage, Habiba and Kareem became proud parents to three children; daughters, Habiba and Sultana and actor son, Abdul-Jabbar Jr. born on the 23rd of August, 1976. After seven years of marriage, Habiba Abdul-Jabbar divorced Kareem in 1978. Though not much is known about Habiba, her ex-husband does keep an active profile.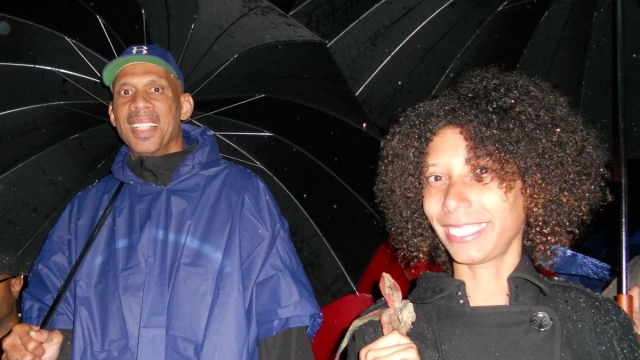 Habiba Abdul-Jabbar had a very rocky marriage with Kareem. Despite changing her name from Janice Brown to become a Muslim, her parents were barred from entering the mosque that the wedding took place in. Because of their Catholic faith, they were denied and it made them understandably offended. They had traveled all the way from New York to see their only child get married, and the incident caused a serious rift. The ceremony, which took place in Washington, D.C, was held at dawn, according to Muslim custom.
Kareem reportedly felt bad about this. He was a new Muslim convert and he had not been told until after the ceremony that her parents were barred from entering the mosque. The rift between him and her parents was slow to heal, and nearly ten years passed before he made amends with the family. After that time Jabbar always made sure to point to the camera and say, "Hi to Moms and Pops in New York," whenever he appeared on national television.
Kareem spent the summer of 1972 at Harvard studying the Arabic language, and that year, Habiba gave birth to the couple's first child, a daughter also named Habiba. Due to challenges in his ability to adjust to family life, he and Habiba separated in December 1973. Despite this, they continued to have children together. Their other children include Kareem Abdul-Jabbar's son Kareem, who was born in 1976, and their other daughter, Sultana, who was born in 1979.
Reasons For Kareem Abdul Jabbar's Divorce
The divorce that ended their union has roots in two factors; one being Kareem's migraines, the other was Cheryl Pistono. Kareem's migraines developed after seven people—a friend and six relatives of Abdul-Jabbar's Muslim mentor, Khalifa Hamaas Abdul Khaalis—members of a group called the Hanafi were murdered allegedly by rival Black Muslims, in a Washington, D.C. house that Kareem had purchased for them. Kareem was thought to be a target as well, and he was accompanied by a bodyguard for several weeks.
The immobilizing headaches came on again in 1977, after Khaalis and his Hanafi group sought revenge by invading three Washington buildings, including the national headquarters of B'nai B'rith. They held 132 hostages for 38 hours, leaving seven wounded and one dead. Khaalis went to jail, and the Jewish Defense League threatened to kidnap Abdul-Jabbar.
Cheryl Pistono, his girlfriend at the time had a greater impact on his adult life than any of his teachers, coaches, owners, friends or teammates. She convinced him to seek a divorce from his wife Habiba, whom he married in 1971 but had not lived with since 1973. The divorce was settled in court. Kareem's son Amir was born from his relationship with Cheryl.