Her unique ability to give a scorned look yet still maintaining that innocent gaze has made fans of Hailee Steinfeld have her at heart. As an actress, she became popular with her portrayal of the character Mattie Ross in the movie True Grit for which she became one of the most successful teens in the film industry. As a singer, the rising star has released many certified Platinum songs. Apart from her singing and acting prowess, Hailee has an eventful life, with an interesting mixed descent.
Hailee Steinfeld's Family Background
Hailee Steinfeld was born into the family of Peter Steinfeld; a personal fitness trainer and Cheri; an interior designer on December 11, 1996. She has as her elder brother and "best friend" Griffin who is a stock car driver and they both grew up in Agoura Hills, Los Angeles County before moving to Thousand Oaks, California where her family later relocated. Steinfeld's father is Jewish while his wife is all of English, Filipino, African-American, and German descent.
Her family is said to be more involved in sports, that notwithstanding Hailee has a few relatives who are also in the acting industry like her and are doing well.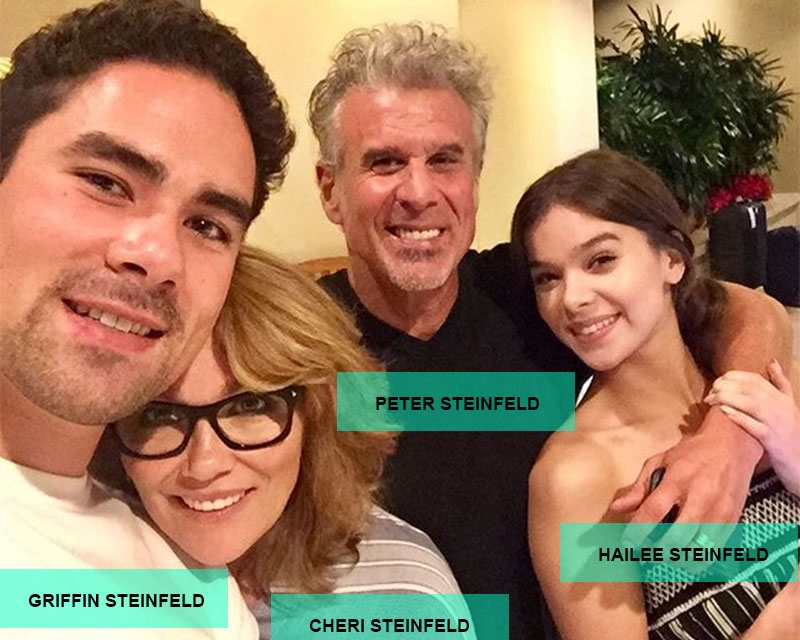 A Look at Her Roots
Hailee Steinfeld's ancestry cuts across several continents and countries which ideally makes her one of those unique people with diverse heritage. She has roots in America, Europe, Asia, and also Africa.
Her Paternal Ancestry
Hailee Steinfeld's paternal grandfather was Herbert Melvin Steinfeld. He was born in New York by his parents, Samuel 'Sam' Steinfeld and Bessie Ethel Zelensky (formerly known as Brindel Chaimovna Zelenetskaya).
Hailee's paternal great-grandfather, Sam was a Romanian-Jewish immigrant from Laşi, Laşi. He was the son of Dora Schwartz and Julius Steinfeld. On the other hand, her paternal great-grandmother, Bessie was a Belarusian Jewish immigrant from Romanova (Lenino), Slutsk, Minsk. She was the daughter of Sarah Cohen and Hyman Mendel Zelensky. More so, the comely actress' paternal grandmother is Joy M. Duberstein, the daughter of Myra Duberstein.
Her Maternal Ancestry
Hailee's maternal grandfather, Ricardo Guillermo Domasin was born in Los Angeles, California in 1938. She got her Filipino heritage through her maternal great-grandfather, Pastor 'Peter' Loresca Domasin who was born in Panglao, Bohol, Central Visayas, the Philippines in 1902. He was the son of Cirila Domaluan Loresca (formerly known as Cirila Loresca y Domaluan) and Gerónimo Lorejo Domasin (formerly Gerónimo Domasin y Lorejo) in Philippine.
Hailee's African-American ancestry
Hailee Steinfeld inherited her African-American ancestry through Ricardo Domasin's mother, Evelyn Olivia Bain who was listed along with her parents, Thomas Edward Bain and Wilma Frances 'Willie' Peterson as either African-American or 'Mulatto' in census records. Evelyn's father, Thomas was born to Isabella Johnson and Gabriel Bain in Kansas while her mother, Wilma was born to Nannie Hall and William F. Peterson in Arkansas.
Her German, English, Scottish, and Northern Irish/Scots-Irish Heritage
The up and coming actress got her German, Scottish, Northern Irish/Scots-Irish, and English heritage through her maternal grandmother, Laurita Lee Hinkle who had a mixed ancestry. She was born to her parents, Edith Laurita Jones and William Hicks Hinkle in Texas.
Hailee's maternal great-grandfather, William was the son of Ella Malona Payne and Joshua Madison Hinkle while her matrilineal great-grandmother, Edith was the daughter of Ethel Effie Smith and Charles Kirby Jones. The multifaceted performer's matrilineal descent can be traced back to her 4th great-grandmother, Penelope 'Phenina' Watson.
She wasn't the First in Her Lineage to Feature in the Entertainment Industry
Apparently, acting runs in Hailee's lineage as her great-uncle, Larry Domasin (the brother of her maternal grandfather, Ricardo Domasin) is a former American child actor best known for his works in Fun in Acapulco (1963), Dime With a Halo (1963), and And Should We Die (1966). Her uncle, Jake Steinfeld is an American actor, fitness icon, producer, and entrepreneur who is also the chairman and CEO of 'Body by Jake' brand. Furthermore, her maternal first cousin, True O'Brien whom she shares the same maternal grandfather, Ricardo Domasin, is also an actress and model.
Hailee Started Acting at a Very Young Age
Hailee Steinfeld scored her first acting role in an episode of the 2007 TV series, Back to You where she played the character of a Little Girl when she was eleven years old. She made her feature film debut as Talia Alden in the 2010 movie, Summer Camp. Her fame would then come the same year for her role in the movie True Grit as Matie Ross and it was for this movie that she got an Academy Awards nomination for Best Supporting Actress.
She also earned a Golden Globe Award nomination for her striking portrayal of Nadine Franklin in the 2016 blockbuster comedy-drama, The Edge of Seventeen. She has notably been involved in other blockbuster projects like Ender's Game (2013), Begin Again (2013), The Homesman (2014), Pitch Perfect 2 (2015), Pitch Perfect 3 (2017), Bumblebee (2018), Dickinson (2019), and Charlie's Angels (2019).
Her Blossoming Music Career
Outside of acting, Hailee started her career as a singer after she signed on the dotted line with Republic Records in 2015 following her impressive musical act in the movie Pitch Perfect 2. She released her first single, 'Love Myself' in August 2015, and dropped her first EP, 'Haiz' on November 13th, 2015. The EP achieved moderate commercial success as it debuted at number 57 and 38 on the US Billboard 200 and Canadian Albums Chart respectively.
The gifted singer and songwriter released her second single, 'Rock Bottom' featuring American funk-pop band, DNCE on February 26th, 2016. She followed it up by dropping her third single, 'Starving' with Grey Feat. Zedd on July 15th, 2016 and it peaked at number 12 on Billboard Hot 100. Her third single turned out to become her biggest hit ever, attaining Platinum status in United States, UK, Sweden, New Zealand, and Italy while going double and triple Platinum in Canada and Australia respectively.
After that, her other singles that followed include 'Most Girls' (2017), 'Let Me Go' (2017), 'Colour' (2018), 'Back to Life' (2018), 'Wrong Direction' (2020), and 'I Love You's' (2020).
The Actress' Alleged Relationship with Niall Horan
With a beauty like hers, so many guys would certainly come tripping around her! Hailee Steinfeld has been in just a few relationships where she dated Cameron Smoller and Niall Horan, nevertheless, none of these relationships lasted long enough for anything more serious than dating to kick off between them.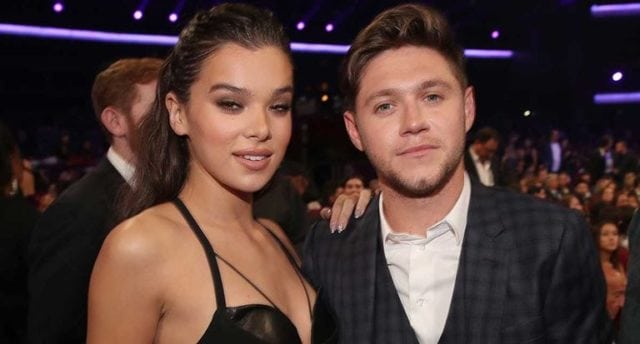 It is assumed that Hailee Steinfeld and Niall Horan were friends before they started dating, as Horan's December 11th, 2017 Instagram post on her birthday revealed. He publicly affirmed that Hailee was the loveliest person on the planet and one of his best friends on the post where he wished her a happy birthday.
News of her relationship with Horan went public around August 2018 after the two were pictured and reported kissing each other during an outing in Los Angeles. This came following speculations on the internet that the two were dating after being spotted as a couple in a Backstreet Boys gig in LA sometime in February 2018.
 Hailee Steinfeld is Possibly Still Single
In late 2018, rumors of Hailee and Horan's split started circulating after the Irish singer and songwriter didn't publicly send birthday wishes to the sensational singer on December 11th, 2018 as he did the previous year. This, in addition to Hailee Steinfeld hanging out with her ex-boyfriend, Cameron Smoller in November 2018 added more fuel to the rumors. Hailee and Horan, however, never confirmed their romance or split and are yet to release a statement regarding the speculations.
Interestingly, the lyrics of Hailee's new single, 'Wrong Direction' which implied that someone she trusted broke her heart has made her fans believe that she was referring to Horan. Nonetheless, the multi-award-winning actress is yet to reveal the person that inspired the lyrics of the track. As it stands, she is reportedly still single.