Halimah Yacob is a woman of many firsts. She is the first ethnic Malay woman to be elected into the Singaporean parliament. She is also the first woman (of any ethnicity) to emerge the speaker of the distinguished house. A passionate unionist, Yacob is the first Singaporean to be elected into the International Labour Organisation, and in September 2017, she once more made history by emerging the first-ever female president of Singapore.
Even though her victory was tainted by some controversy regarding the process of her emergence as well as insinuations that the presidency was just dropped into a lap, one cannot deny the fact that Yacob is a trailblazer as well as a shatterer of glass ceilings. She is however not resting on her oars and is working hard towards her dreams of improving the social welfare of all Singaporeans especially the disadvantaged groups.
Rising Above Her Difficult Childhood
Halimah Binte Yacob was born on the 23rd of August 1954, in Singapore. Her father was of Indian origin while her mother was of Malay descent. Asides her parents, the union leader-turned-politician also had four siblings. Halimah and her siblings grew up in relative poverty as their father was just a lowly watchman. Things got even worse as he died when she was eight years old and her mother had to resort to selling food in the streets to cater to the family.
Halimah thus spent most of her formative years assisting her mother in her stall whilst trying to make headway at school, the Singapore Chinese Girls' School, and Banjong Katong Girls' School. Combining the two wasn't an easy task and the young girl sometimes found herself cutting classes and underperforming in her academics. She, therefore, became despondent but one of her teachers encouraged her and told her that she could be someone great someday.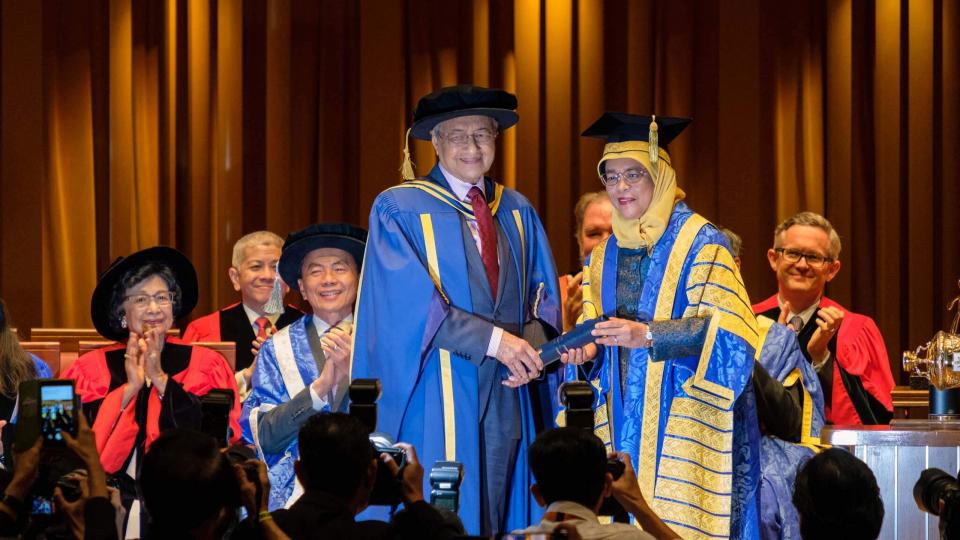 These wise words bolstered the young girl's spirits and she was able to complete her secondary education and move for further studies. For her higher education, Halimah Yacob studied at the University of Singapore where she completed an LLB (Hons) degree in 1978. She then made it to the Singapore Bar in 1981. By 2001, Halimah had completed an LLM degree at the National University of Singapore and seven years later, she was conferred an honorary Doctor of Laws degree by the same institution.
Making Her Mark as a Union Leader
On completing school, Halimah Yacob scored her first job as a legal officer with the National Trade Union Congress (NTUC). She threw herself wholeheartedly into her work and became a passionate and tireless advocate for workers, women, and minorities. A walking dictionary of labor law, Halimah campaigned for equal medical benefits for women civil servants. She also pushed for training for less-skilled and older workers as well as improved work-family balance.
All these earned Halimah the respect of her comrades in the struggles. It also led to a series of promotion and she soon went from mere legal officer to deputy secretary-general and then director of the legal services department of the entire NTUC. She also served as the executive secretary of the workers union in the electronic and electrical industries and got to represent her country at various International Labour Organisation conferences.
Halimah Yacob's Election Into Parliament
After nearly a decade of dedicating herself solely to her labor work, Halimah Yacob turned her sights to politics and sought election into the Jurong Group Representation Constituency in 2001. She recorded a convincing victory and went on to take her oath of office as Member of Parliament. Halimah spent 14 years as an MP in the Jurong GRC. She then sought election into the Singaporean parliament for Marsiling-Yew Tee and equally won that seat. She would retain the same up until 2017 when she left to contest for the presidential post.
During her 16 years as an MP, Halimah continued working towards the welfare of the working class. She also advocated against extremism and in January 2013, was elected the 9th speaker of parliament. She thus made history as the first woman to hold that exalted position. Her time as MP was however not without hurdles. She had to battle sexism as journalists often confronted her with questions about who was taking care of the children while she was at work. She, however, handled it perfectly by reminding them that child care was not for women alone and that none of her male colleagues ever got this same question.
Her Emergence as the First Female President of Singapore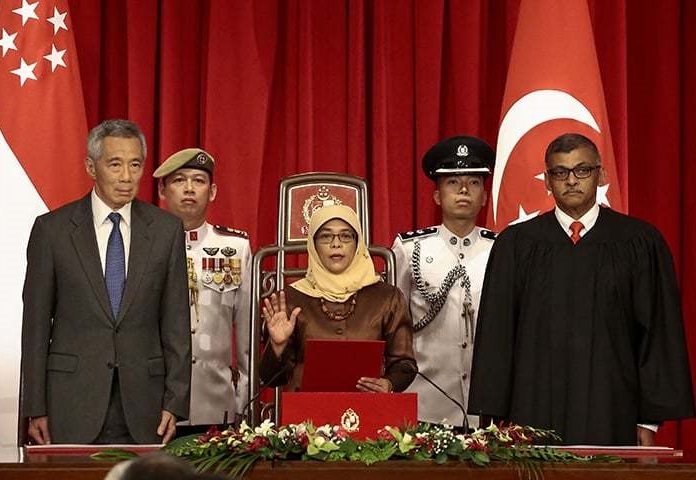 Halimah Yacob was sworn in as the first female president of Singapore in September 2017. Even though this was a historic and momentous occasion, the road leading to it was marred by several controversies. Before the election, the authorities had announced that the position would be strictly reserved for ethnic Malays. This angered some who felt that meritocracy was being sacrificed on the altar of affirmative action. Those on the other side of the divide, however, countered this by maintaining that only capably qualified Malay candidates would be considered.
Three Malay candidates eventually emerged and amongst them was Halimah and two prominent businessmen, Salleh Marican and Farid Khan The businessmen were however denied the Certificate of Eligibility because they did not meet up with shareholders' equity mark designated by the government which was a minimum of 500 million Singapore dollars ($372 million). Halimah also did not meet this requirement but she was nevertheless cleared to run given her long record as a public servant. She, therefore, emerged the sole candidate for the election and as such, there was no need for a formal ballot.
See Also:  Revelations About Mwai Kibaki's Marriage, Affair and Health Challenges
This reality did not go down well with Citizens who were keen on voting. They, therefore, slammed the whole process as a government-manipulated strategy and started using the hashtag, not my president, on social media. This created a tense situation and Halimah knew that she had to defuse it. She, therefore, used her inauguration speech to assure all Singaporeans of a fair and committed leadership. Halimah also promised to be a president for everyone, regardless of race, language, religion, or creed. She maintained that she was committed to service even though there was no formal election. It has been a few years since then and Madam President is doing her best to live up to keep her words. Going by the Singaporean constitution, the term of the office of president runs for 6 years which is renewable.
Meet the First Gentleman of Singapore — Mohammed Abdullah Alhabshee
Halimah is not only the history-making person in her family. With her election as the first female president of Singapore, her husband, retired businessman – Mohammed Abdullah Alhabshee, equally made history as the first gentleman of the country. Halimah and her husband first crossed parts while they were both in college. He was a physics major and they soon commenced a relationship.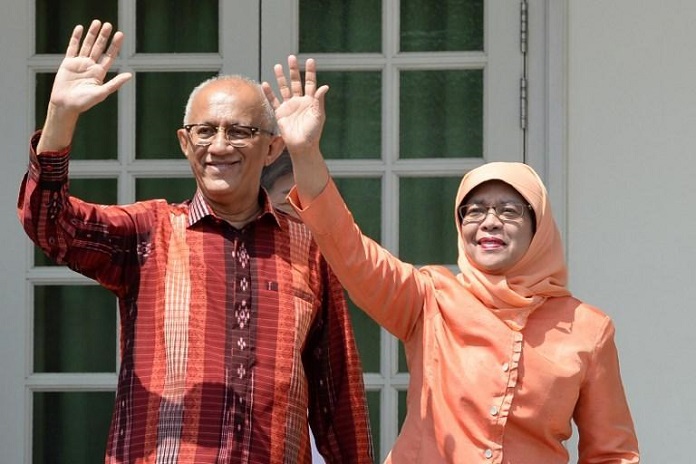 The couple didn't have much in the way of material possessions but their love sustained them and they got married two years after graduation. The beginning of their marriage wasn't easy as they could not afford a flat of their own. They had to reside in an un-renovated house and eventually moved in with some relatives. The couple later made some money and were able to buy their own flat after five years of marriage.
Halimah and her husband are now relatively well off and have welcomed five children together; two sons and three daughters. They nurture them with love and try to instill in them important values such as communal living as well as taking care of elders. Halimah's husband is also supportive of her. He readily agreed to work from home and take care of the kids so that his wife could pursue her burgeoning political career. He has also supported all of her programs and initiatives and makes time to attend all of them in person.