Halle Berry is a beautiful and talented actress, producer and a former beauty queen. Not only is Berry among the highest-paid actresses in Hollywood, she is also recognized as the first African-American woman to win the Academy Award for Best Actress for her outstanding role in the romantic movie Monster's Ball in 2002.
Early Life
Halle Berry was born Maria Halle Berry, on August 14, 1968, in Cleveland, Ohio. Berry first attended Heskett Middle School in Bedford, Ohio before enrolling in Bedford High School, an almost all-white public school where she was subjected to discrimination and racism. She later studied broadcast journalism at Cuyahoga Community College.
Career 
Halle's modelling career began in her teenage days when she participated in several beauty contests. In 1985, she won the Miss Teen All American pageant and the Miss Ohio USA pageant in 1986. After she emerged the first runner-up in the 1986 Miss USA pageant, Berry dumped her studies to fully pursue a career as a fashion model. In the late 1980's, she relocated to Chicago first and then New York to pursue her modelling and acting career.
Halle Berry began her acting career in 1989, playing the role of Emily Franklin in the ABC television series Living Dolls. In the year 1991, she played a minor role as drug addict Vivian in Spike Lee's film Jungle Fever. The next year, she featured in the romantic comedy Boomerang. Her other movie roles include the character Sharon Stone in the Flintstones (1994), a drug addict Khaila Richards in Losing Isaiah (1995), an intelligent woman raised by activists in Bulworth (1998) and as Dorothy Dandridge in the 1999 television documentary Introducing Dorothy Dandridge which earned her an Emmy and a Golden Globe Award.
In the year 2000, she played the mutant character Storm in the superhero and critically acclaimed film X-Men as well as Leticia Musgrove, the wife of a man sentenced to death in Monster's Ball which won her several awards. In the year 2002, she became the first African American woman to win the Academy Award for Best Actress following her performance in the movie Monster's Ball. In 2002, Berry played the Bond Girl role alongside Pierce Brosnan in Die Another Day. The next year, she reprised her role as Storm in X-Men 2 and also landed a lead role as a psychiatrist in Gothika. Additionally, she has featured in other movies like Catwoman (2004), Robots (2005), and Perfect Stranger (2007). She also played the character Frankie, a woman suffering from dissociative identity disorder in Frankie & Alice (2010), and much more.
See Also: Tamera Mowry Kids, Husband, Parents, Brothers and Sisters, Family
Halle's creative and versatile skills have won her several awards in her career including an Academy Award for Best Actress, a Golden Globe Award for Best Actress and a Primetime Emmy Award amongst others.
Who Are Her Parents?
Halle Berry was born as the second daughter to a white mother from Liverpool, Judith Ann and an African-American father, Jerome Jesse Berry. After Halle's parents divorced when she was only four, she was raised by her mum Judith, a psychiatric nurse. Judith moved Halle and her elder sister Heidi Berry Henderson to the predominantly white Cleveland suburb of Bedford where she faced massive bouts of racism.
Who Are Her Husband & Kids and Is She Divorced?
Halle Berry's marital life has not been as successful as her career. She has been married three times. First to a baseball player David Justice. They were married from 1993 to 1997. Her second husband was a musician Eric Benet. Their marriage which officially began in 2001 was also shortlived as it lasted for only four years. In 2013, she married French actor, Olivier Martinez. The union, however, ended in 2016.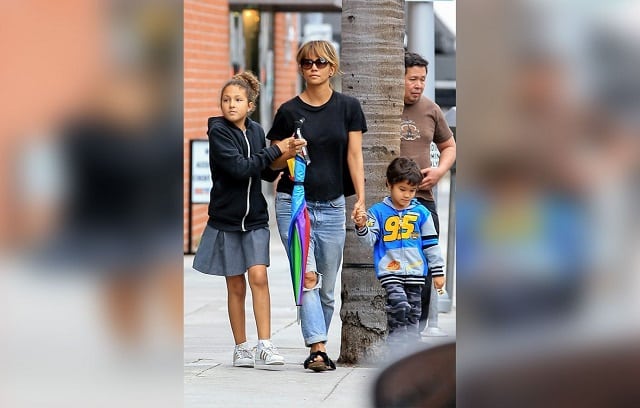 Halle has had other romantic relationships which did not eventually lead to the altar. From March 1989 to October 1991, she dated a dentist John Ronan. She briefly dated actor Shemar Moore between 1997 and 1998. Halle also dated French Canadian model Gabriel Aubry in 2005 and had a daughter Nahla Ariela Aubry with him in March 2008. Her third marriage to Olivier Martinez produced a son named Maceo-Robert born on 5th October 2013. Halle is also linked to having dated Alexander Grant in 2017.
What Is Her Net Worth?
Halle Berry's hard work and dedication in the entertainment industry has paid off and earned her a good fortune. In addition to her revenue from acting, she earns income from her French Lingerie brand, Scandale Paris and popular fragrance, Halle. She is also a brand ambassador for Revlon brand. As one of the highest-paid actresses in Hollywood, Halle Berry has a net worth of $80 million.
What Is Her Height?
The beautiful and talented actress stands at an average height of 5 feet 4 inches (1.65 m) and weighs 55kg (121 pounds). The former beauty queen's body measurements are breast size: 91 cm (36 inches), waist size: 66 cm (26 inches) and hips: 94 cm (37 inches).