Most celebrity kids tend to go the same way as their famous parents. However, a few of such kids have hidden themselves far away from the spotlight choosing rather, a less dramatic and media prone career; one such is no other than the adult daughter of the iconic producer and actor Tom Selleck, whose name is Hannah Margaret Selleck.
The above scenario is what obtains in the life of Hannah Margaret. She took up a career in horse racing and breeding and has gradually made a name for herself as a proficient rider, without the influence of her father. Her career as a horse racer has paved way for her to engage in other businesses such as horse breeding on her family farm. Join us as we explore her bio and all there is in it.
Hannah Margaret Selleck – Bio and Profile
Hannah Margaret Selleck was born with a silver spoon in her mouth on the 16th day of December 1988 in Hollywood. Her parents are Tom Selleck and Jillie Joan Mack. Shortly after she was birthed the family moved to a better and luxurious house in Thousand Oaks-Westlake Village, California. The house is sited on 65-acres of land which has features like an avocado farm that sits on 20-acres and a horse corral.
Growing up with her eyes glued on the activities that surrounded her daddy's horses, she began to develop an interest in the horse racing that her father often embarked on. Little did she know she would eventually make a career out of the four-legged animal race. Her passion for horse racing exposed her to other activities of ice skating, gymnastics, and soccer which her parents did not raise eyebrows on but rather encouraged her.
Hannah Margaret attended Loyola Marymount University where she graduated with a degree in communication in  2011. Desirous to fend for herself, she did her six months internship, in a public relations firm, Beverly Hills where she learned the ropes of corporate matters. However, she was averse to being indoors all through the day which most corporate jobs required and thus, she could not continue and decided to try her hands on the horse racing. This eventually became her preferred career to date.
Facts About Tom Selleck's Daughter
As earlier stated, Tom Selleck and Jullie Mack, are the parents of Hannah. They are prominent faces in the Hollywood industry. His father is famed as an American actor and film producer known popularly for his role as private investigator Thomas Magnum in a television series titled Magnum, P.I. which aired from 1980 through 1988.
He was born on January 29, 1945, and attended Grant High School where graduated from in 1961 before proceeding to the University of Southern California on a basketball scholarship. He made his TV debut appearance in 1965 in an ABC television show titled The Dating Game where he played the role of a college senior. Since his first screen appearance, he has featured in well over fifty films and television series and has also landed a good number of commercials that have earned him commendable wealth.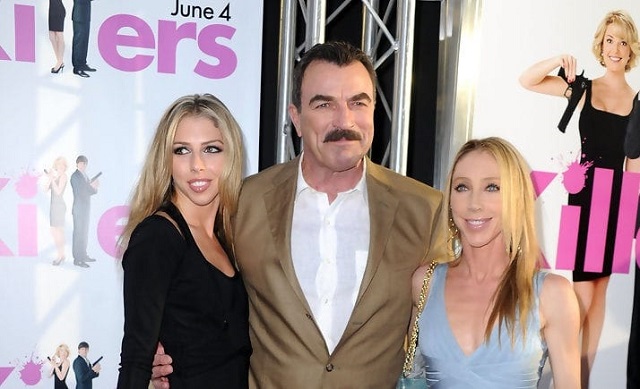 Hannah's mother is Tom's second wife whom he married on August 7, 1987. She made her mark as an actress and a dancer in the entertainment industry before she retired from the industry to her farmstead. Hannah has a brother by name Kevin Shepherd whom her father and her stepmother adopted sometime between 1971 and 1982 when they were together before their divorce.
Hannah Margaret Selleck has carved a niche for herself in her horse racing career which she began at the age of ten as a junior. Following her impressive display at the Prix de States in 2005 as well as the 16-year-old Equitation Championship at Capitol Challenge in 2006, Hannah Margaret Selleck won the Silver Team Medal. She clinched gold at the 2008 NAJYRC with her Zone ten teammates.
Hannah has also featured at the Grand Prix level where she proved to be a world-class jumper. Other events like the Gucci Masters tournament of 2011 and the 2015 Longines Masters of Los Angeles have featured Hannah in which she put up remarkable performances. Aside from her field events, Hannah is also in a partnership with her father in running a Descanso Farm where she breeds horses and have them trained into racehorses which she either uses for her sports or puts them up for sale.
See Also: Jessi Combs Biography, Net Worth and Other Facts About The TV Personality
Hannah Margaret Selleck is assumedly rich owing to the fact that she is the only biological child of her millionaire father. Although her net worth has not been officially disclosed yet, she has made her mark as an athlete, model, horse racer and breeder which sure has brought in a substantial amount of money for her. Plus she was the 9th rider in the World Cup Qualifier at Angelstone taking home prize cash of $100,000, she modeled in the 2013 advertorial campaign for the Reviver brand. Though all these are known, her net worth has not been concluded on.
Hannah chose to keep her personal life under wraps. She hardly talks about her love affair, although rumors have it that she has been dating Beto Gutierrez. They were said to have been dating for some time and have a special bond for each other but hardly is there any picture of the duo on social media. Would Hannah Margaret Selleck walk down the aisle with him anytime soon? Nobody seems to know; only time will tell.