Beauty is not defined only by outward appearance but also by mannerism and charms and that swag is what Hannah Simone has been packaged with. She is a British born Canadian actress that started out her career as a teenage fashion model and progressed to a television show host and presenter.
Hannah Simone breakout came in the 2011 New Girl series and she has since achieved much more in the industry. She is married to the Canadia actor and a former E! News correspondent and their union boast of a son. Read on to get a more interesting story about this extraordinary beauty.
Hannah Simone's Bio (Age and Ethnicity)
She was born on August 3, 1980, in London but her hometown is said to be Vancouver. She has a mixed ethnicity, English, German, Italian, and Greek Cypriot. She was not born alone as she has a brother Zach and most of her growing up years were spent at Calgary. Simone moved a lot across about three continents from Saudi Arabia, Cyprus, India, London, and Toronto then finally to the United States of America – Los Angeles.
Hannah Simone attended various schools because of her families constant movements; one of the schools is the American Embassy School in New Delhi, India from where she proceeded to obtain her first degree in International Relations and Political Science, in the University of British Columbia, Vancouver, London.
She bagged her second degree in Media – Radio and Television Production in 2005 from the Ryerson University which has helped her trade as a television host personality. Simone had her moments as a teenage fashion model whilst she was at Cyprus, Greece at the age of 13. Modeling was not all that fascinated the young Hannah Simone in her early years, as she equally veered into theater productions where she auditioned for plays in theaters in the different countries.
After her degree program, she diverted her attention to welfare and international relations. She took a job with the United Nations as a Human Right and Refugees Officer which lasted just a year before she veered into the entertainment industry. After her second degree, she got a job as a video jockey, news presenter, and the host of New Wave Music for MuchMusic outfit from 2006 to 2008 but prior to this, she had hosted the Space For Living Show an HGTV program.
She also co-hosted other shows, such as the season 2 of World Cyber Games (WCG) Ultimate Gamer with Joel Gourdin (2009 to 2010) and Kicking and Screaming series in 2017.
Moreso, by 2011 to 2018, she has featured in the Fox sitcom comedy series New Girl with co-star Zooey Deschanel, and she eventually picked up a Teen's Choice Award for her outstanding performance as Cece Parekh. Moreover, she featured within the same period (2012) in H+ a Web series as Leena Parama.
Furthermore, she has made several appearances in the many television series, a couple of music videos, such as the Rock band Train's song Angel in Blue Jean (2014) and films like Lemonade in 2015 as Tasha, Killing Gunther in 2017 among others. She has advocated for several human rights issues and she has used every opportunity/medium to press home her point about the issues of concerns.
On the other hand, she assisted the former foreign minister of Canada, Lloyd Axworthy, in researching papers and compiling a book on the women and children in war-torn zones such as Syria, Sudan, to mention a few.
Her net worth is estimated to be within $3 million all of which she has generated over the years in her various endeavors in the entertainment industry serving as a model, presenter, television show host, as well as an actress. Her social media handles are quite busy especially Instagram where she posts titbits of her projects and other activities.
Parents
This television personality is a tight-lipped person when it comes to her personal life and family. There is no information to go by with regards to the names of her parents or what they do. But one clear fact is that her father is Indian while her mother is English. They are probably very busy and important people, as suggested by the globe-trotting Hannah Simone had to go through in her early days.
Howbeit, she has often expressed her gratitude to her parents for her diverse upbringing in different cultural settings which she claims has helped fold her into the person she has eventually become.
Read Also: Is Vanna White Married? Husband, Children, Net Worth, Salary, Bio
Is She Married? Who is Her Husband?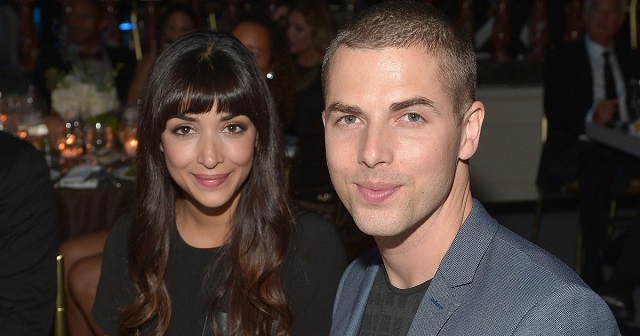 The hot British born is absolutely married. She quietly married her gorgeous sweetheart Jesse Giddings in July 2016, after about 4 years of dating. The couple is blessed with a son who was birthed on August 2017.
Jesse Giddings is a Canadian born actor, designer, musician, and photographer who has had his brief stints with a music band and has served as a great event emcee.
He has co-hosted the season 2 of X-Factor USA as well as WeDay events with notable personalities like Arch. Desmond Tutu, Mia Farrow and Larry kings to name but a few. He was part of the correspondences of the Entertainment Channel (E-News).
Height
The Canadian actress has a great hourglass body shape and her height is 5 feet 6 inches (1.70 m) on standing while her weight is estimated to be 59 kilograms (130 lb).