Hannah Simone is a notable Canadian Actress who rose to fame from the series New Girl which aired between 2011 and 2018. Thanks to being a part of the show, she landed a Teen's Choice Award for Breakout Female Act and built a strong bond with Zoey Deschanel. Zoey even named a dress after Hannah in her 2014 collection which was designed by Tommy Hilfiger.
The New Girl star is an avid philanthropist who lends her support to numerous charitable associations. It is believed that Hannah picked interest in social work from spending her childhood days in many countries.
The Globetrotting Lifestyle of Her Early Years
Hannah was born on August 3rd, 1980, in London but her hometown is said to be Vancouver, Canada. She was not raised alone as she has a brother named Zach. Her father is Indian while her mother's ancestry includes English, German, Italian, and Greek Cypriot.
Her family had lived in countries like Saudi Arabia, Cyprus, India, London, and Canada before moving to the United States of America where they settled in Los Angeles. The Actress has often expressed her gratitude to her parents for her upbringing in different cultural settings which has helped shape who she is.
Hannah Simone attended various schools because of her family's constant movements. One of the schools happens to be the American Embassy School in New Delhi, India. She proceeded to obtain her first degree in International Relations and Political Science at the University of British Columbia. She would later bag her second degree in Media (Radio and Television Production) in 2005 from Ryerson University.
Hannah Has Worked for The UN as a Human Rights & Refugee Officer
After earning her first degree in International Relations and Political Science, Simone was inspired to take up a job with the UN in London as a human rights and refugee officer. More so, she is known to have worked on a research project for Lloyd Axworthy, a former Minister of Foreign Affairs in Canada on issues pertaining to the welfare of women and children in war zones like Sudan and Syria, among other places. However, she did not stay long doing these jobs as she quit about a year later.
According to Hannah, she was not making the difference she envisioned as most of the policies that were drafted in her office did not circulate as she had expected. In an interview with The Calgary Herald,  the actress revealed that the world was changing rapidly but many people, especially the young folks, did not seem to care.
Hannah Simone Had a Brief Stint as a Presenter
Upon leaving her job as a UN worker, Simone's passion was steered towards entertainment and this influenced her decision to study Media for her second degree. On completion of her studies, she got a job as a VJ, news presenter, and host of New Wave Music for MuchMusic outfit; this lasted from 2006 to 2008.
Her appearance on the popular Canadian version of MTV Music gained her a considerable level of exposure as she also got to showcase her skills on MuchTalks which is similar to MTV News. Hannah reported on issues that ranged from entertainment to social and political issues. She also had a brief job as the host of Space For Living, an HGTV program sometime in 2007.
From 2009 to 2010, she went on to serve as the co-host of other shows. Hannah hosted all the 8 episodes of Kicking and Screaming in 2017.
Gaining Relevance as an Actress Through New Girl
Hannah Simone's first appearance in a film was in 2005 when she had a cameo in the TV series, Kevin Hills; but then, the series was canceled after its first season. That same year, she appeared in two episodes of another series titled Kojak. In 2006, she landed another small role in Beautiful People which was followed by several other roles in the coming years.
She got her breakthrough role in 2011 when she started to appear on the Fox comedy sitcom, New Girl. She played Cece Parekh, the best friend of the character named Jessica Day, played by the American actress Zooey Deschanel with whom she became good friends off-screen. Zooey even named a dress after Hannah in her clothing collection designed by Tommy Hilfiger.
Hannah was a part of the sitcom until it wrapped up in 2018 and for her performance, she won a Teen's Choice Award for Choice TV Breakout Performance – Female. She has also been seen in recent works like 2019's Weird City. Hannah voiced a major character named Pinky in 2020's Mira, Royal Detective.
The Actress Is Very Public-spirited
The New Girl star has also garnered a reputation for being a very charitable person, a trait she developed during her teenage years in New Delhi, India. As a young adult, she joined the philanthropic group Me to We and traveled to places like India and Kenya where she helped to build schools in poor communities.
The actress is proud of her humanitarian activities for various reasons. For instance, she often recalls when she was introduced to some Indian school girls as a lady with two university degrees and they were amazed that a lady of Indian heritage could achieve such great heights and return to her roots to help other young girls.
Simone is a celebrity ambassador for The Pink Daisy Project which is concerned with helping young women suffering from breast cancer. The actress also lends her support to UNICEF, the Elizabeth Glaser Pediatric Aids Foundation, and the Children's Defense Fund
Hannah Simone Is Married to Jesse Giddings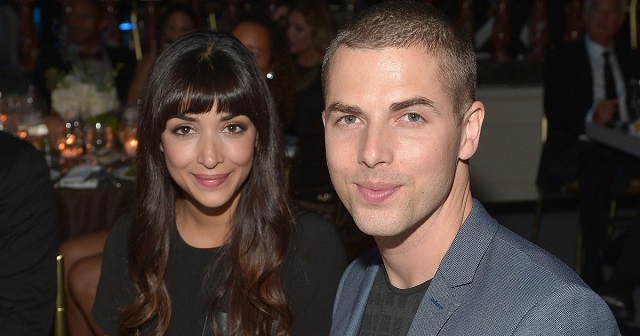 The actress quietly married her sweetheart Jesse Giddings in July 2016, after they had dated for four years. Her husband is also an entertainer; he is a notable Canadian actor, designer, musician, and photographer.
Jesse worked as a VJ for MuchMusic back in 2009 and he co-hosted the season 2 of X-Factor USA, as well as We Day events with notable personalities like Desmond Tutu, Mia Farrow, and Larry Kings. Giddings was also part of the correspondent team of the Entertainment Channel (E-News).
Although the pair have been quite secretive about details of their relationship, they've not failed to say nice things about themselves on social media over the years. Their marriage was blessed with a baby boy in August 2017 and its interesting to know that her character in New Girl also had to get pregnant to accommodate Hannah's pregnancy in real life.