Harry Treadaway is an English actor who is making waves in Hollywood. He has appeared in many notable projects but is unarguably most popular for his role as Victor Frankenstein on the horror TV series, Penny Dreadful. His excellent portrayal of the young and reclusive but ambitious doctor, who is bent on conquering mortality, no doubt contributed to making the show a big hit.
Aside from acting, Treadaway is also an accomplished singer and songwriter. Want to know more about this multi-talented fellow? Read on to find out more.
Harry Treadaway Biography
Harry Treadaway was born on the 10th of September 1984 in Exeter, Devon County, England. His parents' names are not available but it is known that his father worked as an architect while his mom is a retired school teacher. His mom certainly has a heart of gold as she now volunteers to teach refugees. He has an elder brother named Sam and a twin brother named Luke.
Harry grew up in Sandford, a tiny rural village in Devon County. He attended Queen Elizabeth's Community College Devon. While in school, he played rugby and was part of the school's team that won the county cup twice. Around this time, Harry Treadaway fell in love with music and acting and always wanted to make a career out of it. He was also keen to grab any acting opportunity he got, appearing in school and village plays. He also joined the National Youth Theatre as well as the London Academy of Music and Dramatic Art, all in a bid to hone his skills. He graduated in 2006.
Movies and TV Shows
Harry Treadaway commenced his professional career in 2005 when he landed a starring role in the movie, Brothers of the Head. He got the part while he was in drama school and had to leave his studies for a while. This, however, proved to be a good decision as his performance earned him an award nomination for the most promising newcomer at the 9th British Independent Films Awards in 2006.
Since making that strong debut, Treadaway has featured in several movies and TV series. On the big screen, he has appeared in Brothers of the Head (2005), Control (2007), City of Ember (2008), and The Lone Ranger (2013). The Lone Ranger, just as the name suggests, is a western cowboy movie and it featured heavyweights such as Johnny Depp. For the movie, he and his co-stars had to attend a five-week training in order to learn how to ride horses properly. On the small screen, Treadaway has appeared in TV shows such as Mystery (2006), Meadowlands (2007), Flight of the Storks (2012), Penny Dreadful (2016) and Mr. Mercedes (2018).
Is He Gay?
There is nothing to suggest that the Devon native is gay. He has never come out as gay and neither has he been romantically linked with a guy. More so, Harry Treadaway has been involved in two official relationships which all happen to be with women.
His first relationship was with English writer, Polly Stenham, whom he dated way back in 2009. They eventually broke up but remain good friends till date. He is now in a relationship with award-winning actress, Holliday Grainger whom he started seeing in 2015. Even though the couple has tried to maintain a low profile, their romance has not been able to escape the spotlight. They rarely post about each other online or attend public events together but they have been spotted visiting each other at home.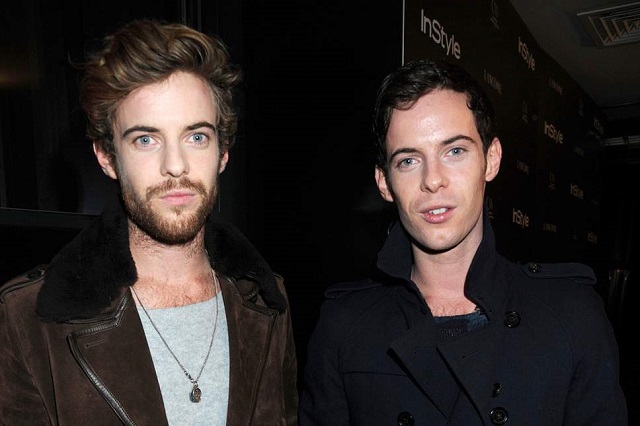 Twin Brother
As mentioned above, Harry Treadaway has an identical twin brother named Luke, who is his junior by twenty minutes. The two are very close and share a passion for music and acting. Just like his brother, Luke equally attended the London Academy of Music and Dramatic Art and also joined the National Youth Theatre. He is now a well-known actor and singer.
Luke Treadaway has appeared in several stage productions such as Saint Joan, War Horse, Piranha Heights, Over There, Who's Afraid of Virginia Woolf, The Curious Incident of the Dog in the Night-Time. Luke has also appeared in some TV series and movies. One of them is the 2005 movie, Brothers of the Head. The movie featured the Treadaway twins as a pair of conjoined twins who are in a rock band. Luke and Harry had to wear sewn-together suits to play the role. They were also connected to each for many hours each day. The brothers also recorded most of the songs that were performed in the movie.